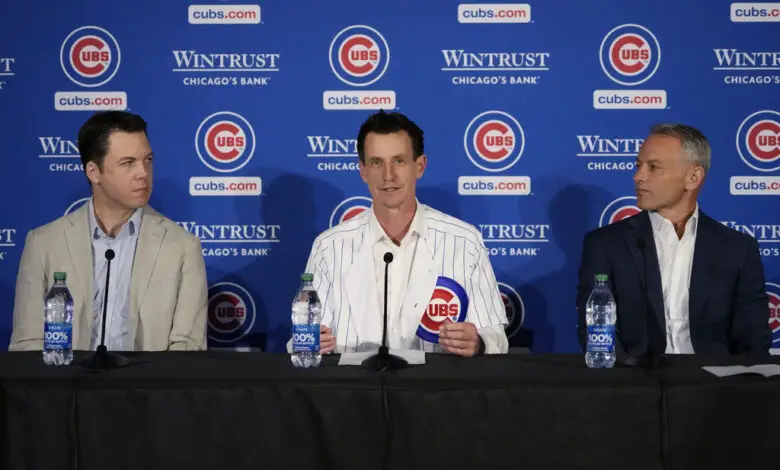 The Rundown: Counsell Hire Should Benefit Pitching Staff, Cubs Heavily Pursuing Ohtani, Yamamoto Will Be Posted Today
The Cubs faded faster than a Polaroid in direct sunlight this year, and a big part of that was because of a mismanaged and overextended bullpen. New manager Craig Counsell is known as a bullpen savant, which is probably why Jed Hoyer put on the full-court press to hire him a few weeks ago. Hoyer doesn't like to spend a lot of money on relievers and Counsell always seems to get the most out of his pitching staff.
The Cubs have some intriguing arms that could flourish with Counsell at the helm. Adbert Alzolay is the obvious choice at the back end of the bullpen and he has the potential to be better than Devin Williams. Luke Little is someone to keep an eye on, too. Counsell can also help Daniel Palencia, Keegan Thompson, and others to make the bullpen a real strength.
Hoyer expects to add to the bullpen this offseason, but don't expect somebody like Josh Hader to join Counsell in Chicago. The president of baseball operations prefers to shop among the irregulars and downtrodden. That's been his M.O. since replacing Theo Epstein four years ago. Hoyer also prefers quantity over quality.
"You have to be creative in the bullpen," Hoyer said last week. "You have to find guys with good stuff, find guys on bounce-back years, find guys coming off injuries. I think you [have to] take all those demographics… and then blend that."
It should be noted that Counsell has also had tremendous success with his starters. Talented pitchers like Corbin Burnes, Brandon Woodruff, and Freddy Peralta will make any manager look good, no doubt. Still, you have to be excited about the prospects of Chicago's new manager working with Justin Steele, Cade Horton, and Ben Brown, among others. Keep an eye on Javier Assad, too. His demeanor and mound presence could make him a favorite of Counsell's. Assad reaching another level would give the Cubs a top rotation or an impressive trade chip if needed.
Some will say Counsell was blessed with a generational rotation in Milwaukee. That's not necessarily the case. The scouting reports on their top three starters when they entered professional baseball were fair at best, and each struggled initially. Here's the consensus on the three:
Burns: "Needs pinpoint command to succeed at the major league level. Burnes is a solid righthander with some upside."
Woodruff: "Keeping the ball down will be primordial for him to be successful in the bigs. He's a quality starter with some upside potential."
Peralta: "Walks are a problem and Peralta is significantly undersized to be a big league starter. Still, he's talented with high upside provided he improves his control."
Not exactly natural-born world beaters, are they? Sometimes great starters are made, and Counsell seems to have found his niche in maximizing pitching potential. From my viewpoint, there is no better rally killer in baseball than Chicago's new skipper, especially after Milwaukee traded Hader. There have been times when opposing teams looked like they were about to plate handfuls of runners, only to be shut down by Counsell's astute management of his pitching staff.
His best job managing a staff might have been the Brewers' Game 163 win over the Cubs in 2018. Jhoulys Chacin started for Milwaukee and held the Cubs to one run. Relievers Joakim Soria, Corey Knebel, and Hader held Chicago to one hit over 3.1 innings. The Brewers took the division and the Cubs exited the postseason with "their dicks in the dirt" after a one-game 1-0 loss to the Rockies the next day in Wild Card play. Counsell's best attribute is that he inspires confidence in a role where it can be easily and irretrievably shaken.
The Brewers went to the NLCS that year, earning Counsell respect on a more national level. Coming off a 13-inning loss in Game 4, Counsell sent Wade Miley to the mound on short rest. But one batter into the game, he pulled the veteran lefty and summoned a right-hander to put the Dodgers lineup at a platoon disadvantage while boosting Milwaukee's less-than-great chances against Clayton Kershaw. Woodruff, who was a relatively unknown commodity at the time, replaced Miley.
Woodruff's enduring trust in Counsell is part of a well-worn path for his former players. That's why Hoyer hired Counsell and made him the game's highest-paid manager. The bigger attraction, something Hoyer shared a few times, is that the manager engenders confidence with an analytical mind that functions in the body of a well-traveled former player. He's an extension of the front office on the field, a statement one could never make about Ross. Counsell is a difference-maker with a keen ability to manage a pitching staff who now heads a team that was one victory over the Diamondbacks away from making the playoffs. That's what Hoyer bought for $8 million per season.
Cubs News & Notes
Odds & Sods
Mickey Mantle has the best and most powerful swing I've ever seen.
The powerful swing of New York #Yankees legend Mickey Mantle! #MLB pic.twitter.com/VHVzmWE4YV

— Baseball by BSmile (@BSmile) November 20, 2023
Central Intelligence
Monday Stove
The negotiating window for major league teams to attempt to acquire Japanese star pitcher Yoshinobu Yamamoto should start tomorrow. Yamamoto is expected to be posted today and will likely land the biggest contract for available pitchers. Keep an eye on the Phillies.
This year's free-agent market is particularly top-heavy, so expect things to move a little slowly.
The White Sox are making almost every player available in trade and might find a match with the Dodgers for Dylan Cease.
The Dodgers are also in play for Ohtani and Mike Trout.
ESPN's Buster Olney believes Ohtani has already decided on joining the Dodgers and just needs his agent to negotiate the deal.
Tigers shortstop Javier Báez will conduct most of his offseason training in the U.S. instead of going to Puerto Rico.
Aaron Nola has decided to stay with the Phillies on a seven-year deal worth $172 million because nobody wants to play for the Cardinals.
The Yankees could be emerging as the favorites to land outfielder Juan Soto.
The Bronx Bombers are also the favorites to sign Cody Bellinger, according to some insiders.
Bellinger is drawing interest from the Giants as well.
The Padres need a catcher and could target Mitch Garver.
A total of 63 players were non-tendered last week, headlined by Woodruff.
The Brewers got the necessary funds for stadium improvements and will stay in Milwaukee until at least 2050.
Extra Innings
Hoyer is in stealth mode so anything can happen.
The Chicago Cubs will be heavily involved in free agent Shohei Ohtani.

"This isn't a pipe dream. This is a reality. The Cubs are in on this. They are not just kicking the tires."

(Via @MLBBruceLevine on @670TheScore)

— Daniel Greenberg (@ChiSportUpdates) November 18, 2023
They Said It
"I would stack our [player development staff] up against any in the league. The way that they've supported each other and supported our players over the last couple of years has been astounding. The way they've pushed the envelope and gotten creative and innovative — from top to bottom — really impresses me every day. The group is so talented that we probably won't be able to keep it together forever." – Jared Banner
"We probably weren't deep enough in the bullpen last year. I'm responsible for that, ultimately. We've done a pretty good job building bullpens in the past. But last year, I think the sprint really wore us down … We have to bolster, add more guys, add depth and that's certainly a huge priority." – Hoyer
Monday Walk-Up Song
I'm going to be in Chicago for the Mariah Carey holiday extravaganza on December 3, but I'd much rather see Ana Gasteyer.