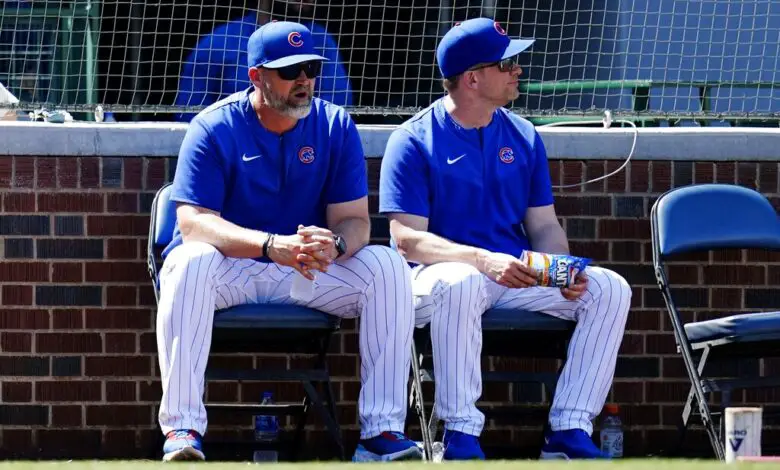 So, Cubs Bench Coach Andy Green Was Apparently Dismissed (Updated)
In news that flew under pretty much everyone's radar, former Cubs bench coach Andy Green has apparently been dismissed. It figured that he wouldn't be back on the staff after having interviewed for several managerial gigs, then came the big shakeup with David Ross being replaced by Craig Counsell, but nothing had been mentioned about the rest of the coaches.
Until Thursday, that is, when Joel Sherman snuck it into a piece about how Ross and Green view Cody Bellinger's future.
Sherman noted that "both have since been dismissed" while teeing up a look at how Bellinger might fit with the Yankees. There's nothing particularly interesting in their comments about one of the top free agents on the market, all of which saw both eschewing any concern over Bellinger's batted-ball metrics in favor of more tangible results.
Kind of a nothing-burger in the end, which no doubt irks the folks who clicked hoping to find the meaning of life, just a little bit of news that earned a cocked eyebrow or two.
---
Update: According to USA Today's Bob Nightengale, the Cubs interviewed Marlins first base coach Jon Jay for their open bench coach spot but have opted to go in another direction. Cubs fans will remember Jay for his one year on the North Side in 2017 on an $8 million deal that lived in infamy as the largest the team inked with a position player between Jason Heyward a year earlier and Yan Gomes five years later.
---
Update #2: Per Jeff Passan, Green has accepted a position in the Mets' front office. What's more, he was offered other jobs with the Cubs but chose to seek a different opportunity. In short, he was not fired.