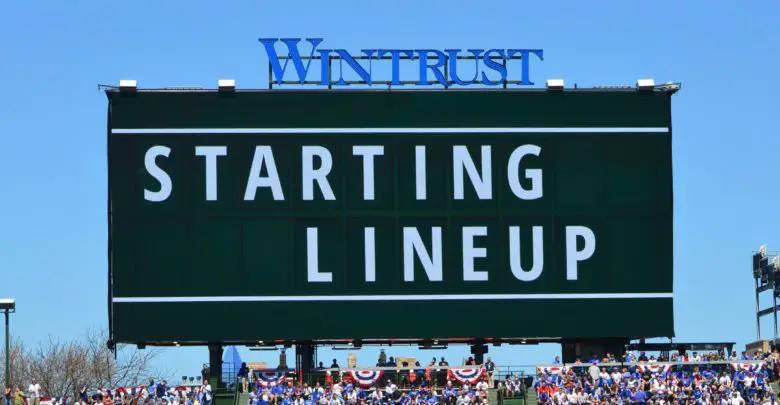 Chicago Cubs Lineup (9/19/23): Hoerner Leads Off, Morel at 3B, Canario Starting at DH, Assad Starting
Update: Tonight's game has been delayed due to wet conditions.
---
This isn't technically a must-win game, but each loss from here on out increases exponentially in weight. And after flushing the last five games against Colorado and Phoenix, the bathroom on the Cubs' charter home put the Dave Matthews Band to shame. Let's just hope they're done playing like crap now that they're back at Wrigley.
Whether or not the day off was enough to get them squared back up and heading in the right direction offensively, it did at least allow David Ross to shuffle his rotation. Javier Assad will open the series, then the Cubs will skip Taillon, who last pitched six days ago, in favor of Justin Steele and then Kyle Hendricks. Assad hasn't pitched in a week and the other two are on regular rest.
The Cubs could opt to throw Taillon against the Rockies, at which point he'd have at least eight days between starts, or they could just be hoping Marcus Stroman is stretched out enough by then to take 3-4 innings. Ross has to manage his staff like it's the postseason, which means leaning heavily on matchups and pulling guys before they get into trouble. This is no time to punt on games and hope to go get 'em tomorrow.
Pitching hasn't been the issue (unless you're that guy from Facebook who blamed the bullpen for "blowing" that extra-innings game), it's a matter of the offense failing to capitalize on numerous opportunities. The bats just look bland and desperately need to get going over the next week before the Cubs face the Braves and Brewers.
The manager is shaking things up a little bit tonight, starting with Nico Hoerner leading off at second and Dansby Swanson moving up to the two-hole. Cody Bellinger is in center, Seiya Suzuki is in right, Yan Gomes is the catcher, and Ian Happ is in left. Christopher Morel gets the start at third, Patrick Wisdom is at first, and forgotten man Alexander Canario gets the nod as the DH in his first MLB start.
They're up against Bailey Falter, a southpaw who we'd like to hope will once again live up to his surname in this one. He spent most of his career in the Phillies organization and was just acquired by the Pirates at the deadline in the Rodolfo Castro deal. The Cubs lit him up for six runs on seven hits back on August 27 with a similar lineup to what we're seeing tonight.
Falter's 91 mph fastball plays way up because he gets more extension than just about anyone else in MLB, though he tends to leave it middle-in to right-handed hitters and middle-out to lefties. His main secondary pitch is a curveball that has also been tagged because he hangs it a little too often, then he's got a slider, change, and sinker. None of those offerings have performed very well at the MLB level this season, though he's capable of finding lightning in a bottle.
With 84 hits and just 17 walks allowed in 77.2 innings, Falter will give up plenty of contact. The Cubs haven't been hitting the ball out of the yard much lately, so this could afford them an opportunity to do so. You really want to see them come out swinging to get into that Pirate bullpen early and give themselves an advantage moving forward.
First pitch is at 6:40pm CT on Marquee and 670 The Score.