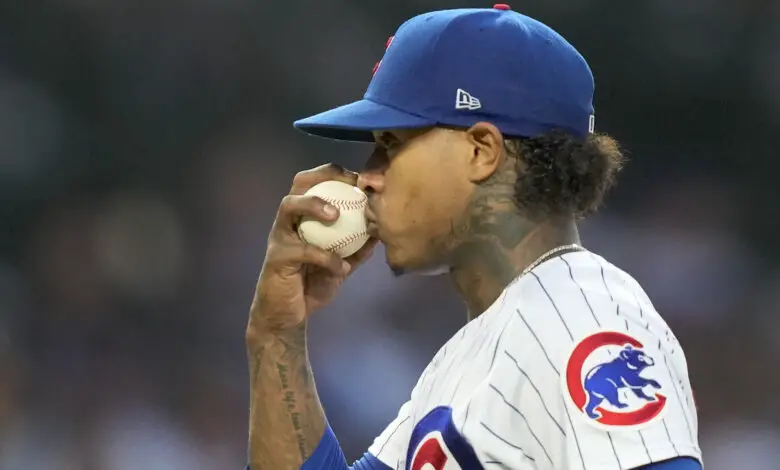 The Rundown: Color Cubs Done After Loss to Cards, Brewers Linked to Ohtani, Manfred Re-Election Expected
"Here it's never ending, can't remember when it started." – The Replacements, Swingin' Party
It might be time to start talking about the 2024 Draft lottery instead of hoping for an end-of-season resurgence. After last night's 7-2 loss to the Cardinals, the Cubs sit just 1.5 games ahead of St. Louis with a 35% chance of finishing in the bottom 10.
It's a little uglier than that, too. Chicago's North Side Baseballers are 10-4 against the Pirates, A's, and Reds, but the Cincinnati team they faced earlier in the season is vastly better these days. Reds fans have a handful of prospects to thank for that, including Elly De La Cruz and Andrew Abbott. The Cubs are 35-47 (.427) against the rest of the league and don't feel any need to promote Matt Mervis. Playoffs? Surely, you can't be serious?
To paraphrase Dr. Frasier Crane: The Cubs face a Herculean task to qualify for the postseason tournament this year.

— Sean Holland (@sth85) July 21, 2023
I am serious, and don't call me Shirley.
As inconceivable as it might seem to all of us, the Cubs are only 10 games behind the Brewers and they still have 27 intradivisional games left, including six against Milwaukee. But Chicago is only 24-26 at home, and if you can't win games with an alleged advantage built in, the postseason is something that shouldn't be considered at all. Can the Cubs go 45-21 to finish the season? That seems doubtful. Let's face it, the Cubs are in grave danger of missing the playoffs and an anticipated sell-off in about 7-10 days should solidify their chances of entering the lottery.
The Rays are among a handful of teams who are interested in Marcus Stroman, and Cody Bellinger is on a couple of radars too. There's a strong chance Kyle Hendricks could be moved, and Yan Gomes, Mark Leiter Jr., and even Patrick Wisdom would help any contender. The rest of us can start scouting prospects because the sand is slipping through that hourglass at an increasing pace.
Cubs News & Notes
Odds & Sods
The Reds are going to be a dangerous offensive team for the next decade or so. Cincinnati's quick ascent makes Hoyer look bush league.
Elly De La Cruz graduated, but the #Reds still have a top prospect mashing long homers.

It's Noelvi Marte, who mashed his first tater for Triple-A Louisville quite a ways: https://t.co/TEtkqFvhbB pic.twitter.com/o4NRvh62NG

— MLB Pipeline (@MLBPipeline) July 21, 2023
Central Intelligence
Climbing the Ladder
"Cryin' won't help you, prayin' won't do you no good." – Led Zeppelin, When the Levee Breaks
The Cubs are a hot mess. I know most of you don't agree with me but I think a reckoning is coming to the front office, and that David Ross will not be managing the North Siders next year. The team is no longer fun to watch, and Tom Ricketts will have a crisis on his hands if he sticks with the status quo.
Games Played: 96
Record: 45-51 (.469)
Total Plate Appearances: 3,687
Total Strikeouts: 882
Strikeout Rate: 23.92%
Team Batting Average: .250
Runs Scored: 460
Runs Allowed: 427
Chances of Making the Playoffs: 21.4%, 1.2% to win the World Series
How About That!
Rob Manfred is expected to be re-elected in a vote next week ($) according to Evan Drellich and Ken Rosenthal of The Athletic.
The decision to trade Ohtani might come down to the final minutes of deadline day.
The baseball writers at ESPN painted a thorough picture of what an Ohtani blockbuster will look like.
The Rays are doing their homework on Tigers pitcher Michael Lorenzen in addition to Stroman.
The Astros are targeting Padres starter Blake Snell.
The Giants also expect to be very aggressive at the deadline.
Rays catcher Francisco Mejia hurt his knee on Thursday evening, which means Tampa Bay might also be looking to trade for a catcher.
The Orioles beat the Rays last night to take sole possession of first place in the AL East.
Five weekend series will determine which teams are buyers and which are sellers.
MLB called the 1993 acquisition of Fred McGriff by the Braves the greatest deadline deal ever. Atlanta went on a 51-17 run after trading for Crime Dog.
Mariners outfielder Jarred Kelenic fractured his foot by kicking a water cooler after striking out Wednesday.
A group of retired stars, including Jim Thome, are interested in creating a Legends Home Run Derby.
Thursday's Three Stars
Corbin Burnes – The 2021 Cy Young Award winner blanked the Phillies on two hits over eight innings with 10 punchouts.
George Kirby – The Seattle starter nearly duplicated Burnsie's performance, notching 10 strikeouts over seven innings of four-hit, shutout baseball as the Mariners dropped the Twins 5-0.
Matt Olson – The Braves first baseman hit two home runs with three RBI in a 7-5 win over the Diamondbacks.
Extra Innings
A new hope exists just one state west of Illinois, which is much better than this year's big league ragtag bunch. That won't stop Hoyer from combing the desert for additional prospects this week and next.
The @IowaCubs are 18 games over .500 with 24 come-from-behind wins and are 20-3 in one-run games.

If you don't think they are fun, you Terron, may just not be much fun. https://t.co/JPQbaytMeI

— Alex Cohen (@voiceofcohen2) July 21, 2023
Friday Morning Six-Pack
They Said It
"There [were] a lot of pretty standard major league plays that should've been made behind [Stroman]. He's getting ground balls all over the place and unfortunately we couldn't turn them into outs." – Ross
"I was just slightly off mechanically, missing the zone, getting behind in counts. [The Cardinals] have a bunch of guys who put a priority on battling, taking counts deep, really doing a good job of just swinging at strikes. I feel like they didn't expand at all in the zone, so my pitch count got really high." – Stroman
"It's just a dynamic bat. [Shaw] displayed the decision-making that he's capable of, the ability to make consistent contact, and then the ability to hit for damage. Typically, when you exhibit those three characteristics, it's a pretty good recipe for success in the future." – Kantrovitz
Friday Walk-Up Song
When overanalysis leads to abject nonsense, it's time to stop looking for Pepe Silvia and forget about the playoffs.