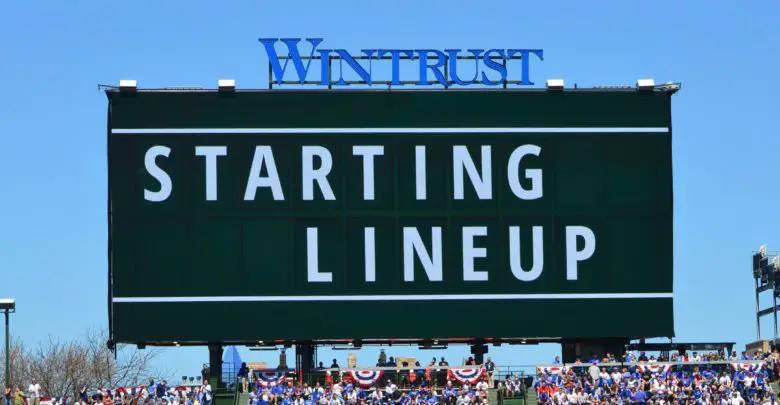 Chicago Cubs Lineup (7/3/23): Morel DH, Madrigal 3B, Smyly Starting
The Cubs just finished up a 1-5 homestand that featured all the best and worst of their season to date. After being swept by the Phillies, they jumped all over the Guardians for a 10-1 win. Then came Sunday's late comeback, which ended in a whimper when they couldn't close it out in extras. The Cubs just can't play consistent baseball and they've fallen six games out of the division lead as a result.
Ah, but there's still a chance to gain serious ground with four games in Milwaukee against the first-place Brewers. The Reds, meanwhile, have four against the hapless Nationals as they look to continue their surprisingly entertaining season. If the Cubs can't do better than a split here, they're looking at a very steep climb heading into the trade deadline.
Drew Smyly is coming off of his worst start of the season, an ugly affair in that aforementioned sweep that saw him surrender seven earned runs on nine hits. While that was an aberration, he's actually been mired in a rough patch for several weeks now. Over his last six starts, the lefty has allowed 22 earned runs on 42 hits in just 31 innings. He's struck out 20 and has walked 15 in that time, neither of which is acceptable.
The curveball appears to be the main culprit here, as Smyly has continued throwing it nearly 50% of the time despite very erratic results. It hasn't been a good pitch in consecutive starts since the end of May, which means his sinker ends up getting tagged as well. He needs to get the hook figured out in order to keep the Brewers at bay in this one.
It will help if the offense can get going earlier than the 8th inning, starting with Mike Tauchman in right and Nico Hoerner at second. First baseman Jared Young moves up in the order on the strength of his hot bat, Ian Happ is in the cleanup spot, and Dansby Swanson is at short. Cody Bellinger is in center, Christopher Morel resumes DH duties, Nick Madrigal is at third, and Tucker Barnhart is the catcher.
Having Barnhart behind the plate may be less about spelling Gomes from a platoon standpoint and more about giving Smyly a different target. Gomes was paired with the lefty in five of those last six starts, so a different perspective might help.
Opposing the Cubs will be 32-year-old Julio Teheran, who is in his first year with the Brew Crew and 12th overall in MLB after a long time with Atlanta followed by stints in Anaheim and Detroit. COVID further shortened his 2020 season, then a bum shoulder truncated his '21 campaign and he was actually out of affiliated baseball in 2022, bouncing between the Atlantic and Mexican Leagues. Though his numbers appear ripe for correction, he's pitched well for the Brewers since inking a deal in May.
Never a big strikeout pitcher, the righty's 5.49 K/9 is eighth-lowest in MLB (min. 40 IP), just ahead of teammate and former Cub Wade Miley (5.40). For what it's worth, Kyle Hendricks is at 4.75 and Adam Wainwright is at 4.66 so far. Teheran appears to have curbed the control problems that have dogged him for the past several seasons, however, and has issued just eight free passes in seven starts.
Four of those came in one start, so he's actually been much better in that regard than even his sterling numbers indicated. Likewise, his seven homers allowed come from one game in which he gave up four dingers. That was his last time out against the Mets, so perhaps he's falling back to earth a bit. Teheran's .204 BABIP suggests that will continue, although his career .266 mark indicates he's always been good at getting weak contact.
His repertoire is a little different than in the past, as he's throwing a cutter now. The 86 mph pitch makes up nearly 30% of his repertoire and he can manipulate it to either side of the zone, though it often catches a lot of the plate middle-in to righties. The cutter is so effective because it mimics his 90 mph sinker, which he'll spread around the zone quite a bit more.
Teheran's curve is often classified as a slider because it's got some sweep to it, then there's the four-seam he throws almost exclusively up in the zone. His changeup has been really good as well and he likes to keep it working arm-side with more vertical break rather than more typical glove-side fade. I wonder if he throws it with more of Vulcan grip.
This is one of those games I can see going one of two ways: Either the Cubs jump on this dude and bounce him quickly or he absolutely shoves against them. I really hope it's the former because the last week of baseball has sucked and I'd like to see Brewers fans cry.
First pitch is at 1:10pm CT on Marquee and 670 The Score.
Here is today's #Cubs starting lineup for the series opener in Milwaukee.

Tune in: https://t.co/Gs2hZXyTjH pic.twitter.com/dGkX5Bon5r

— Chicago Cubs (@Cubs) July 3, 2023