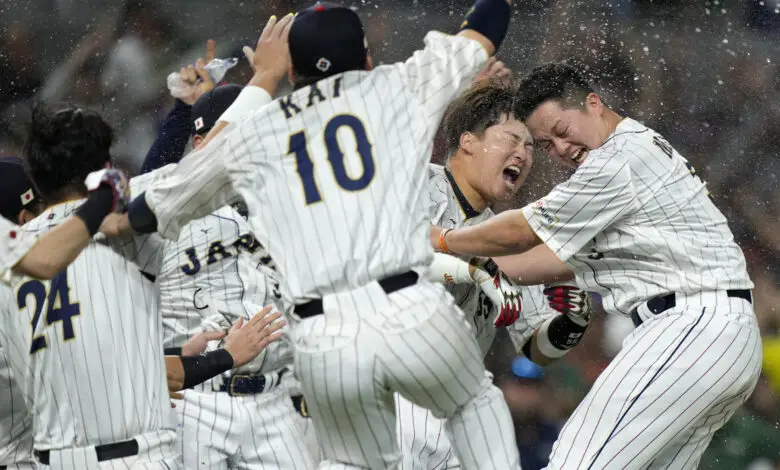 The Rundown: MLB May Tweak New Rules, Assad Making Strong Case for Roster Spot, USA Battles Japan for WBC Championship
"I can't have been there when brains were handed 'round or get past the cover of your books profound." – XTC, Mayor of Simpleton
The league is considering tweaks to some of its new rules, and though it seems odd to make proposals with Opening Day a little more than a week away, it's great if it makes the game better. The Athletic reported that the Players Association brought those suggestions to the league, though it is not known what exactly is included. The commissioner's office ultimately controls the outcome of the competition committee process with a majority of appointees to the group, which was created last year.
Game times have been reduced by an average of 25 minutes in Cactus and Grapefruit League games so far and, though I don't want to piss on anybody's cornflakes, I think ulterior motives are in play. If enough time is removed, the league can air an extra ad between innings. Even if it's a 30-second roll, that gives the league nine minutes of extra revenue per game. Who is going to complain if the net result is 16 minutes saved?
We have reached the dog days of spring training, so there is little to write about until rosters are finalized. With that in mind, I thought I'd play commissioner for the day and submit some changes of my own. Mine are a little more fan-friendly, most are tongue-in-cheek and open for debate.
Start every inning with a ghost runner at second base. There is nothing more boring than low-scoring games, so let's add instant offense. The change to lineup dynamics would be spectacular, too. Those batters who like to work the counts might be seeking employment elsewhere, however.
Instead of a pitch clock, have every batter enter the box with an automatic 1-1 count. That saves one minute per at-bat and also allows for elongated walk-up music.
Eliminate the automatic double. I'm not going to research it, but I'd bet there are no more than a handful per year. If the baseball leaves the park in fair territory, just call it a home run.
Remove names from the backs of home jerseys. Show some class, baseball. Real fans know the home team players by their numbers, and if they don't, that's why we have scorecards and PA announcers.
Fire every announcer who feels the need to dumb it down for fans watching on television. I'm sorry, John Smoltz, but we've had enough. If you're following the WBC, have you noticed how boring American announcers are in comparison to their international counterparts?
Make the WBC an annual event, Keith Olbermann be damned. Schedule the reigning WBC champion to play the reigning World Series winner during All-Star Week.
Change the playoff format when baseball expands to 32 teams. Go to four, 8-team divisions and have an end-of-season single elimination intradivision tournament for all teams. The four winners would play for the AL and NL championships. Purists' heads will explode. Reward the teams that finish the regular season atop the standings with a significant financial incentive for doing so.
Cubs News & Notes
Odds & Sods
I'm terribly disappointed that Lars Nootbaar is such a fun interview. I hope the Cardinals trade him to anyone but the Mets so I can root for him.
"Crazy game, man. Crazy emotions. It's good to be on top though."

Lars Nootbaar joins the set to recap Japan's insane walk-off winner 🇯🇵 pic.twitter.com/w2msVVJuJ6

— FOX Sports: MLB (@MLBONFOX) March 21, 2023
Climbing the Ladder
"Oh, the hours we'd spent inside the Coliseum dodging lions and wasting time. Oh, those mighty kings of the jungle, I could hardly stand to see 'em. Yes, it sure has been a long, hard drive." – Grateful Dead (Bob Dylan cover), When I Paint My Masterpiece
The Cubs have a bit of a rotation crunch right now and Wesneski, Javier Assad, and Adrian Sampson have all made strong cases for inclusion. Wesneski is the frontrunner, but Assad and Sampson are coming on strong. That said, the team may have room to carry two of the three if Keegan Thompson continues to struggle with velocity. That's concerning when he was expected to log a lot of innings as one of two main long relievers.
Thompson has pitched well and has yet to allow an earned run in four innings of work, but Greg Zumach of Ivy Futures provided some eye-popping metrics with regard to Thompson's fastball. The 28-year-old swingman is lights out when his fastball hits 94+ mph. His results diminish a great deal when he fails to reach that benchmark and Thompson is down 3-4 ticks on his fastball this spring. Yes, it's four innings of work, but it's still cause for worry.
Assad has been dominant in Cactus League and WBC competition and deserves to head north with the team next week.
Central Intelligence
How About That!
Japan beat Mexico in last night's semifinal tilt and will advance to play Team USA tonight. Munetaka Murakami walked it off with a two-run double that scored Shohei Ohtani and Ukyo Shuto.
Tonight's battle will make a champion of Ohtani or Mike Trout, two players who have been vocal about the Angels' inability to make the MLB playoffs.
Merrill Kelly will start for the Americans tonight and Shota Imanaga will take the bump for Team Japan.
Yu Darvish was Japan's presumed starter, but it appears he and Ohtani will be on standby for relief roles if needed.
If you're hoping to see Roki Sasaki pitching in the United States on a regular basis, you probably have to wait until 2027.
The Phillies have released former top pitching prospect Mark Appel.
Randy Arozarena is baseball's version of Wesley Snipes in "White Men Can't Jump." 
Extra Innings
Fantastic game last night.
🌍⚾️❤️ pic.twitter.com/A00EXEjv5K

— B/R Walk-Off (@BRWalkoff) March 21, 2023
Tuesday Morning Six-Pick
According to United Nations Secretary-General António Guterres, Greenhouse gases need to be reduced by 50% by 2030 to keep climate change within 1.5 degrees Celsius of the pre-industrial level. So far, the world is on track to miss this target. "Humanity is on thin ice—and that ice is melting fast," he added for dramatic effect.
For what it's worth, I've learned to limit my driving to less than 6,000 miles per year, though that's an option for very few. That said, if you can walk or bike the distance, why drive? Practicing good common sense is usually the healthier choice.
For the sixth year in a row, Finland earned the title of the world's happiest country, according to the annual World Happiness Report. The United States is No. 15 and falling, apparently, if you've witnessed what's happening in Miami this week.
The South Beach community would love to remove itself as a destination for spring breakers. Mayor Don Gelber stated "We don't ask for spring break in our city. We don't want [it] in our city."
An interactive website lets you flip the bird to any location in the world, including St. Louis.
Today is Twitter's birthday. On this date in 2006, Jack Dorsey composed the first tweet, which read "just setting up my twttr."
They Said It
"I love where I'm at with the Cubs as an organization. They've given me every opportunity possible. Not many careers go without something like that. Everyone has their moments here and there that feel monumental at the time. You look up a couple of weeks later, you continue what you're doing and you're in a good place. The game can happen so fast one way or another. If anything, things are never as drastic as they feel in the moment. The most admirable people are those who don't ride that wave." – Hoerner
Tuesday Walk-Up Song
Going deep into the vault for this morning's selection. It sure makes me miss the heady days of CBGBs.