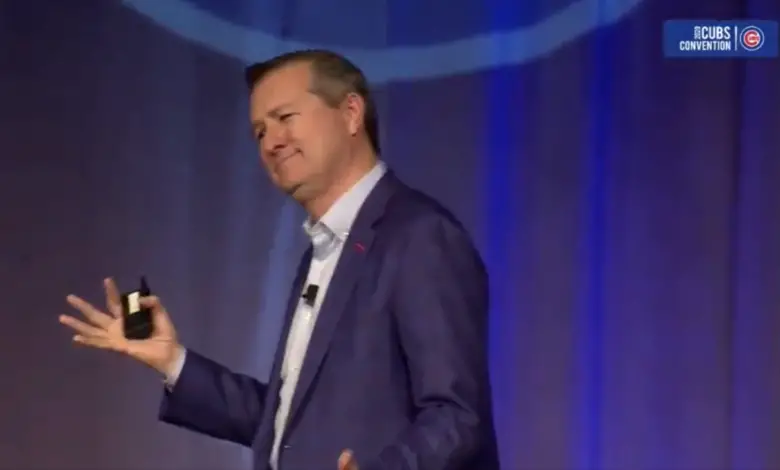 Tom Ricketts Acknowledges Subpar Product, Says Cubs 'Plan to Be Very Active' in Free Agency
The Field of Dreams Game was dripping with so much schmaltzy baseball romanticism that I am officially ready and willing to be hurt again. I was already of a mind that parting ways with Jason Heyward was a sign the Cubs were ready to take a big step forward this winter, so reading what Tom Ricketts shared with ESPN's Jesse Rogers prior to the game got me pretty excited.
And before you say anything, yes, I realize this isn't very different from what he said at the end of last season. But that was before the team experienced another round of decreased season ticket sales and a cratering of prices on the secondary market. While Wrigley Field's attendance might not directly reflect those issues, I have to think ownership is feeling the impact of providing fans with an inferior product.
Between that and what figures to be a whole lot of room in the budget, Jed Hoyer should have plenty of money to go out and improve the team.
"I'll be the first to acknowledge this is not the type of baseball Cubs fans deserve," Ricketts told ESPN. "Our decision last year to move away from Cubs players who brought us a World Series title was tough, but we have a plan to return to championship contention by building the next great Cubs team around a young core of players augmented by free agent signings — and we're making progress."
Okay, not really much there to pick apart. The next little bit from the club chairman is more telling and offers definitive language when it comes to plans for the immediate future.
"Our moves over the past year and at the trade deadline have put us in a position of strength in both player and financial currency," Ricketts said, echoing Hoyer's phrasing. "We plan to be very active again this offseason competing in the free agent market."
The Cubs have loaded up on pitching of late, largely because their system was already so heavily stocked with position players, and they now have enough depth to be aggressive buyers without nuking the farm. They're particularly strong at shortstop and the outfield, with the former standing out as particularly interesting given Nico Hoerner's emergence and persistent rumors about the Cubs being favorites to land a top shortstop in free agency.
I'd personally love to see them go out there and land an ace as well, though they might feel strongly about their current group that committing huge money to another starter isn't in the cards. That said, 34-year-old Jacob deGrom can opt out of his Mets deal after this season and Hoyer has admitted that they made a mistake by not trading for Justin Verlander in 2017. Verlander was in his age-34 season that year and has been as good as ever in subsequent seasons, including this year at age 39 and coming off of Tommy John.
Even with injury history throwing up a red flag for some, I would do unspeakable things to get deGrom in a Cubs uniform for his age-35 season and several more after that. Lucky for me, all Hoyer needs to do is pay the man.
It seems unlikely that the Cubs would be able to land both an elite-level shortstop and the best pitcher on the planet, but I would not be surprised at all by them getting one or the other. In terms of the timeline, they could be heading into the new version of 2015. That would make a big free agent the next Jon Lester, something we've talked about here at the site in the past.
That's not really a direct comp, however, either in terms of the player or the situation. Lester was a different sort of pitcher from anyone the Cubs would presumably pursue in that regard and they might target a position player to signal their return to competitiveness. And when Lester came aboard the organization had a number of prospects who were expected to impact the big league club right away. With all due respect to Brennen Davis and Pete Crow-Armstrong, things aren't the same at this point.
All that really matters for now is that the Cubs might indeed be willing to throw their financial weight around again, which could make this winter a lot of fun.