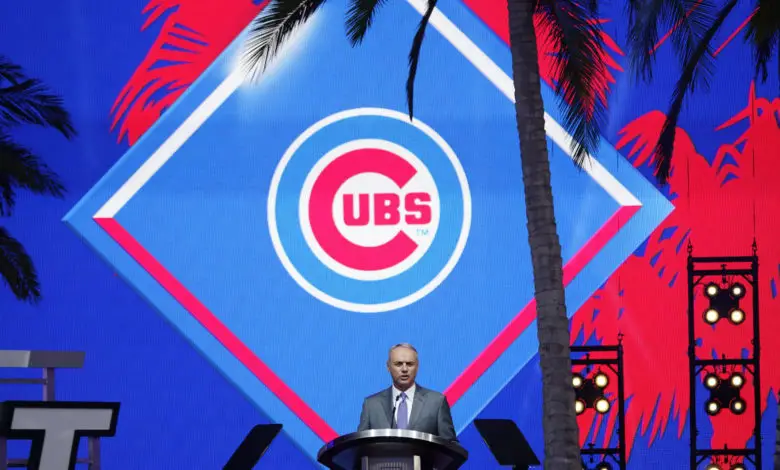 Cubs Have Now Signed 8 of Top 10 Draft Picks, Including Mason McGwire
Though terms have not been revealed for several of them, the Cubs announced Saturday that they have signed eight of their first 10 picks less than a week after the draft began. Cade Horton, the No. 7 overall selection, agreed to an underslot deal that should pave the way for the Cubs to ink second-round pick Jackson Ferris. A lefty out of IMG Academy, Ferris is one of the two unsigned players mentioned above.
The other is Nazier Mulé, a two-way player out of New Jersey who said Friday that he will be signing with the Cubs. It's expected that he will need more than the roughly $539,000 slot value for his pick, so the two sides will likely negotiate over the weekend.
"The minute I was drafted, I felt like I was ready to be a Chicago Cub," Mulé told Jersey Sports Zone. "I felt like I was ready to play professional baseball. Like I said, it is a big decision and there is time that has to go into it…but Arizona is going to be my home for a few, for rookie ball and I'm gonna work my way up to Chicago."
Getting back to the players they have signed, the 20-year-old Horton went 3-0 with a 2.61 ERA and notched 49 strikeouts against six walks in five postseason starts. Starting with the Big 12 title game and going through the College World Series, he averaged 14.22 K/9, allowing two or fewer runs in all five outings. Horton was recommended by area scout Ty Nichols.
Third-round pick Christopher Paciolla hit .390 with nine doubles, two triples, four home runs, and 21 RBI in 29 games during his senior campaign at Temecula Valley High School in 2022. The right-handed hitting infielder batted .394 with 19 doubles, five triples, 10 homers and 64 RBI in 94 games over four high school seasons.
At 6-foot-2 and 185 pounds, the 18-year-old Paciolla still has room to fill out and could eventually move from short. He was recommended by area scout Evan Kauffman.
Mason McGwire, 18, is the son of former Bash Brother Mark McGwire and posted a 3.43 ERA with 46 strikeouts in 32.2 innings during his senior season at Capistrano Valley High School in 2022. The right-handed pitcher transferred to Capistrano Valley after starting his high school career at JSerra Catholic High School.
McGwire is ranked as the No. 3 right-handed pitching prospect in California by Perfect Game and was also recommended by area scout Evan Kauffman.
The Cubs also agreed to terms with righty Brandon Birdsell of Texas Tech, righty Will Frisch from Oregon State, righty Nick Hull from Grand Canyon, righty Connor Noland from Arkansas, and righty Brody McCullough from Wingate. That run of college pitchers should give the front office enough wiggle room to lock down most of their remaining unsigned players.