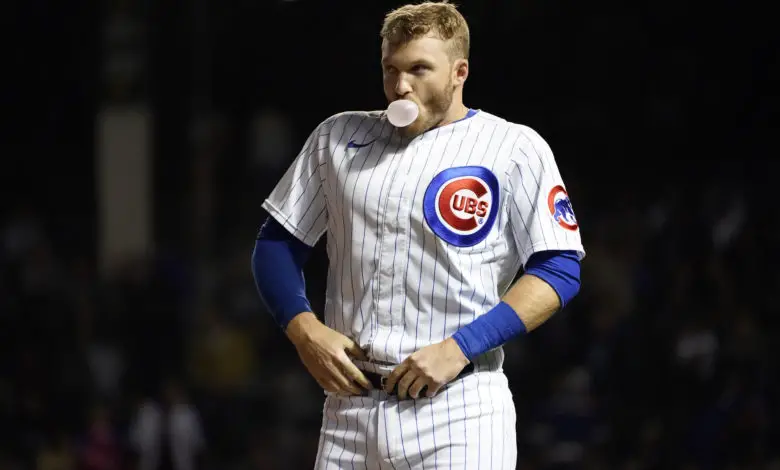 Ian Happ Named to National League All-Star Team
In some pretty cool and very much deserved news, Ian Happ has been selected to be an All-Star through this year's player vote. Happ is having a career year, slashing .277/.372/.449 with a career-high 2.2 fWAR. Of course, it's that same performance that could make him an attractive trade candidate. The word is that the Cubs are aggressively shopping Ian Happ.
IAN HAPP IS AN ALL-STAR.

Congratulations to @ihapp_1 on being named to the NL All-Star team! pic.twitter.com/m9Zmqyc2KR

— Chicago Cubs (@Cubs) July 10, 2022
Happ will join teammate Willson Contreras who was voted starting catcher for the All-Star game in Los Angeles. Imagine that, two All-Stars on the Cubs and it's possible they both get traded. I sure hope not.
Here's the press release from the Cubs:
CHICAGO – Chicago Cubs outfielder Ian Happ today was named to the National League All-Star team and will join catcher Willson Contreras, who on Friday was named the starting catcher for the N.L. All-Star squad via the fan vote.
Happ, 27, was named to the N.L. All-Star team through the player vote.
Happ makes his first career All-Star team as he has batted .277 (81-for-292) with a career-high 22 doubles, two triples, eight home runs, 40 RBI, six steals and 41 walks in his first 83 games through July 9. Happ is third among big league switch-hitters with an .821 OPS and owns a .353 average (24-for-68) with a .950 OPS against left-handed pitching. He is one of nine N.L. players to record at least 30 extra-base hits and 40 walks this season.
Happ is the first full-time Cubs outfielder to be named to the N.L. All-Star team since Dexter Fowler was named to the 2016 squad. Third baseman Kris Bryant appeared in left field as a reserve in both the 2019 and 2021 All-Star Games.
Contreras, 30, will make his third career All-Star Game start and appearance after he was voted as a starter in both 2018 and 2019. He will join Gabby Hartnett (1934, 1936-37) as the only catchers in Cubs history to make three All-Star Game starts. Contreras will be the 10th player in Cubs history to make at least three starts in an All-Star Game along with Ernie Banks, Andre Dawson, Stan Hack, Hartnett, Billy Herman, Don Kessinger, Ryne Sandberg, Ron Santo and Sammy Sosa.
In 2018-19, Contreras became the fourth N.L. catcher to start the game in consecutive seasons in the last 25 years, joining Buster Posey (2015-17), Yadier Molina (2009-10) and Mike Piazza (1994-99, 2001-02, 2004-05). Contreras remains only the fourth Cubs catcher to make the squad in the last 40 years, joining Geovany Soto (starter in 2008), Joe Girardi (2000) and Jody Davis (1984, 1986).