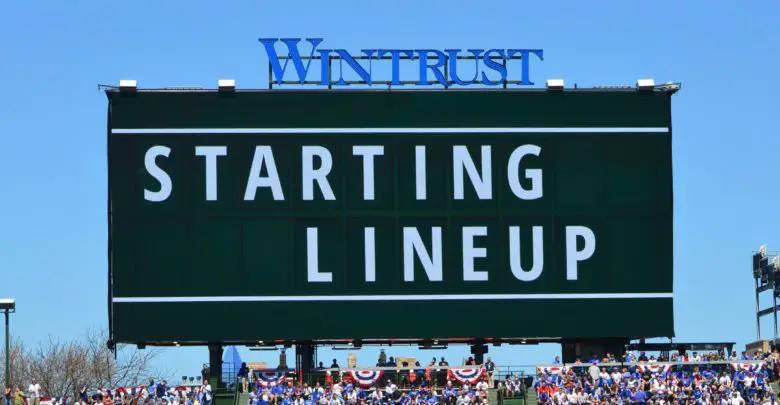 Chicago Cubs Lineup (6/14/22): Villar at 2B, Heyward in RF Against Southpaw, Hendricks Back to Snap Skid
The Cubs have lost seven straight after falling behind late, very late thanks to a weather delay, and now boast the fifth-worst record in baseball. They're only one ahead of Cincinnati in the win column and just a game and a half from getting the best odds in the draft lottery. And they haven't even started trading players away yet.
Playing the surging Padres is a good way to keep digging closer to the bottom, as we saw last night. Though the players themselves obviously don't want to lose, this team just doesn't have enough firepower to win enough close games. It doesn't help that the pitching staff has been decimated by injuries and fatigue, with Kyle Hendricks just now rejoining the rotation for the first time since June 1.
Hendricks has allowed 14 earned runs over as many innings in his last three starts, striking out five and walking four. He gave up four homers to the Diamondbacks on May 20 and seemed hungover in his two subsequent starts before getting some time off to rest his arm and perhaps his ego as well.
The righty has shown flashes of brilliance this season, but those have become the exception rather than the rule. A vintage effort could get the Cubs off the schneid tonight, though I think they'd settle for just relative competence over five innings.
On the bump for San Diego is Sean Manaea, the pride of South Central High School in Union Mills, IN (he was later poached by those mean ol' Catholics from Andrean). The Sattelites didn't have a whole lot to lean on in terms of athletic prowess for a while there and, while that has changed recently, any small school is going to have a ton of pride in one of its former students making the bigs.
The 30-year-old lefty is in his first season with the Padres after spending six seasons in Oakland, and boy did he ever pick a great time to switch. He's a big-time sinker-baller who goes to his favorite pitch about 62% of the time, but he doesn't generate a ton of grounders. Rather, it's about locating to get weak contact in general.
Manaea also has a changeup and slider that are both very effective, hence the nearly even splits. Though right-handed batters carry a much better average (.215 to .174), lefty hitters have a higher OBP (.277 to .269) and wOBA (.277 to .272). Though his 91 mph heat isn't going to overpower anyone, Manaea loves to get ahead early with first-pitch strikes and then work hitters' soft spots to dictate the game.
He will give up his share of hits and should walk two or three, so it's just a matter of stringing hits together and moving runners along. If the Cubs can jump on a mistake or two early, they might be able to knock Manaea off his rhythm.
Christopher Morel got himself back into a rhythm with a base knock against Yu Darvish to start a new hit streak, and he'll be leading off in center. Willson Contreras is catching, Patrick Wisdom moves to the third spot and plays third, Frank Schwindel cleans up at first, and Yan Gomes is the DH. Ian Happ is in left, Nico Hoerner is the shortstop, Jonathan Villar is at second, and Jason Heyward is in right.
I should be past the point of caring, but putting Heyward in here against a lefty is egregiously bad. Though he's only had 20 plate appearances against southpaws this season, his 8 wRC+ means he's 92% worse than a league-average hitter. He did put up a 70 last year, though, so there's room to improve. Too bad the Cubs no longer have a guy who put up a 141 wRC+ against lefties in 32 plate appearances.
But hey, this is what David Ross said they were going to do, at least until Seiya Suzuki is ready to return. Watch Heyward be the star of the game now.
First pitch from Wrigley Field is at 7:05pm CT on Marquee and 670 The Score.
Here is tonight's #Cubs starting lineup. pic.twitter.com/CHxxVegHjB

— Chicago Cubs (@Cubs) June 14, 2022