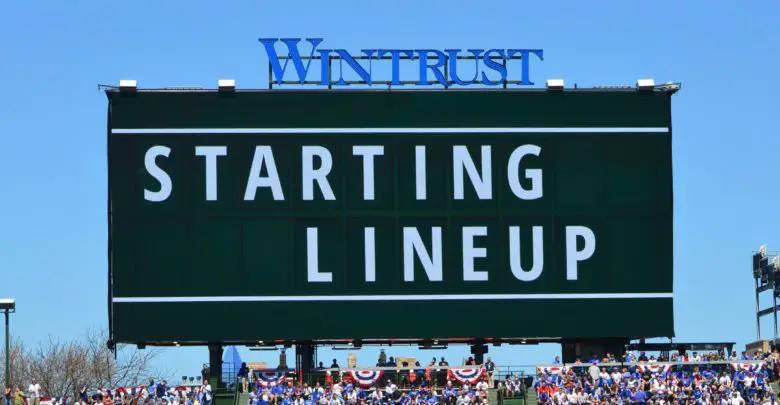 Chicago Cubs Lineup (4/28/22): Ortega Leads Off, Rivas at 1B, Smyly Starting
Six of the Cubs' top eight pitchers in terms of fWAR threw in last night's win over the Braves, which means they'll need to rely on one of the remaining two if they want to win their first series since the opener against the Brewers. Drew Smyly has been much better than anticipated through three starts, but his most recent outing wasn't quite as smooth as the first two.
With four runs allowed over five innings, including his first two homers of the season, Smyly started to look less like the groundball machine we saw out of the gate. He was still throwing a lot of strikes, but his curveball wasn't very sharp and the Pirates were able to tee off on it. If he's not keeping the hook down and locating the fastball well, it could be another long night against a team that just got Ronald Acuña Jr. back.
The Cubs could really use a big game from Smyly because they'll be facing 26-year-old righty Kyle Wright, who is pitching like an ace so far. With a 1.06 ERA (0.73 FIP) and 26 strikeouts to just two walks in 17 innings of work, Wright is a guy who is very comfortable throwing strikes with full confidence that his stuff is better than the hitters he faces.
Armed with a 95 mph fastball/sinker combo and a curve he throws just over a third of the time, Wright mixes velocity and location — keeping the fastball up and moving other pitches around — to keep hitters guessing. He's also got a firm slider and change that he'll mix in there, although the latter is typically nothing more than a show-me pitch. Interestingly enough, his dominant start is due almost entirely to shutting down left-handed batters.
Wright has allowed only two hits to the 27 lefties he's faced so far and he has struck out 12 while walking none. That's good for a .077 average and .108 wOBA, though the regression monster might be chasing him like The Freeze tracking down a spectator on the warning track. Wright has typically pitched to pretty clear traditional splits and probably won't stifle left-handed batters to quite this extent all season.
He's also going to have to give up a home run at some point, so perhaps the Cubs can muck up his box score numbers a bit tonight. Given the lack of walks, patience might not be the best way to beat him. Then again, as we saw in the Brewers series, it's still possible to wait out heralded strike-throwers by refusing to give in to their borderline pitches.
David Ross is certainly thinking that will be the case and that the Cubs will rapidly reverse Wright's trends on the season, as he'll have five left-handed batters in there tonight. That starts with Rafael Ortega as the DH, then it's Seiya Suzuki in right. Ian Happ will bat and play left, Willson Contreras is the catcher, Jonathan Villar plays second and will hit lefty, and Alfonso Rivas is finally getting another start at first base.
Jason Heyward is in center, Patrick Wisdom is at third, and Nico Hoerner bats ninth at short. Here's to hoping Wright misses low against Wisdom, who should be able to handle a mistake fastball. If Wright is able to work him above the belt, however, it could be a long night for the slugger.
First pitch is once again set for 6:20pm CT on Marquee Sports Network and 670 The Score.
Here is tonight's #Cubs starting lineup for the rubber game in Atlanta! pic.twitter.com/cDOC9xwMfB

— Chicago Cubs (@Cubs) April 28, 2022