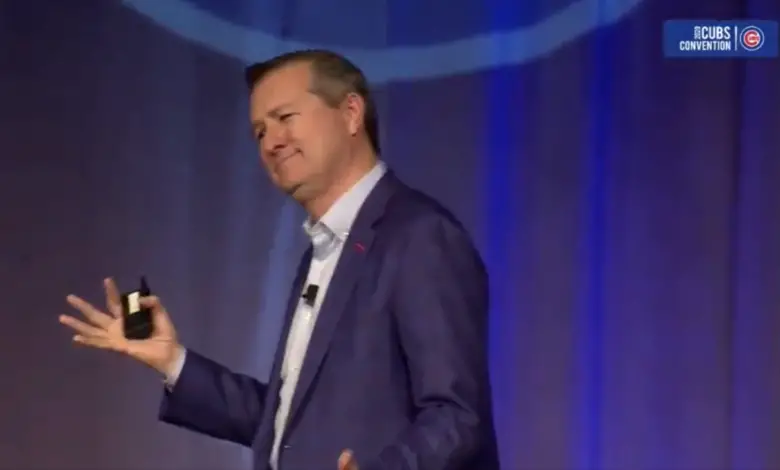 Huh, Looks Like Owning an MLB Team Is Profitable After All
If I had a dollar for every time I'd lampooned Tom Ricketts' "biblical losses" comment, I could probably afford a bleacher ticket to Wrigley Field. And that's not because ticket prices have increased as a function of player salary, either, since that's a fallacy you need to let go of posthaste if you still harbor it. If tickets were truly tied to salary, they'd have gotten 30% cheaper over the past several years.
That's how far MLB's median salary has fallen since 2015, declining from $1.65 million to $1.15 million as teams increasingly subsidize big contracts with a labor force comprised mainly of players in their pre-arbitration years. The average MLB salary on Opening Day 2021 was $4.17 million, down 6.4% from the start of the 2017 season.
While I'm here:

– Ticket prices aren't higher because of player salaries. It's because of supply and demand
– Having a rad job does not mean you should be OK taking less than what your talent and the market warrant
– Sports is a big-money operation because of you, the fan

— Jeff Passan (@JeffPassan) February 16, 2022
Based on just the numbers we know, it's very clear that ticket prices are simply a function of that basic economic principle known as supply and demand. Thing is, there are a lot more numbers we don't know because nearly every MLB team is privately owned and keeps their books very closely guarded. You would too if you were reaping massive profits while avoiding taxes like Pete Rose or Wesley Snipes.
Take the Cubs, for instance, with the comingled finances of the team itself and the Ricketts family's myriad ventures around the ballpark. While those may technically be separate, something the business side has maintained in the past, the team has admitted that profits from those side hustles can indeed contribute to player payroll.
The same can't be said for 20% federal tax credits ownership receives as a function of Wrigley's landmark status, which was granted in spite of sweeping renovations and the pending addition of a sportsbook. The exact value of those credits isn't public knowledge, but team spokesman Julian Green said last year that they were expected to fall between $100-125 million. That would be in keeping with the original renovation estimate of $500 million, though Tom Ricketts admitted last December that the actual cost ended up being "around 100%" over budget.
Outside of anecdotal evidence, we don't have much to go on when it comes to understanding how much MLB teams really make. If you believe the owners, they don't make much at all.
You already know what Ricketts has had to say, so I won't belabor that quote. Cardinals chairman Bill DeWitt called ownership a "zero-sum game" in a 2020 interview, claiming the "industry isn't very profitable." Rockies owner Dick Monfort — who heads up the owners' labor committee during the current negotiations — lamented that he and some of his colleagues could barely afford their teams. What a truly boneheaded self-own.
But what if there was a way to get some hard numbers related to baseball's profitability? As it turns out, we have exactly that in the earnings report from Liberty Media, the publicly-traded company that owns the Braves. As Eric Fisher of Sports Business Group tweeted Friday morning, the Braves reported $568 million in revenue and $104 million in OIBDA — operating income before depreciation and amortization — for 2021
Liberty Media-owned Atlanta Braves report $568 million in revenue for 2021, $20 million in operating income, big shift from pandemic-impacted 2020 totals of $178 million in rev, $128 million operating loss. Adjusted OIBDA swings fr $53 million loss '20 to $104 million gain in '21

— Eric Fisher (@EricFisherSBG) February 25, 2022
That's more than enough to make up for losses incurred during the pandemic-shortened season, and it came during a campaign in which ballparks weren't at full capacity for the whole year. What's more, the Braves were playing mediocre baseball for a good chunk of the season and were thought to be likely sellers prior to their second-half surge to the World Series.
We can't make a direct comparison between the Braves and all 29 other teams, but it's pretty clear from this report that owners haven't been honest with the public. I mean, you should have already known that, but now it's even more obvious.
Do not believe the lie that baseball teams are not extremely profitable ventures. They are. And the financials of the Atlanta Braves, as @EricFisherSBG noted, illustrate that. A $104 million profit in 2021. A $6 million-per-game revenue stream. As a business, baseball is superb. pic.twitter.com/OXlMCdOKNn

— Jeff Passan (@JeffPassan) February 25, 2022
The other thing to remember here is that profitability isn't even the primary goal for most owners, just like earning dividends isn't the main reason you would buy stock. Profession sports ownership is all about asset appreciation, or so I've been told by someone with knowledge of the situation. This same person also schooled me on the mechanics of salary arbitration, which was a fun bit of mansplaining that had me struggling not to laugh in their face.
The timing of this information — the Braves stuff, not arbitration details — couldn't be better for the players union, as CBA negotiations continue to drag on with very little movement from a league that keeps crying poor. Perhaps this will motivate MLB to get something done and put the focus back on the game itself rather than the games Rob Manfred and his employers are playing with semantics.