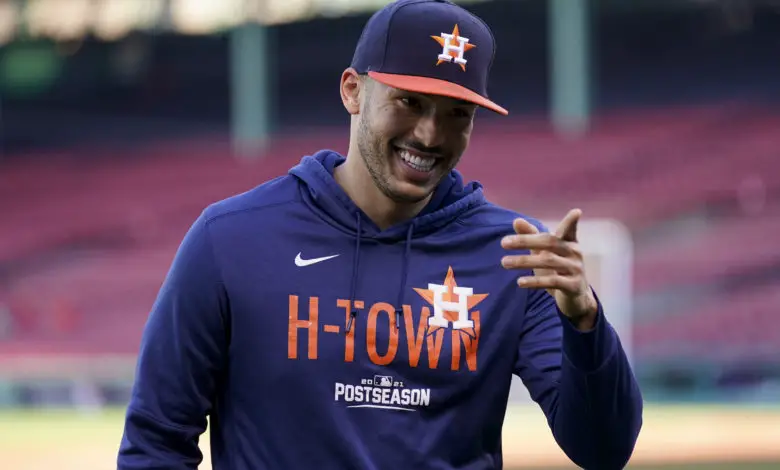 Cubs Still Being Listed Among Potential Carlos Correa Destinations
I'm catching a very Bryce Harper vibe at this point, particularly with the lockout forcing free agency to drag out way too long, so it's hard to feel too optimistic about the Cubs actually landing an elite player. The biggest limiting factor similar to a few years ago, as the Cubs may not be willing to spend on a cornerstone player around whom to build their next contender.
Correa has said explicitly that he'd like to land a 10-year deal and the implicit theme there is that said deal will eclipse Francisco Lindor's record $341 million pact. Hiring Scott Boras to represent him lent further credence to the notion that a record deal is being sought, though it doesn't necessarily rule out the idea of doing something creative for a shorter term that features options. The Cubs landing Correa with a mere seven-year guarantee feels very far-fetched, though.
That hasn't stopped some industry experts from keeping the Cubs among the favorites for the former Astro, with R.J. Anderson of CBS Sports predicting that Correa will sign with either the Cubs or Yankees. Anderson then goes on to predict that Trevor Story will fall to whichever of those two teams doesn't land Correa, a concept that contradicts a previous report from 670 The Score's Bruce Levine.
Matt Snyder of CBS sports agrees that the Cubs are among the teams that "make the most sense at this point for Correa by a mile," but he's skeptical when it comes to the team's desire to spend what it'll take. Snyder reluctantly calls Correa to the Yanks and adds that Story may need to opt for a one-year prove-it deal. I actually think that is something the Cubs should and would jump at because it limits their long-term financial commitment while also giving them a chance to be much more competitive in short order.
Neither Mike Axisa nor Dayn Perry listed the Cubs at all in their segments of the roundtable piece, respectively naming the Phillies and Yankees as Correa's new team. Story ends up with the Twins and Red Sox in those cases, so the Cubs are again shut out. That feels more realistic given what we know and believe.
So what to you think, reader? Do the Cubs have any kind of shot at all or is this Harper all over again?