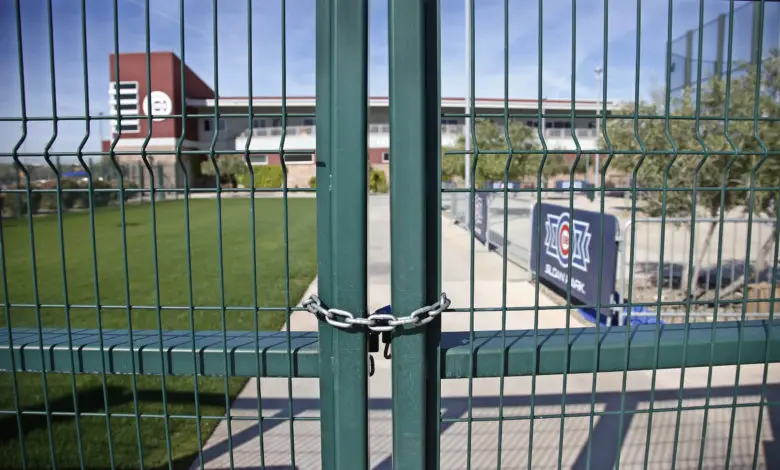 The Rundown: Potential Lockout Could Dramatically Affect Hoyer's Offseason Plans, Valaika Moves to Cleveland, Mets Still Sans GM
The last 24 hours have been filled with a number of procedural moves as all 30 teams are preparing for free agency. Front offices and players have been accepting or declining options at a rapid pace, so much so that it is almost impossible to keep up. Speculation as to where the game's best players will land is also ramping up and it already feels like this may be one of the busiest hot stove seasons in recent memory.
That should be the case with so many premium free agents available, but the dark cloud of the expiring CBA looms over the frenzied offseason festivities. No one expects a potential work stoppage to continue into spring training or the start of the 2022 season, but any lengthy suspension could have an adverse effect on how teams construct their rosters. That is particularly true for the Cubs. With so many holes to fill, a lockout that lasts even a few weeks might make it tough for Jed Hoyer and Carter Hawkins to field a full roster by the time pitchers and catchers report.
Lucas Giolito, the union rep for the White Sox, believes the offseason will obviously come to a grinding halt without a new agreement.
"Quite the time to [come] into that role, and I've been learning a ton," Giolito said. "Definitely, something huge coming up here soon. We've been having tons of meetings – union, MLB – been working through things. You know, both sides, we want to get something done.
"Fans, they want the sport to continue. They want the sport to grow. Anytime there's a work stoppage, it prevents that. That's why I think it's imperative that we continue to have our good communication, and you know, try to get something done."
Cautiously hopeful would be the phrase most befitting that statement. Unfortunately, this is the one winter where a team like the Cubs cannot afford to tread lightly. The North Siders closed the 2021 season fielding depth pieces throughout their starting lineup, and now enter the winter needing a complete overhaul of their rotation. The front office also has to make almost immediate decisions on Willson Contreras and Ian Happ, and they'll have to do it without knowing what the next agreement brings regarding such matters as qualifying offers, service time, and compensation for free agents lost or signed.
There is also the complicated matter of fleshing out the team's 40-man roster. If Hoyer and Hawkins feel that any halt in operations could last weeks or months, it might dramatically dictate who stays with the team and who gets exposed.
Some teams may decide to strike hard and heavy ahead of any potential lockout. That could leave the Cubs behind the eight-ball, especially if they are targeting similar players as the Mariners and Rockies, two teams that are expected to be very active as early as next week. The market prices for free agents will likely be different before and after the finalization of the next league agreement, too, and the difference could be quite sizable depending on how long any work stoppage lasts. Teams may have to change strategies on the fly, and certainly, the Cubs may be impacted a great deal more than their counterparts.
It's going to be a busy offseason no matter how things shake out with the new CBA. For now, the two biggest names of the hot stove season are Rob Manfred and the executive director of the players' union, Tony Clark.
Cubs News & Notes
Odds & Sods
It's okay to admit you forgot all about Robinson Cano. This is just so Mets, though, and no wonder nobody wants that GM job. One might also think that Cano's excessive contract might prevent the Metropolitans from extending a qualifying offer to Noah Syndergaard.
Robinson Cano's 162-game suspension has been served. He was reinstated from the restricted list officially on Wednesday. He is back on the active roster, which also means on the payroll. The #Mets owe him $40.5M the next 2 yrs (the #Mariners are paying $7.5M).

— Joel Sherman (@Joelsherman1) November 4, 2021
Friday Stove
The Braves turned a lost season into an unexpected championship.
Despite reaching the World Series, the Astros are expected to overhaul their roster a bit in the offseason. Of course, that starts with finding a replacement for shortstop Carlos Correa, who is not expected back. Pundits see Correa eclipsing $300 million on the open market.
Zack Greinke is also not expected to return to the Astros.
Yuli Gurriel will be returning to Houston. The Astros announced his club option for next season has been exercised.
Nick Castellanos has officially exercised his opt-out right. The hard-hitting outfielder had two years and $34 million remaining on his deal with the Reds but will seek length and a higher AAV on the open market.
Starting pitcher Nick Martinez is expected to draw considerable interest this winter. The former Rangers prospect has spent the last four seasons playing in Japan.
Red Sox assistant EVP and assistant GM Raquel Ferreira will not interview for the Mets GM vacancy. Has anybody seen Jason McLeod?
Mets pitcher Jacob deGrom believes poor MRI positioning may have aggravated a recent arm injury.
Apropos of Nothing
The Rundown will continue on a daily basis, Monday through Friday, all winter. In case anything major breaks on the weekends, I'll be sure to cover it in a Saturday or Sunday edition.
Extra Innings
Sometimes a picture is worth nothing but a single word, like "finally," for instance.
— MBDChicago (@MBDChicago) November 5, 2021
They Said It
"It's hard to characterize progress. Progress is, you go in a room, you're having conversations. People are continuing to talk. It doesn't move in any measurable way that I've ever figured out, anyway, and I've done it a long time . . . The most important point is that I know our clubs are 100% committed to the idea that they want an agreement by December 1." – Manfred
"Dialogue is ongoing on a number of moving pieces. Meeting in person has been a plus. We look forward to those kinds of opportunities to continue. Beyond that, we're looking to take advantage of as many days as the schedule permits over the next five weeks or so to continue that dialogue." – Clark
Friday Walk-Up Song
Old Days by Chicago – The five years since the Cubs ruled baseball really flew by.