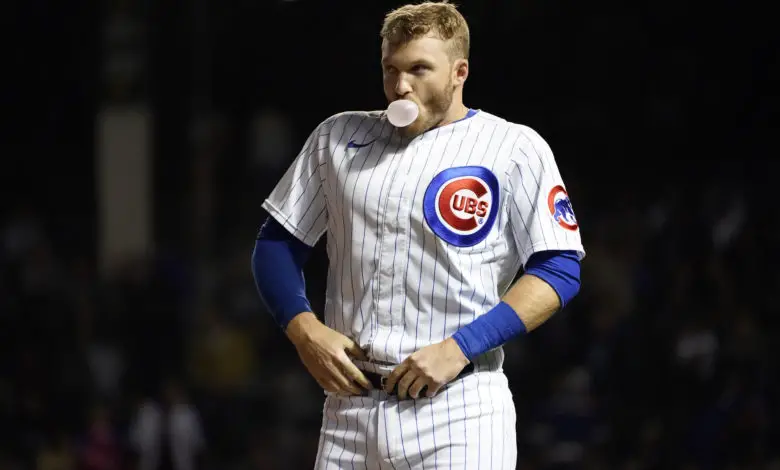 The Rundown: Sub-Cubs Begin Transition to Baby Cubs, Rookie ETAs, Hoyer and Ross Discussing Extension, Playoffs Begin Tonight
"Magically bored on a quiet street corner. Free frustration in our minds and our toes." – The Who 5:15
Instant Replay
With the passing of the 2021 season, I think it's safe to say we will start to see the transitioning from sub-Cubs to baby Cubs over the next 18 months. Brennen Davis looks like the real deal and Nick Madrigal looks to be some kind of singles machine, but what else do the Cubs have and who will lead them back to competitive baseball? It appears David Ross has job security, at least through next season, and Frank Schwindel, Patrick Wisdom, Ian Happ, Jason Heyward, and Kyle Hendricks will provide veteran clubhouse presence pending any free agent signings.
4.4.22

Meet us at 1060 W. Addison. 💙 pic.twitter.com/gEKHnRjpFW

— Chicago Cubs (@Cubs) October 5, 2021
You'll notice I didn't mention Willson Contreras, and for good reason. He is Jed Hoyer's most valuable commodity and he will be entering his walk year once baseball resumes. Depending on the next CBA agreement, Hoyer may find a need to trade his starting catcher if there are changes to qualifying offers and their associated compensation.
We don't have to go there just yet, but it is something to keep our eyes on. The Cubs kept their pending free agents this year under the premise of squeezing one last championship run out of the core and when it didn't happen, the front office cleaned house. They won't have that luxury with Contreras unless they hit a few home runs in free agency. Expect rumors to abound once the Winter Meetings are officially scheduled.
In the meantime, we can take a look at the new blood, see their expected times of arrival, and set an armchair course for building a team that can unseat the Brewers, Cardinals, and Reds at the top of the division as quickly as possible. Yes, your Chicago Cubs are a fourth-place team, and doesn't that sound odd, if not entirely off-putting?
Cubs News & Notes
Odds & Sods
This almost seems like an unfathomable statistic.
Also within this story on the state of pitching, this eye-popping stat: The Nationals bullpen was charged with 42 losses this season, most in MLB history. https://t.co/rM0u7hR9HO

— Mark Zuckerman (@MarkZuckerman) October 5, 2021
From the Front Office
No way we can call Hoyer's end-of-year presser a post mortem. That day was July 31, but at least the president of baseball operations has started to reveal his offseason plan.
"We will sit down and talk as an organization on how to mold this in the right way," Hoyer said last week. "Obviously, we are scouting that free-agent market heavily. We are going to analyze that market heavily. There are offseasons when free agency is what you do a little bit of. This year, we are going to be a little more active than usual for our roster because we have a lot more open spots. We just want to do it in a thoughtful intelligent way."
Climbing the Ladder
"People try to put us down, just because we get around." – The Who, My Generation
The first wave of rookie Cubs should see extended action at the MLB level next season, depending of course on any service time implications baked into the next CBA.  Here's an ETA of some of the organization's best prospects, and yes, Davis should see significant playing time in '22.
Postseason News & Notes
The Yankees and Red Sox will match up in the first Wild Card game tonight at Yankee Stadium. The two franchises have the most storied rivalry in baseball, at least since the Dodgers and Giants moved from New York to the West Coast.
The winner of tonight's game will face the Rays in the ALDS.
Yankees starter Jameson Taillon predicted tonight's game will be one for the books.
The Cardinals travel to Los Angeles to play the 106-win Dodgers in the NL Wild Card game tomorrow evening.
The two NL entries have a very one-sided playoff history that doesn't favor the team with the better record.
Imagine winning 106 games and finishing in second place with your season resting on a single-elimination game? Don't feel too bad. The Dodgers are the odds-on favorite to win the World Series.
How About That!
Adam Wainwright will earn more than twice as much in 2022 as he did this season. The 40-year-old St. Louis starter also has a full no-trade clause.
The Mets have fired manager Luis Rojas after a disappointing third-place finish in the NL East.
Corey Seager was non-committal when asked if he wanted to remain with the Dodgers after this season.
MLB drew 45.3 million fans this year, down from pre-COVID attendance totals of 68.5 million.
Extra Innings
That the Cardinals make this list and the Cubs do not is a little upsetting.
The 2021 MLB postseason begins tonight.

The four teams competing in Wild Card games are the four winningest franchises in MLB since 2000. pic.twitter.com/Q770V1MJ0Y

— ESPN Stats & Info (@ESPNStatsInfo) October 5, 2021
They Said It
"I think it'll be a really interesting offseason from a bunch of different perspectives. Not only with this group but the entire industry. I think the big free-agent class, it'll be really interesting to see just how things shake out." – Happ
"There was a lot of fun, cool moments within our group that I'll hold onto and I'm thankful for. It's a good group. It's a good group to root for. These guys work their tails off and they're a lot of fun to come to work with every day." – Ross
Tuesday Walk-Up Song
Won't Get Fooled Again by The Who – Let's hope the break from competitive baseball on the North Side is a very short one.