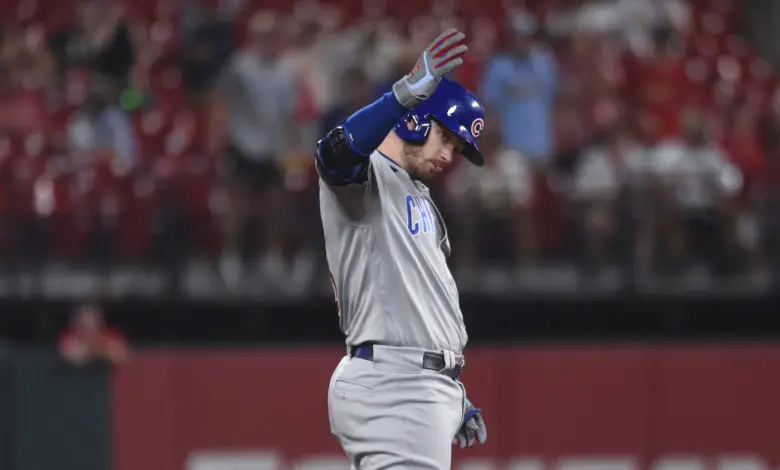 The Rundown: Cubs Stun Cards With Late Rally, Hoyer Has Control of Trade Market, Happ Hoping to Stay, Minor League Cubs Flexing Muscle
"Yes we're gonna have a wingding… a summer smoker underground." – Donald Fagen, New Frontier
Instant Replay
No matter the current state of affairs at the Cubs' offices at Clark and Addison, and no matter the standings, there is nothing better than a 7-6 come-from-behind win over your most-hated rival. It's even better when you score six runs in the 9th inning to do it. We've been waiting since the start of summer for a signature feel-good moment and the boys in blue finally delivered. Too little, too late? Maybe, but who cares? Those kinds of wins over the Cardinals will turn any frown upside-down.
.@ihapp_1 for the lead!#CubTogether pic.twitter.com/i5QRvZkU4a

— Chicago Cubs (@Cubs) July 21, 2021
It won't stop the trade talk as rumors continue to swirl surrounding the core and Craig Kimbrel, but for one night at least, everything feels good in Wrigleyville. Ian Happ, who replaced trade candidate Kris Bryant mid-game, was last night's hero when he came up with a clutch two-run double to give the Cubs the lead. Kimbrel nailed it down to earn his 22nd save of the season. In a season that has featured the lowest of lows, last night provided a glimpse of what the Cubs are capable of when they play the way they should have been all season long.
Bryant has been rumored to be part of a trade-deadline sell-off, with the Mets among his most recent potential suitors. When he was pulled with hamstring fatigue in the 5th inning, Twitter lit up with everyone wondering if the former MVP had been dealt. Any injury, no matter how minor, could affect Bryant's trade value. With any downtime, perhaps he and Jed Hoyer could work out an extension.
That's not likely to happen, but for now, it's nice to savor a stolen win from Chicago's arch-nemesis.
Cubs News & Notes
Odds & Sods
I did miss the Cubs game because I was watching the NBA Finals, though I caught the rerun on MLB.TV just after midnight. The nice thing is, I was able to just watch the 9th inning.
— Cubs Memes (@Cubbymemes) July 21, 2021
Climbing the Ladder
"I'll be ready when my feet touch ground wherever I come down, and if the folks will have me then they'll have me." – Steely Dan, Any World (That I'm Welcome To)
Games Played: 95
Total Plate Appearances: 3,481
Total Strikeouts: 918
Strikeout Rate: 26.4%
Team Batting Average: .226
With a record of 47-48, the Cubs are one game below .500 for the 6th time this month.
How About That!
Phillies relievers Bailey Falter and J.D. Hammer were placed on the COVID injured list about an hour before Philadelphia's game against the Yankees last night.
Yankees closer Aroldis Chapman earned his first save in nearly a month in New York's 6-4 win.
Nationals GM Mike Rizzo says he has no plans to bring back infielder Starlin Castro this season. Castro was placed on administrative leave July 16 by Major League Baseball under its domestic violence, sexual assault, and child abuse policy.
Former Reds' play-by-play announcer Thom Brennaman is returning to the broadcast booth. He will be calling high school events for Chatterbox Sports, according to a video announcement the subscription-based service made on Twitter late Tuesday.
With outfielders Eloy Jiménez and Luis Robert set to return from injury, the White Sox may just need to add to the team's periphery to strengthen their position heading into the postseason.
Last night's come-from-behind win against the Twins shows the White Sox are legitimate World Series contenders.
Tuesday's Three Stars
Milwaukee Bucks – Congratulations to the Bucks for their first NBA championship in 50 years. The city has been insane throughout this year's playoffs and the events in Milwaukee's Deer District have probably had Dr. Anthony Fauci cringing all week.
Chris Taylor – The Dodgers Super UT bashed two taters and score four times while going 3-for-4 as Los Angeles edged the Giants 8-6.
José Abreu – The White Sox first baseman and reigning AL MVP had a big night, going 3-for-5 with a home run and four RBI as Chicago pasted the Twins 9-5.
Apropos of Nothing
Allow me to insert an obligatory Steely Dan Easter egg here in honor of last night's Bucks' win.
Extra Innings
Cherish these moments and those smiles.
— Corey Freedman (@corey_cubs) July 21, 2021
They Said It
"It was just fun to be able to come through there in that situation and help the team. … I've been grinding a lot this year and haven't really had a lot of moments like that. So to have one of those and really find and feel that, that was really cool." – Ian Happ
"I've been here for five years now. I've had a lot of success here. I don't know exactly what their vision is, but I'd hope that I'm a pretty big part of that." – Happ
"Super happy for [the team]. They continued to compete. … With this group, their experience, and when things haven't been going our way, it would be really easy to cash one in, especially a game like that on a Tuesday night." – David Ross
"[Kris Bryant] the biggest name who is almost certain to get dealt, and his versatility makes him awfully attractive to a number of teams that are adding [at the deadline]." – Jeff Passan
Wednesday Walk-Up Song
My Rival by Steely Dan – Perhaps these types of moments will be few and far between, especially if the rumored sell-off comes to fruition. Let's just enjoy this one this morning.