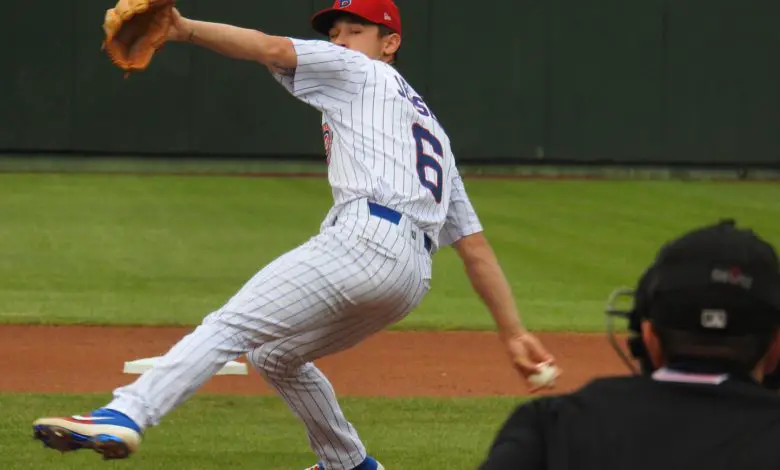 Chicago Cubs Weekly Farm Report (7/19/21): Brennen Davis, Ryan Jensen, Jared Young, Ethan Roberts Continue Tears
I won't lie, I'm still riding a high from the draft a week ago. In addition to picking up Jordan Wicks in the first round on Sunday night, the Cubs loaded up on talented college players on Monday and planned on using savings to go out and sign some high schoolers from their Tuesday drafting. With new talent getting ready to be infused into the Cubs system from the draft, the current prospects are really starting to take off to prove that they shouldn't be part of the accompanying roster cuts.
News in the System
Bryce Ball doubles to the wall for his first Cubs hit! pic.twitter.com/7OR1jdxhrk

— Brad (@ballskwok) July 18, 2021
We have officially made it past the halfway point of the minor league season. Season-long performances from guys like Brennen Davis, DJ Herz, and Ben Leeper have been big storylines so far, but it has really been the injuries that still steal the headlines. We have yet to see Brailyn Marquez, Kohl Franklin, Riley Thompson, and Michael McAvene this year and Miguel Amaya still finds himself on the shelf.
Speaking of injuries, we got word that Cole Roederer will be out for the remainder of the year after undergoing Tommy John surgery. He is expected to be back on the field by next season.
Triple-A Iowa Cubs
Iowa went 2-4 against the Toledo Mud Hens this week and their record this year now stands at 26-37 with a -30 run differential.

We might as well start off with the guy everyone is talking about these days. Michael Hermosillo hit two more bombs and a double and I would be shocked if we don't see him in the big leagues after the trade deadline.
Has this ball landed yet? The answer is no.

Michael Hermosillo hits his second homer in as many days to extend our lead to two. pic.twitter.com/OsUdxcerw0

— Iowa Cubs (@IowaCubs) July 18, 2021
Ian Miller really turned it on this week after being a fixture in the lineup all year long. He only struck out two times in 23 plate appearances while stealing two bases and hitting a home run.
Justin Steele continues his conversion (re-conversion?) to starting pitching, going three innings and 60 pitches in his outing this week. He didn't give up a run and only allowed one hit while striking out five and walking two. We could see him making starts in Chicago, at least in the piggyback variety, come August.

Iowa continues their road trip with a venture to Columbus to play the Clippers. I will be there in person all week, so I'm sure I will have plenty of content over at the

Twitter handle

every evening.
Double-A Tennessee Smokies
Tennessee is my personal favorite team to watch for the time being. They went an even 3-3 this week, led by a trio of hot bats. This season they have a record of 27-35.

Davis hit two more homers and two more doubles this week to boost his slash line to .300/.440/.700 for the week. He is slashing .316/.404/.600 since June 15 and is at .288/.393/.526 for the season.
Brennen Davis can do this defense thing, too! pic.twitter.com/MhssJq8nfD

— Greg Huss (@OutOfTheVines) July 18, 2021
If not for Davis we would be talking non-stop about Jared Young, who hit three more doubles and homered again. He has nine doubles this year in 78 plate appearances. The system leader is Grayson Byrd with 14 doubles…in 210 plate appearances.
While Nelson Maldonado has a relatively pedestrian week (.768 OPS), he is still riding a hot streak that features 11 doubles and a .362 OBP over the last two months.
Nelson Maldonado STAY HOT pic.twitter.com/F3FnUBtTEO

— Greg Huss (@OutOfTheVines) July 18, 2021
It was great to see both Levi Jordan and Cam Balego back in the lineup after they each missed an extended period of time with injuries. Jordan got off to a red-hot start this season while I maintain that Balego is one of the most underrated prospects in the system.
Luis Lugo had the best start of the week on the mound. He went six strong innings and only gave up two hits and a walk while striking out seven.
Ethan Roberts update time: Three more shutout innings. Two hits, no walks, three punchies.
Ethan Roberts since May 25th

20.2 IP, 0.44 ERA, 0.58 WHIP, .087 opp AVG
37.3% K, 8.0% BB

— Greg Huss (@OutOfTheVines) July 18, 2021
The Smokies will hit the road for a series against the Rocket City Trash Pandas. This will be the fourth series this year between the two teams, with all three previous meetings featuring a lopsided outcome. In the first two matchups, Rocket City took five of the six games and the most recent set saw the Smokies win five of six.
High-A South Bend Cubs
To say it was an incredible week for South Bend would be an understatement. They went 4-2, which is impressive in and of itself, but it is how they won the series that is shocking. They won each of their games on Wednesday, Thursday, and Friday night by walk-off in the 10th inning.
Wacky walk-off in South Bend! pic.twitter.com/37nq0Nfntc

— Greg Huss (@OutOfTheVines) July 15, 2021
DJ Artis has bounced around between three different levels this season and he was finally assigned to High-A to get some sort of consistency in his at-bats. He showed that could pay off for the Cubs by smacking two home runs and a double to put up a .938 OPS in 28 plate appearances. He also swiped three bags and ranks second in the system with a 16.4% walk rate (min. 100 PA).

Ryan Jensen was lights-out again this week, going six strong innings. He struck out eight and walked one while allowing just one run to cross the plate on two hits. Over his last three starts, he has a 1.06 ERA, 0.29 WHIP, and opponents are hitting just .055 off of him.
The primary thing that has me excited about @rystacks24 recent tear is the development of his secondaries. 👀 pic.twitter.com/k1u98iPAkK

— Cubs Prospects – Bryan Smith (@cubprospects) July 16, 2021
How about the combined effort out of the bullpen from Bradford Deppermann and Jose Albertos? In seven innings they didn't give up a run on two hits, two walks, and ten strikeouts.
Blake Whitney finally got the call to South Bend after killing it down in Myrtle Beach this season. Combined between the two affiliates this week he went 3.1 innings, giving up one hit, no walks, no runs, and he struck out six.

The Cubs now start off a two-week road trip, first facing off against the Wisconsin Timber Rattlers at Neuroscience Group Field at Fox Cities Stadium. That's a mouth full.
Low-A Myrtle Beach Pelicans
It was a jam-packed seven-game series for the Pelicans against Columbia this week thanks to a makeup date from June scheduled into a doubleheader on Saturday. With all that baseball came a whole lot of winning as the Birds rolled to a 5-2 record to pull their season mark to 31-35.

Jordan Nwogu is really starting to heat up. He hit two doubles and homered while playing both left and center. Over the last two weeks, he is OPS-ing .954 and only striking out 20.5% of the time.
Ethan Hearn is another Myrtle Beach hitter who is starting to turn it on recently. He also hit two doubles and a homer, but in just 13 plate appearances. 
This might be Fabian Pertuz's first mention in the Weekly, but it is well-deserved thanks to, you guessed it, two doubles and a homer.
The under-assigned Jeremiah Estrada put together yet another good performance, going four innings on the bump and not allowing a run on three hits, no walks, and two strikeouts.

The Pelicans finish off the homestand with a series against Charleston. They are 3-9 this year against the Riverdogs, but haven't played them since mid-June.