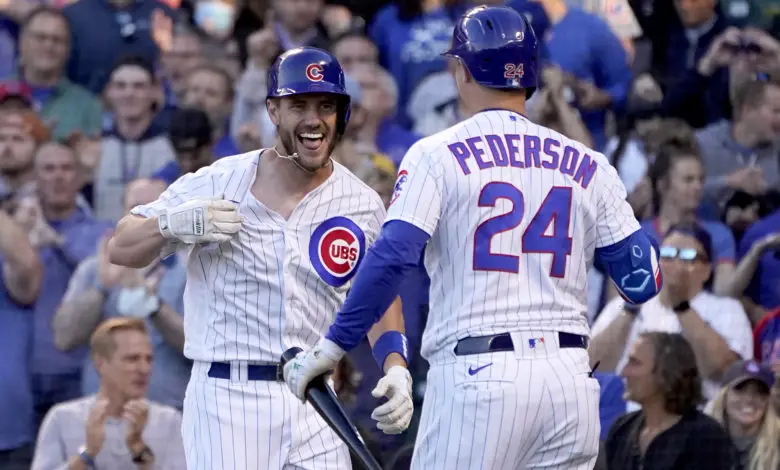 Tuesday Trends: Red Hot Cubs Continue to Keep Pace with Brewers
It really doesn't get any better than a (mostly) full Wrigley Field, does it?
I certainly don't think so, and this weekend's sweep of the arch-rival St. Louis Cardinals certainly put an exclamation mark on that belief. In their first full-capacity games since September of 2019, the Cubs gave us more than enough to cheer about over a weekend that featured dramatic home runs, solid pitching, and precisely zero wins by the Cardinals.
While the scorching play of the Milwaukee Brewers has kept these Cubs from sitting alone in first place, it's hard not to be ecstatic at the team's performance.
What's made up one of the hottest Cubs stretches in recent memory? A few individual trends stand out over the last week – mostly good, but a few concerning. Let's dive in.
Trending up
Zach Davies returns to form: After a rough start to his Cubs career, veteran Zach Davies is finally looking like the solid, reliable pitcher he had so often been during his time in Milwaukee and San Diego.
Davies' ERA sat at an unsightly 8.22 as of May 1. Since then, his fortunes have mirrored those of his team by going in a decidedly different direction. That ERA has fallen to a fine enough 4.01, driven by a 1.86 ERA over his last nine starts.
By both necessity of game action and strategic design, he hasn't often been able to go deep into games and has failed to get into the 6th inning in five of his last seven starts. The Cubs can certainly live with what Davies has given them when the bullpen is so good.
Patrick Wisdom's Cinderella Story: Forgive me for touching on a story that's basically old news at this point, but Tuesday Trends was on the injured list last week so this is my first opportunity to speak on Wisdom.
While he's slowed down over his last seven games, posting a .304 OBP over 20 at-bats, the power is still very much there. In that span, Wisdom is slugging .500 and has smacked a couple of home runs. His nine home runs on the season represent an amazing total for someone with only 54 ABs.
If there's anything to be worried about, it's certainly the strikeouts. The journeyman has a 37.6 K% to this point, which is a tough number to live with for most players. Maybe the league will figure it out, maybe not, but it's sure fun to watch while he's going good.
Anthony Rizzo Doing Rizzo Things: The Cubs captain had gotten off to a fairly slow start this season. The on-base skills had been there, but the power really hadn't. That's changed over the last week, as Tony is slashing .292/.370/.708 with a few home runs.
The most impressive of those home runs? Well, that goes without saying.
Holding steady
Kyle Hendricks: The Cubs' de facto ace is one of many on the club that has bounced back nicely from a slow start. In 45 innings pitched over his last seven games, Hendricks has struck out 31 while walking only six, resulting in a 3.40 ERA. With a career-high HR/FB rate of 22.9%, the long ball continues to be an issue. But when most of them are of the solo variety, it's an issue that's easier to swallow.
Trending down
Willson Contreras' Offensive Numbers: Not every Cub can be trending up or bouncing back all at once. While Willson's overall numbers for the season remain fine enough, things have been pointing down offensively for a little while now. Over his last 15 games, Contreras is batting .196/.268/.392. Those numbers are even worse over a more recent, smaller sample as he's batting .130 over the last 7 days.
Is there anything to worry about here? My guess would be no. Contreras continues to hit the ball relatively hard and his expected numbers are more or less in line with his solid season numbers overall. If there's anything to be concerned about, it might be that his strikeout percentage of 28.4 represents a career high.
Jake Arrieta's Reunion Vibes: Things have gotten really, really ugly for the Cubs legend. After another rough outing in New York on Monday night, his ERA has risen to 5.14 for the season and is even worse in a recent sample. He hasn't reached the 6th inning since a May 14 effort in Detroit and has failed to even reach the 5th inning several times since then.
Baseball Savant paints an ugly picture for Arrieta, suggesting he deserves the poor results he's gotten.
A lack of adequate depth means that Arrieta's rotation spot is likely safe, at least for now, but he has been the team's worst starter this year in many ways. If they were to acquire more depth for the stretch run, it's not impossible to imagine that the Cubs could be faced with a very uncomfortable decision.