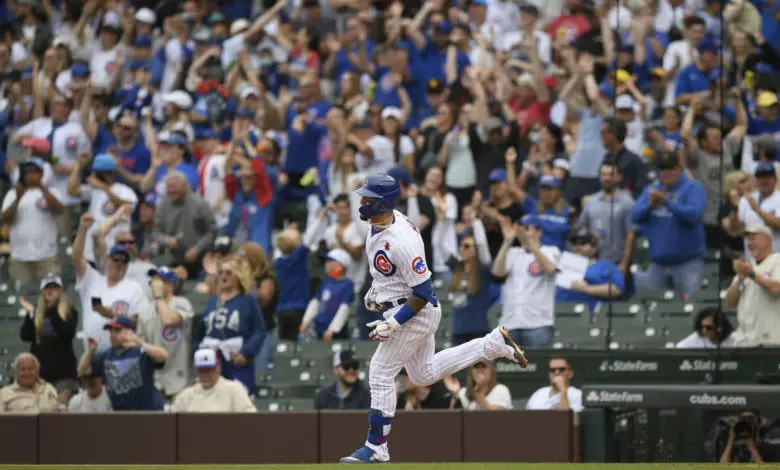 The Rundown: Cubs Win 19 in May Despite Myriad Injuries, Now 12-2 Against NL Playoff Contenders, June Schedule Daunting
"And his days of vanity went on forever, so he saw his days burn up like paper in fire." – John Mellencamp, Paper in Fire
Instant Replay
The Padres have been incredibly successful employing some of the more exaggerated shifts in all of baseball, but the Cubs taught them a lesson in defensive positioning in yesterday's 7-2 Memorial Day win at Wrigley Field.
The best way to beat the pestiferous philosophy of making batters hit it where they is is to hit it where they ain't, pardon my neglect for good grammar and sentence structure. So the Cubs belted five home runs, including two apiece by Javier Báez and Patrick Wisdom, and seven of 10 hits by Chicago's baseballers went for extra bases.
That'll do, Javy.

That'll do. #LARGE @BinnysBev pic.twitter.com/gNb3Ru9H2E

— Chicago Cubs (@Cubs) May 31, 2021
That's the other way to combat the shift: put runners on base, particularly in scoring position.
The Cubs finished the month of May with 19 wins thanks to vastly improved production from their lineup and a bullpen that has been virtually untouchable. The starters have been remarkably consistent, too, posting a 2.86 ERA in the 14 games heading into yesterday's tilt.
Emergency starter Kohl Stewart pitched five innings without allowing an earned run before David Ross turned it over to the bullpen, a formula that has provided nearly pristine results for the second-year manager. Keegan Thompson, Andrew Chafin, and Tommy Nance held the Friars to one run on three hits across the final four frames. Few things are as automatic and the Cubs got to fly the W for the seventh time in their last eight games.
More and more, the Cubs are starting to look like a team that is a player or two shy of a deep postseason run. Sure, they fattened up on some of the poorer teams in both leagues this month, but Chicago is now a combined 12-2 (.857) against the Cardinals, Nationals, Mets, Dodgers, and Padres. That's Howlin' Wolf-level badassery and it makes you wonder just how good this team could be had they not struggled against the Braves and Pirates earlier this season.
The Good: Kris Bryant was 2-for-4 with a triple and his 12th home run of the season and is tied for the team lead with 36 RBI. He's good at baseball.
The Better: Báez hit two gargantuan big flies, the first of which traveled 455 feet to the deepest recess of the centerfield bleachers on top of the batter's eye, and also has 36 RBI on the year with a club-best 13 taters.
The Best: Wisdom is now slugging 1.333 since being recalled and the Cubs haven't missed a beat with Matt Duffy sidelined. It's getting to the point where Bryant may never play third base again.
---
---
Cubs News & Notes
Odds & Sods
"I went to see my favorite baseball team and a hockey game broke out." – Rodney Dangerfield
Let this forever be the moment that COVID officially ended.
— Baseball Fight Club (@mlbfights) June 1, 2021
Climbing the Ladder
"My daddy turned his face up towards the sky and I knew that there was nothing to lose
I felt the crowd breathe in and I closed my eyes and we disappeared into the groove." – Marc Broussard, Home
Games Played: 53
Total Plate Appearances: 1,989
Total Strikeouts: 504
Strikeout Rate: 25.3%
Team Batting Average: .240
The Cubs were 11-3 at Wrigley Field in May and are now 19-10 at the Friendly Confines in 2021.
How About That!
After yesterday's 3-2 10-inning defeat at the hands of the Twins, the Orioles have now lost 14 straight games.
The Rays have won 16 of their last 17 tilts and lead the AL East by two games over the Red Sox.
Ronald Acuña Jr. hit his 16th home run yesterday, tying him with Adolis García, Vladimir Guerrero Jr., and Fernando Tatís Jr. for the MLB lead.
García is a budding star for the Rangers and right now is the odds-on favorite to be named AL Rookie of the Year, though there are still more than 100 games left on the schedule.
The White Sox split a doubleheader with Cleveland yesterday and lead the AL with a +80 run differential, but must avoid complacency.
Controversies about unwritten rules aside, the Sox have won three fewer games than their runs scored and allowed suggest is average. Could the shortfall lie with manager Tony La Russa?
Monday's Three Stars
Patrick Wisdom – The journeyman infielder was 3-for-4 with two homers, two RBI and a stolen base. Give him the belt.
Javier Báez – When you hit two baseballs nearly 900 combined feet, it's noteworthy.
Kohl Stewart – It wasn't the best pitching performance of the day, but holding one of baseball's best offenses to one unearned run in an emergency start is pretty darn outstanding.
Extra Innings
Were Chubby Checker still writing songs, he'd undoubtedly pen something about the mound antics of one Johnny Cueto. Let's shimmy again, like we did last summer.
.@JohnnyCueto threw 97 pitches today … and not one of them was the same 😭 pic.twitter.com/rPQMuVNThi

— MLB (@MLB) June 1, 2021
Apropos of Nothing
Believe it or not, Checker was once a part of the burgeoning surf music genre in the early 1960s. Let's surf again, like we did last summer.
Calling My Shot
Though there were many reasons for the Cubs' success in 2016, I think winning 97 games in '15 and still finishing in third place as the lower Wild Card seed had a lot to do with them winning so many big games the following season. You can't take a single game for granted, and it's nice to see Chicago playing above the level of their competition. It's been far too long.
Current records of teams the Cubs will play in June:
Giants 34-20
Padres 34-21
Dodgers 32-22
Cardinals 30-24
Mets 26-20
Cleveland 29-24
Marlins 24-28
They Said It
"How does Javy say it? 'Large,' right? Man, [Wrigley Field] was rocking today. It was awesome to hear." – Patrick Wisdom
"These guys have been preparing for this moment. Last year has a lot to do with it. These guys worked with big leaguers or Triple-A players, no matter what their experience was." – David Ross
"I think we'll learn a lot about this team over the month of June because to go out there and have success [against that schedule], that's certainly a mark for a team that has a chance to compete in the postseason because I think that's the kind of environment you're going to have to play in during the postseason." – Jed Hoyer
"As far as a message [to Cubs fans], I'd say [Kris] is doing a great job of reminding us why he's so valuable with his versatility and his offense and I'm thoroughly enjoying watching him right now and I think fans should too." – Hoyer
Tuesday Walk Up Song
Mohair Sam by Charlie Rich – Take a bow, Messrs Bryant, Báez, Stewart and Wisdom. Each deserves 100% of the hullabaloo surrounding their Monday performances.