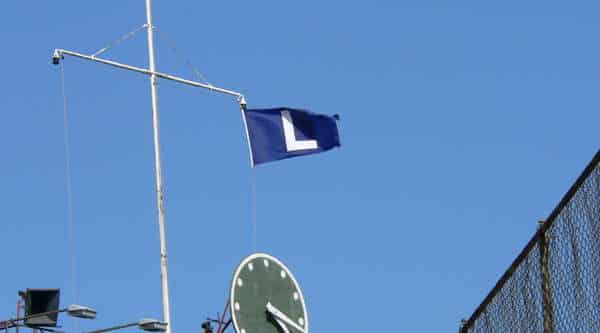 Chicago Cubs Score and Recap (5/22/21): Cardinals 2, Cubs 1 – Bats Can't Provide Offense for Tough Luck Alzolay
Despite the longest outing of his young career, Adbert Alzolay was the tough luck loser as Cub nemesis Yadier Molina's solo shot was the difference in a 2-1 Cardinals win in St. Louis.
Alzolay and Cards starter Miles Mikolas were both fabulous from the start, and it looked like the Cubs would benefit from getting to the bullpen early yet again when Mikolas left in the 5th inning due to forearm tightness. However, that's not what panned out, as the Cards' pen was on point and the Cubs managed only two hits in five relief innings against the Redbirds.
The St. Louis lineup wasn't faring much better with Alzolay, who used his slider and sinker to baffle for strikeouts and groundballs. Other than two balls sliced into the right field corner from Edmundo Sosa and Paul Goldschmidt, Alzolay was in complete control until Molina sat on an 0-2 hanging slider and deposited into the left field bleachers to put the Cards up 2-1 in the bottom of the 7th.
Alzolay definitely deserved better in this one, but all the Cubs could manage was a 1st inning run, again provided by leadoff man Joc Pederson. While there was some controversy at the end when Nico Hoerner's swinging bunt single was called fair despite much protestation from Molina and Nolan Arenado, pinch hitter Nick Martini flew out to end the game. (Box score)
Why the Cubs Lost
It certainly wasn't because of Alzolay. A night after devouring the St. Louis bullpen alive, the Cubs' offense went hungry against some of their top relief guys tonight.
Key Moment
As much as it pains most Cubs fans to read this, it has to be Molina's home run in the 7th. Ugh.
Stats That Matter
Alzolay went seven innings, giving up only five hits with six strikeouts and no walks. Despite the two earned runs and loss, he's building stamina, confidence, and swagger out there.
The Cubs have won 12 of their last 19 even after the loss. Crazy thing is, all seven losses during that span were by just one run. They are playing really good baseball and have been in every game they've played for nearly a month.
The Chicago pen has not allowed run the past seven games, striking out 30 in 20.2 innings.
Bottom Line
Alzolay pitched well enough to win, but the offense had a rare off night. The Cubs have either won or been in every single game in May, so look for them to rebound Sunday night.
On Deck
The Cubs and Cardinals square off on Sunday Night Baseball.  Zach Davies will get the ball against Adam Wainwright. Game time is 6:08pm CT and, thankfully, you'll be able to listen to Pat and Ron on 670 The Score as you watch on ESPN.