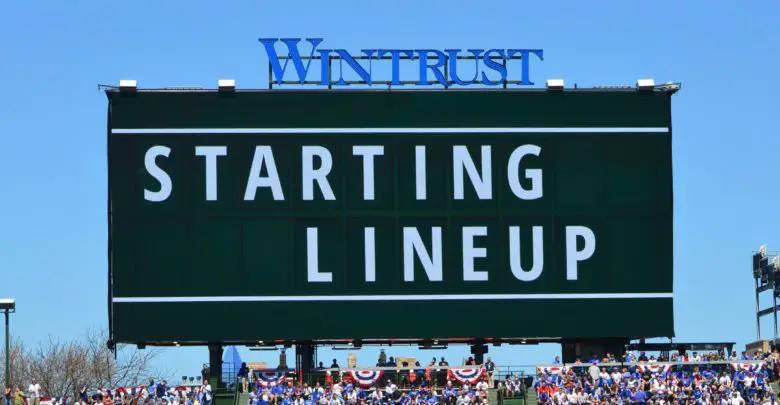 Chicago Cubs Lineup (5/19/21) – Pederson Leads Off, KB at 1B, Sogard at SS, Arrieta Pitching
Joc Pederson leads off in left, Kris Bryant is at first in place of Anthony Rizzo, Ian Happ is in center, and Willson Contreras is the catcher. David Bote is at third, Jason Heyward is in right, Eric Sogard is at short, and Nico Hoerner is the second baseman.
Jake Arrieta has really only had one bad game so far, a glorified round of live BP in Cincy prompted by a cut on his thumb that led to an IL stint. Though he wasn't incredibly sharp in his return against the Tigers, striking out just one batter, he limited his opponents to two runs and earned his fourth win. Arrieta has been very consistent this season and figures to go deep enough to earn his eighth decision in as many starts.
Going for the Nats is the seemingly ageless Max Scherzer, who's pitching as well at 36 as he has at any point in the past. He's struck out 68 batters with just eight walks in 51.1 innings and has allowed just two total runs over his last three starts. Though his velocity is down slightly over the last few seasons, he's still running it up there in the mid-90's and he's got the pitching chops to beat batters with more than just gas.
Case in point, Scherzer's changeup is better than ever this season. That's a big part of the reason his splits are significantly better against left-handed batters, a result based largely in the lack of slugging. Righties have just a .608 OPS against him, but lefties are at just .483 as they struggle with just about everything he offers.
The Cubs will see essentially the same pitch mix that has made the heterochromic righty so dominant over the last decade-plus, so there's not much to tout there. He'll throw the fastball roughly half the time, following it up with a slider, change, cutter, and curve. The latter two are more for show and haven't gotten very good results, not that it really matters in light of everything else.
If there's one little change to what has otherwise been a remarkably consistent stat line over the years, it's that Scherzer is generating a lot fewer grounders and more flies. Also of note, he's allowing the highest average exit velocity (89.5 mph), barrel rate (8.9%), and launch angle (22.7) of his career since Statcast began tracking such stats in 2015. Combine that with a .221 BABIP against that appears unsustainably low and you can see how correction may be in order.
We'll find out tonight whether that'll come at the hands of the Cubs, who haven't exactly gotten the best of him in the past. Setting aside his relief appearance in the 2017 NLDS, the righty has handled this roster with ease. With an aggregate .168 batting average and .490 OPS over 116 at-bats, there's not a whole lot of evidence to suggest things will go different here.
However, Scherzer has allowed multiple homers twice this season and there's all that stuff about eventually regressing to the mean, so who knows. We'll find out tonight at 6:40pm CT, when Marquee Sports Network and 670 The Score broadcast the game. As always, those of you who are in-market and looking to cut the cord can check out a free preview of fuboTV to see if it's a fit.