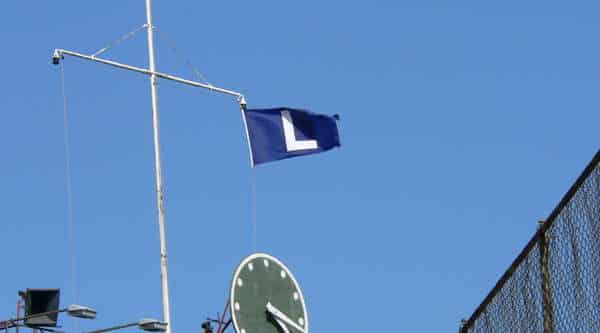 Chicago Cubs Score and Recap (4/18/21): Braves 13, Cubs 4 – Braves Return Favor as Hendricks Shelled in First Again
The Atlanta Braves turned the tables on the Chicago Cubs tonight on ESPN's Sunday Night Baseball, dropping the Cubs record to 6-9 on the season.
From the outset, it was clear that things were not going to go the same way as they had on Saturday afternoon. Kyle Hendricks was having trouble missing bats early, the wind was blowing out, and the Braves were demolishing pretty much every pitch. After a first-inning where Hendricks gave up too many hard-hit balls, the Cubs were already down 6-0.
The Cubs did manage to fire back in the bottom half of the 1st inning. Anthony Rizzo's first home run of the night cut the Braves' lead to 6-1. Kris Bryant scored all the way from second base on a weak chopper to third by Javier Báez, making it 6-2 at the end of one inning. The Cubs managed to make it a three-run game when Rizzo hit another bomb in the 3rd inning, closing the gap to 6-3.
The Braves added a run in the top of the 4th and proceeded to tack on a six-spot in the top of the 6th, capped off by a grand slam into the left-center bleachers from Guillermo Heredia to put the game completely out of reach at 13-3. (Box Score)
Why the Cubs Lost: 
Hendricks gave up four bombs and six runs in the top of the first. It was all but over after that.
Key Moment
Take your pick of any of four first-inning homers by the Braves, although Guillermo Heredia's shot to center may have been the early dagger.
Stats That Matter
Kyle Hendricks is 0-2 with a 6.92 ERA.
Cubs Pitchers gave up 14 hits, 13 runs, and seven walks. That's just not gonna get the job done.
The Cubs had three guys with multi-hit nights, including Rizzo with his two tanks. Rizzo is now slashing a respectable .250/.344/.500.
Bottom Line
The Cubs' offense has been so anemic for most of the season that the starting pitching hasn't had to face much criticism. That being said, they need to be better, and soon. The bats seem to be coming around, so some consistent pitching might allow the team to win some games. We hope.
On Deck
After an off-day on Monday, the Cubs will play host to the New York Mets for a three-game set. Tuesday's matchup features Jake Arrieta for the Cubs against Taijuan Walker for the Mets. Game time is 6:40 pm CT and can be seen on Marquee, ESPN, or even SNY. Of course, if you'd rather listen, Pat and Ron can be heard on 670 The Score.