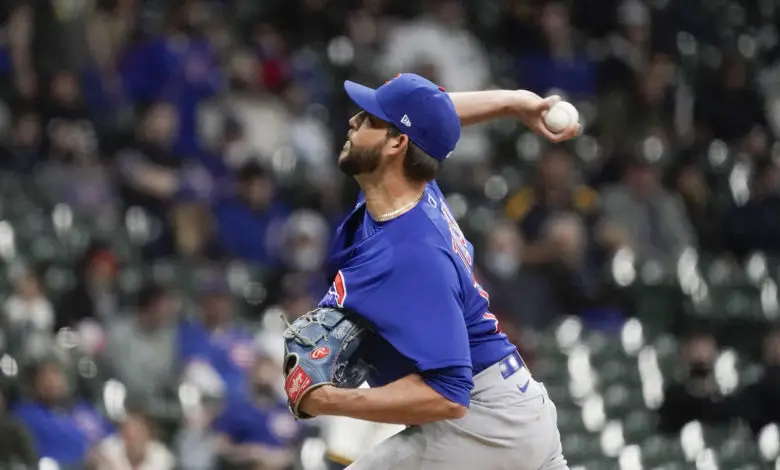 Ryan Tepera, David Ross Suspended for Throwing at Brewers' Brandon Woodruff
It hasn't been a good few days for the Cubs when it comes to going at Brewers players without actually making contact. Not only did their bats miss plenty of pitches, but Willson Contreras was ruled out for a slide that on which he didn't touch a defensive player and now both Ryan Tepera and David Ross have been suspended for the reliever throwing at opposing pitcher Brandon Woodruff.
Woodruff, you recall, had hit Contreras on the hand earlier in the game, the third time in five games a Brewers pitcher had plunked the Cubs catcher. Where's Craig Counsell's suspension?
Cubs manager David Ross has received a one-game suspension and an undisclosed fine for Tepera's intentional throwing. He will serve it Friday.

— Jessica Kleinschmidt (@KleinschmidtJD) April 15, 2021
This is just odd and I've got nothing more to say about it, other than to note how it further depletes the depth of a bullpen that has been less than stellar of late.
---
Update: Now comes word that associate pitching coach/strategist Mike Borzello has also been suspended. Borzello was actually ejected from one of the games in Milwaukee, so maybe there was more to it than just his perceived involvement in this purpose pitch.
Word is Cubs game planner Mike Borzello is suspended as well. So that's three Cubs suspended and no one got hit. They deem intent as the key ingredient though. Still, kind of wacky.

— Jesse Rogers (@JesseRogersESPN) April 15, 2021
Even so, it is completely bonkers that the Cubs had a player, manager and coach all suspended for a pitch that didn't even hit the batter. Meanwhile, the Brewers can just keep busting inside fastballs and plunking people with no consequences. I don't care if one was intentional and another, or multiple others, may have been less so. MLB is on a slippery slope here by subjectively applying what are already murky rules in the first place.
Stuff like this is dumb and doesn't actually get to the root of the issue MLB is trying to regulate.