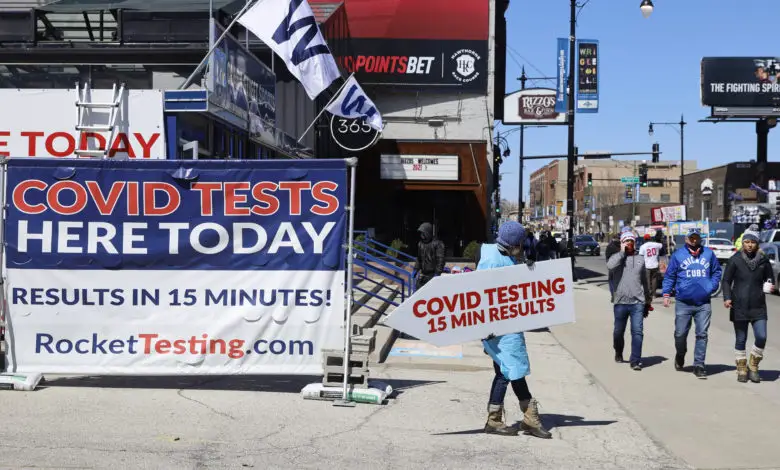 Cubs Reportedly Around 50% Vaccination Rate, Most of Which Comes from Non-Players
The Cubs are doing enough on the field to produce negative press, so I'm going to avoid getting too deep on a subject I've already covered here before. That said, we're several days out from hearing David Ross say the team was struggling to reach the requisite 85% vaccination threshold for relaxed COVID-19 protocols and nothing seems to have changed.
While we can certainly make allowances for any progress on that front due to the road swing that just ended ignominiously in Milwaukee, recent infection scares put a spotlight on things. First base coach Craig Driver and bullpen coach Chris Young both tested positive and a number of players had to be placed on the IL as close contacts, forcing several personnel moves. Perhaps that will turn the tide now that the team has returned to Chicago.
According to Gordon Wittenmyer of NBC Sports Chicago, the Cubs still have a long way to go if they wish to have their pandemic protocols relaxed. He joined 670 The Score's Mully & Haugh Thursday morning to discuss that, among other Cubs topics.
"I don't think it's unique to the Cubs, even close," Wittenmyer said. "Seeing reports, there are three, four, maybe a couple more teams that have reached that 85% threshold that MLB is mandating of vaccination among players, Tier 1 personnel. It's roughly 100 people per organization. That means a vast majority of teams still aren't there.
"What I've been told is the Cubs have over 50% of their Tier 1 people vaccinated, that's giving them hope they can get to that 85%, but they're getting some serious pushback from some people. A lot of that 50%-plus appears to be the Tier 1 staff, not necessarily the players."
Non-players make up about three-quarters of the Tier 1 group, which means the number of non-vaccinated players would have to be pretty high in order to keep the overall total at that reported level. Recent WAG drama aside, we've heard several players commenting very diplomatically about the conversations taking place in the clubhouse.
Team leadership has been very forthright in terms of a desire to get everyone vaccinated, but they can't and won't mandate it. That means it remains a choice for each individual player and staff member, many of whom are clearly still skeptical of the vaccine and/or the pandemic itself.
"There's nuances to this, there's a window of legitimate debate on this vaccine issue because this came to market faster than most vaccines," Wittenmyer added. "There's a lot about COVID we don't know still, much less the vaccine. So I get some of that stuff in some cases, but the science behind vaccines is pretty damn solid."
The beat writer went on to discuss the unfortunate political undertones of the vaccine decision, noting that his 84-year-old father has decidedly different views but was first in line to get the shot because he'd lived through a time when vaccines eradicated several insidious infections. Baseball players tend to lean a bit more to the right, so that may be a factor with the Cubs and across the league even if it really shouldn't be.
All we can do at this point is hope science and reason win out, because it's become apparent from recent positive tests and IL designations throughout MLB that this virus isn't done yet.