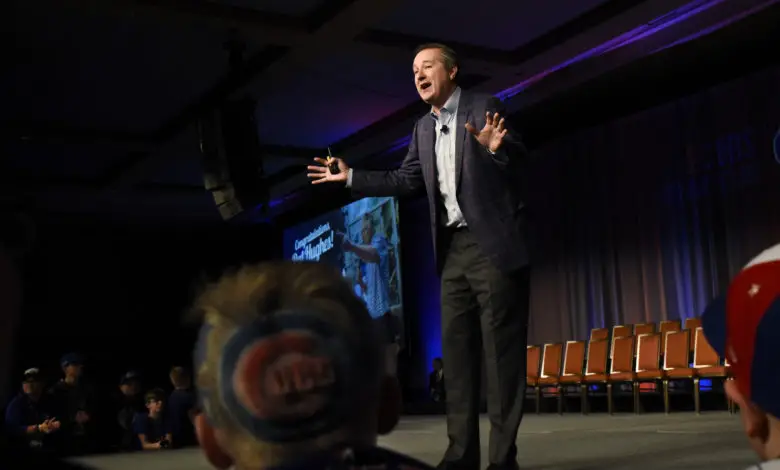 Tech Startup in $1.6B Merger Talks with Ricketts-Owned SPAC
Whether and to what extent you are warmed by the blanket Tom Ricketts and his fellow owners knitted with the yarn they spun about biblical losses in 2020, it's no secret that several of their sports-adjacent enterprises are doing quite well. One of those in the Ricketts family's case is Marquee Raine Acquisition Corp., a special purpose acquisition company that raised roughly $374 million in a December IPO with an aim to play in the technology, media, and telecom sector. More specifically, they're expected to target online gambling.
That market is exploding right now and I'm willing to bet — get it? — that a lot of you reading this have already dipped at least a toe in those waters. If you haven't, or if you're looking for another option, you can try your luck with pointsbet promo code Illinois. Not a bad deal. Anyway, on with the show.
According to a Bloomberg report, Marquee Raine is in talks with tech startup Enjoy Technology Inc., which is run by former Apple executive Ron Johnson and has operated mobile retail stores for companies including Apple Inc., AT&T Inc., BT Group Plc and Rogers Communications Inc. If completed, the merger could result in an entity valued at nearly $1.6 billion.
That's not quite half what the Cubs are worth as an organization after a 5% increase in value from last year, according to Forbes. At an estimated $3.36 billion, the Cubs are behind only the Red Sox ($3.465B), Dodgers ($3.57B), and Yankees ($5.25B) among MLB teams. Their $163 million in revenue was second only to the Dodgers and their reported losses of $73 million, while nothing to sneeze at, were not as bad as those suffered by five other teams.
Please don't get this twisted, I'm well aware of the difference between franchise value and actual liquidity and have been since well before Ricketts blessed me with an impromptu lecture on the subject a few years ago. However, it remains very difficult to swallow the notion of these massive losses leading to baseball payroll being slashed when you read about the SPAC stuff and big federal tax credits from Wrigley Field's landmark status.
Then there's Marquee and the wheelbarrows of money it was supposed to have brought in, something that might actually start happening now that there's a full season of games. Well, except that they don't have agreements with the major streaming platforms outside of fuboTV and the lack of distribution beyond the Cubs' MLB-defined territory means far-flung fans can't even get the network's "shoulder programming."
As a quick note on that, some channels like the Yankees' YES Network are available nationwide but still have to black out live game broadcasts for those fans who aren't local.
The golden goose remains a shift in league broadcast policies that would see RSNs offered on a stand-alone basis both in and out of market sans television provider. While the logic has been that such a move would crush local advertising and create more of a monopoly for more popular teams with broader fanbases, it stands to reason that allowing fans the opportunity to pay for what they want might actually increase revenue that ends up being shared across the league.
Sinclair Broadcast Group, the Cubs' partner on Marquee, has been prepping for such an eventuality as they re-brand their former FOX RSNs to Bally's, but any significant developments are probably still years away. In the meantime, we can rest assured that the Cubs and their owners probably aren't in any danger of going broke.