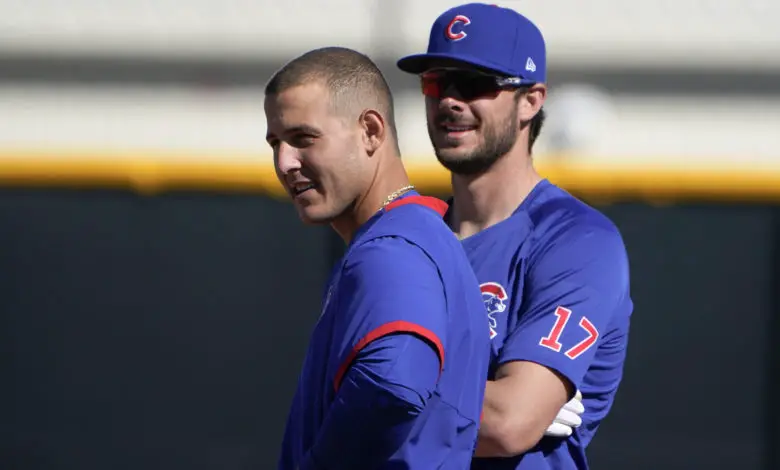 Slightly Heavier Anthony Rizzo Says Cubs Need to Earn Fans' Faith After Disappointing Years
Anthony Rizzo spent last year's shutdown making good on the annual trope of getting into the best shape of his life, specifically targeting speed and explosiveness. The result was the worst season of his career by most measures, though his 1.1 fWAR extrapolated out over an average full season of plate appearances would have gotten him past 2013's totals. While getting into better shape can't be blamed for his struggles in the short season, Rizzo nonetheless worked on adding back some weight this winter.
"I'll never stop eating pizza," he told reporters Monday, the Cubs' first day of full-squad workouts.
He clarified that it's the right kind of weight, so it wasn't just a matter of tossing any old junk to the trailer hitched to his backside. I know some of you probably prefer to imagine Rizzo running with a piano on his back, so feel free to stick with that. Whatever metaphor you choose, the fact of the matter is that dude's game isn't about quickness.
Tony's in town! pic.twitter.com/fcU2gtGahc

— Chicago Cubs (@Cubs) February 22, 2021
Rizzo's sprint speed has been among the lowest on the team since Statcast started measuring it in 2015, and the only Cubs who've come in slower than him over the last six seasons are all backup catchers. Weight wasn't the only thing he dropped last year, as he also lost about six inches per second as a runner. Getting from home to first 0.11 seconds later than in the three previous seasons might not seem like much, but it could mean the difference in beating out an extra hit here or there.
Not that such things should really matter for a slugger. Far more concerning than his more plodding pace, Rizzo's .414 slugging percentage was his lowest since he debuted with the Padres in 2011 and his 87.7 mph average exit velocity was his lowest in the Statcast. Less speed and less power isn't a great combo, which is why he's back to being more focused on the latter. At least that's what I'm assuming.
He's not alone in trying to rebound from a poor performance in 2020, far from it, and he understands why Cubs fans might be a little frustrated after the way things ended in October.
"I think we got to go out and earn it and prove it," Rizzo said. "I don't think anyone should [just] believe in it. We haven't done what we were capable of doing the last few years."
But if you think Rizzo is adding the weight of expectation — either for his numbers or a potential contract extension — to the new pounds from pizza and Italian beef, you may want to reconsider. After acknowledging that he'd love to stay in Chicago on a long-term deal, he gave an admittedly trite answer about how he's approaching what is currently his last guaranteed season with the Cubs.
"I just want to go out and continue to have that big smile and play the game hard," Rizzo explained. "At the end of this year, I'll look back with no regrets. Every day, you enjoy it. Life's too short, the game's too short, all the clichés. But I really do live my life that way."
---