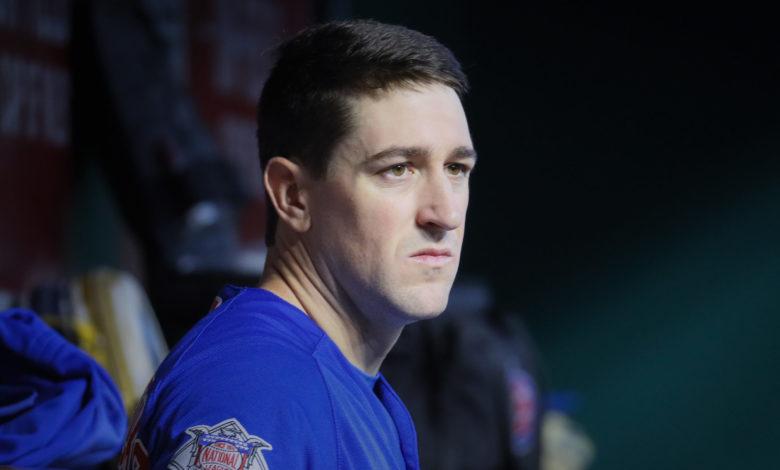 Bookmakers Hate Kyle Hendricks Even More Than Projection Systems Do
Computer projection models hate Kyle Hendricks because he doesn't throw hard and doesn't get many strikeouts, relying on soft contact to remain one of the best pitchers in Major League Baseball. So while he boasts a career 3.12 ERA and hasn't been north of 3.46 since 2015 (3.95), the publicly available models at FanGraphs have him at anywhere from 3.86 to 4.41 this season.
Only PECOTA, which hates everyone and everything according to most fans, has Hendricks performing at a level that doesn't represent a big shift from what we've seen in the past. That particular model believes he'll post a 3.49 ERA with a 4.04 FIP, numbers that are within half a run of his career averages and very similar to what he put up from 2017-19.
But if you're really looking for some serious disrespect, check out the early odds on the NL Cy Young race. Hendricks (+6600) is tied for last among the 35 posted pitchers at DraftKings Sportsbook, below even Jake Arrieta (+6000) and the trio of Joe Musgrove, Zac Gallen, and Kevin Gausman (all +5000). It's truly wild to see the breakdown here and to wrap your head around the idea that someone, somewhere really thinks this little of the Cubs' ace.
For reference, here are the full odds, in which Hendricks is the lowest on the board. Even Arrieta is higher. pic.twitter.com/6vMApF1NOq

— Evan Altman (@DEvanAltman) February 17, 2021
To be fair, betting odds are not solely about who is expected to win. That's a big part of it, yes, but the idea is really to generate as many wagers as possible. As such, you can imagine how putting long odds on an elite pitcher from one of the most popular teams in MLB might generate both buzz and revenue for DraftKings. Speaking of which, that link above will allow new users to get a little free scratch to lay on Hendo and others.
So the sportsbooks have a pretty good excuse, but what about the computers? Or perhaps we should target the obviously spiteful human beings who program their computers with algorithms designed for the sole purpose of pissing off baseball fans. In all seriousness, the weakness in projection models is that they're set up to be somewhat generic.
---
---
I don't mean that as a knock because the people who develop these things are geniuses and they've produced some incredible work. However, the models can't really take into account pitchers whose particular talents don't conform to the typical standards used to predict results. As Alex Chamberlain laid out in FanGraphs earlier this month, Hendricks falls squarely in the blind spot of just about every projection system.
Listen, I don't necessarily expect the guy to win the Cy Young in 2021, just like I am not quite naive enough to have supreme confidence in a rotation that averages right around 90 mph on its collective fastball. Jed Hoyer knows he doesn't have a group of dominant pitchers, but he believes the Cubs may be able to get solid results from a group that performs counter to expectations.
Some of that may come from a few tweaks here and there, like getting Arrieta to elevate his sinker more often or finding out how to improve Trevor Williams' spin efficiency. In the end, though, it's all about having Hendricks pitching at an elite level once again. You know, like being in the top 10 in ERA (3.00) among all qualified pitchers since 2016.