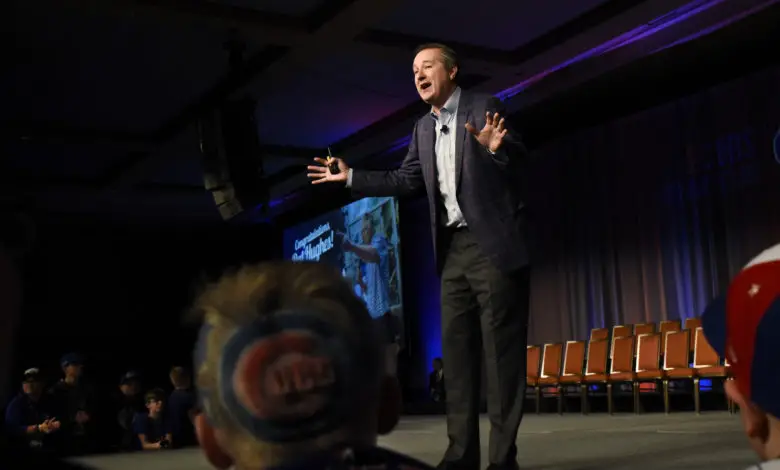 The Rundown: Cubs Fans Left With Many Questions in Absence of Annual Convention, Epstein Accepts Gig With Commissioner's Office, Mickey Mantle Baseball Card Breaks Sale Record
Though there is no Cubs Convention this year, I think it's appropriate to celebrate the beginning of the new baseball season, something the annual fan fest has always represented. Like the entire world, the North Siders are in a temporary state of flux, playing a more reactionary role than in years past. Though they're not trying to keep up with any of their MLB contemporaries as far as offseason additions, the organization is trying to navigate through the murky waters of what will hopefully be a post-pandemic season at some point.
Will fans be allowed into Wrigley Field this year? That's still debatable and my news feed offers conflicting reports regarding any potential immunity to the novel coronavirus or re-opening of the city.
At The Current Rate, Chicago Won't Be Fully Vaccinated Against COVID-19 For A Year And A Half: Mayor Lori Lightfoot https://t.co/ENeSWeY2iU pic.twitter.com/iee1QF5Kt4

— CBS Chicago (@cbschicago) January 15, 2021
Mayor Lori Lightfoot Wants To Reopen Restaurants And Bars 'As Quickly As Possible' To Reduce Risk Of Underground Parties https://t.co/ZflVVRqRjI pic.twitter.com/QW3rlHxHLJ

— CBS Chicago (@cbschicago) January 15, 2021
So the answer is still that nobody really knows. We can't deny the political aspects at play, nor can we pretend that the easily-spread infection is something that can be taken lightly. Reopening bars and restaurants does offer a glimmer of hope that fans will be able to attend Cubs games at Wrigley, but when is still anybody's guess. Some stadiums are planning on having fans as soon as Opening Day, including the Reds and Twins, and MLB is hoping to allow fans to attend Cactus and Grapefruit League games in March.
All we know for sure as of today is that the league intends to play a full schedule this season, proof of vaccination will not be required for fans to attend games once ballparks reopen. What's more, the Cubs still need a left fielder, some infield help, a couple of starters, a backup catcher, and a bullpen piece or two. What's disappointing about a convention-less winter is that fans won't get the answers, believable or not, to any of those outstanding questions heading into spring training.
The front office panel is generally the most anticipated forum of the weekend and it would have been nice to hear Jed Hoyer and his team talk about the international free agent signings they made today. Surely fans would have wanted to know how the president of baseball operations and his executive entourage plan to fill the holes in the roster. If the season started right now, David Ross would probably have to give a full-time gig to David Bote at second base and Nico Hoerner might be spending a lot of time in the outfield.
The rotation looks like Kyle Hendricks, Zach Davies, and a gaggle of reclamation projects and prospects. Craig Kimbrel and Rowan Wick, if healthy and dependable, will anchor the bullpen. It hasn't been talked about much, but Ross will probably miss the reliability of Jeremy Jeffress and Ryan Tepera. What the Cubs are really lacking, and it's something that their rosters have been built on in recent years, is length and versatility. I'm sure all of this would have been covered during the convention, but for now, fans are just going to have to trust Hoyer will field the competitive team he promised us all last month.
Cubs News & Notes
Theo Epstein has been hired by Rob Manfred to work as a consultant in the commissioner's office with a primary focus on field matters.
Epstein will be working with baseball analytics experts to determine the effects of potential rule changes to help the sport overall.
The former president of baseball operations could be the game's savior. It is my opinion that Epstein was hired because Manfred and the owners legitimately believe a mass exodus of fans could be more of a reality than they'd previously thought. Look for immediate changes to defensive shifts.
Reliever Danny Hultzen announced his retirement and will be joining Chicago's front office as a pitching development assistant.
Even though Cubs fans won't be gathering this weekend, the Sheraton Hotel found a way to celebrate the tradition of the convention, flying the W via illuminated rooms.
IFA shortstop Cristian Hernandez received some high praise from veteran baseball writer Peter Gammons. Hernandez officially signed with the Cubs today for $3 million.
While there's not much of anything to report today, the Cubs' IFA signings do shine a bright light on the team's future, and Hernandez could be the real deal. I'll leave you with this:
Cristian Hernandez is one of the top prospects in the 2020-21 international class.

He's been dubbed 'Baby A-Rod' by some evaluators.

Hernandez is expected to sign with the Cubs for around $3.5 million.

His story: https://t.co/ccNp1UOekN pic.twitter.com/kt4asABqpr

— Baseball America (@BaseballAmerica) January 15, 2021
Apropos of Nothing
The annual fan convention would have served as a fantastic introduction for new play-by-play announcer Jon "Boog" Sciambi. I wonder if the Cubs will release a hype video today and I'm curious whether they'll somehow incorporate Sciambi if they do.
Odds & Sods
Remember when we used to think that a big free agent signing like DJ LeMahieu would thaw the hot stove and cascade into a bunch of signings and trades? The free agent second baseman is expected to ink his deal with the Yankees today.
Source: DJ LeMahieu is finalizing an agreement to return to the #Yankees. The deal could be completed as soon as today. @MLBNetwork @MLB

— Jon Morosi (@jonmorosi) January 15, 2021
Sliding Into Home
I did not get to speak with Scott yesterday because he was heavily medicated with painkillers. I did speak briefly via text with his wife Peg, who thanked me for our friendship with her husband and indicated that our Cubs family "means the world to him." Though he has yet to be moved to a hospice facility, things are obviously moving a little quicker than all of us have feared and I will keep everybody updated.
Friday Stove
Nationals fans are going to love Schwarber.
The Phillies have reportedly agreed to a one-year, $6 million deal with right-handed relief pitcher Archie Bradley. Philadelphia had the worst bullpen in baseball last season.
Former Dodgers All-Star Alex Wood signed a one-year, $3 million deal with the Giants, the club announced yesterday evening. Wood can make an additional $3 million in performance bonuses.
The Rockies announced a one-year deal with reliever Mychal Givens on Thursday. The two sides avoided arbitration, though financial terms were not revealed.
Players eligible for salary arbitration and their teams must either settle on a contract for 2021 (or agree to a multiyear deal) by noon CT today, or exchange salary figures for the upcoming season.
Cardinals catcher Yadier Molina has floated the idea he will retire if teams refuse to meet his contract demands. It sounds like a veiled shot at the St. Louis front office.
A 1952 Mickey Mantle baseball card from Topps sold for $5.2 million to become the most expensive sports card of all time, PWCC Marketplace announced yesterday.
Padres left-hander Blake Snell said that Kevin Cash basically "handed the [championship] to the Dodgers" when the Rays' manager removed Snell in the sixth inning of Game 6 of the 2020 World Series.
Extra Innings
I think we all deserve a Friday funny. The first two weeks of 2021 have certainly left us a little jaded that this year might be better than last. This was always my favorite SNL bit.
"Little Chocolate Donuts. The Donuts of Champions."

— Super 70s Sports (@Super70sSports) January 15, 2021
They Said It
"As the game evolves, we all have an interest in ensuring the changes we see on the field make the game as entertaining and action-packed as possible for the fans, while preserving all that makes baseball so special. I look forward to working with interested parties throughout the industry to help us collectively navigate toward the very best version of our game." – Theo Epstein
"If God wants me to come back, then I'll come back. And if not I will retire happy with my head held high." – Yadier Molina
Friday Walk Up Song
Good Day by Greg Street feat. Nappy Roots – I love the positive message of this hip-hop treasure, and it's official, the traditional start of the Cubs' 2021 season has arrived.