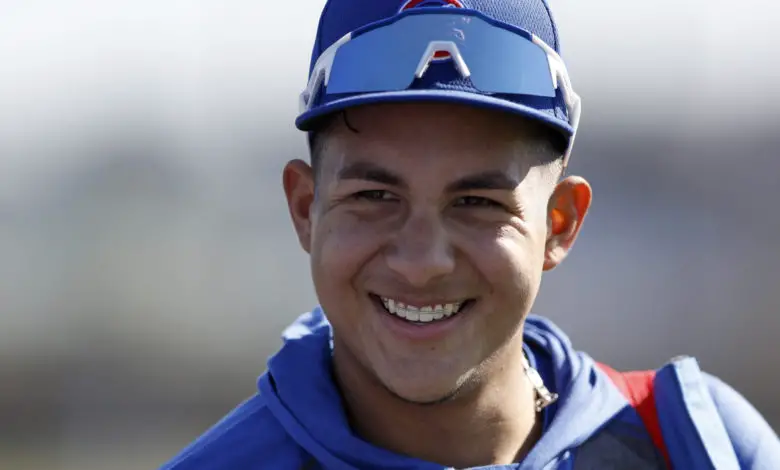 Cubs Catching Prospect Miguel Amaya Flexing Power in Puerto Rican Winter League
He's only played four games for Los Criollos de Caguas in the Puerto Rican Winter League, but Cubs catching prospect Miguel Amaya is putting up big numbers. More revered for his work behind the plate, Amaya's hitting clearly didn't suffer during the shutdown. He went 2-for-3 with two doubles Wednesday night to go with a homer the other day and has now driven in five runs through four games.
More important than the numbers themselves is the process by which Amaya is achieving them and, folks, that swing looks…noice. Even in the hand-me-down clips below, you can see how his head remains quiet throughout as his leg drive fires a compact stroke that's perfect for generating extra bases.
Miguel Amaya with an RBI double. pic.twitter.com/6PpzQPrlh3

— Ikhnaton and Itsacon (@thats_so_cub) December 17, 2020
Miguel Amaya: 2nd verse, same as the 1st. He's an extra base machine tonight. pic.twitter.com/oeabknoNTZ

— Ikhnaton and Itsacon (@thats_so_cub) December 17, 2020
Though he does get pretty wide on the finish, which could rob a little power and jack with his timing, his impeccable balance indicates he'll be able to handle offspeed stuff even if he gets fooled. Amaya's continued development as a hitter is something to keep an eye on once the minor league season eventually starts up because his advanced catching skills are already dialed in.
"It's unbelievable, he catches like he's been catching for 10 years in professional baseball," righty Scott Effross marveled during the 2019 Arizona Fall League campaign. "He's so confident back there, and he honestly thinks a little bit better than I do about all this because he pays attention.
"With the new mechanics, new pitches, I don't know exactly what I'm doing. I'm kind of just going out there and throwing and working on stuff, but he's — in Myrtle Beach specifically — he would always set up hitters so well."
Amaya is heading into his age-22 season and it's not a stretch at all to say he could be ready for the big leagues by the 2022 season. That will obviously force the Cubs to make some decisions with Willson Contreras and Victor Caratini, but that speculation has already been discussed so we'll just leave that where it is.
---