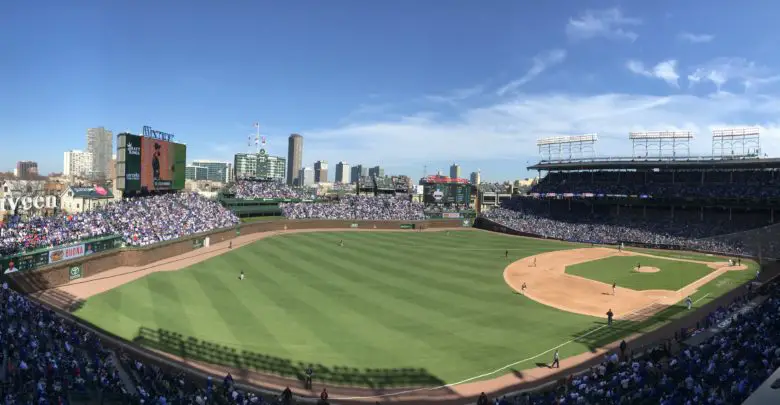 The Rundown: Missing Wrigley Field, Hoyer Understands Hot Stove Freeze, Cleveland Dropping Indians Nickname Immediately
"She stands alone at the corner of Clark and Addison, this dowager queen, dressed in basic black and pearls, 75 years old, proud head held high and not a hair out of place, awaiting yet another date with destiny, another time for Mr. Right. She dreams as old ladies will of men gone long ago. Joe Tinker. Johnny Evers. Frank Chance. And of those of recent vintage like her man Ernie Banks. And the Lion [Leo Durocher]. And Sweet-Swingin' Billy Williams. And she thinks wistfully of what might have been, and the pain is still fresh and new, and her eyes fill, her lips tremble, and she shakes her head ever so slightly. And then she sighs, pulls her shawl tightly around her frail shoulders, and thinks, 'This time…this time it will be better.'" – Vin Scully (1989).
There isn't a place in the world like Wrigley Field 😍

(Via @nut_history) pic.twitter.com/aQiLhb75Ge

— Marquee Sports Network (@WatchMarquee) November 24, 2020
I've had it with the pandemic. I miss Wrigley Field and people-watching; steaming red hots and ice-cold beer; the sounds of the game and the crowds' reactions; home runs and double steals; and the hustle and bustle at Clark & Addison on game days. I miss baseball conversations with complete strangers and debates over something as life-changing as choosing Chicago's all-time starting lineup, or something as minor as Kris Bryant skipping batting practice.
We have been confined and somewhat psychologically conditioned by COVID-19 since early March. As we close in on the end of 2020, hope comes in the form of a vaccine that started shipping yesterday. Will it be enough to reopen baseball stadiums and normalize the way of life we had grown accustomed to pre-pandemic? I do not have an answer for that.
For now, the beautiful stadium just west of Chicago's diamond-studded lakefront is a haunted house, absent of fans with nary a sign of life since September of 2019, even when the Cubs played there this past summer. That's not a passive reference to the disappointing end of their season, just a reality check that life as we know it has been in a pandemic-induced coma for nine months. For baseball fans, 2020 has been the ultimate timeout. For Cubs fans, it's been an exercise in depressing depravity.
Putting free agency, expiring contracts, trade rumors, and "biblical financial losses" aside for just a moment, have you ever felt so distanced from the game as a baseball fan as you do now? Even the hot stove is as frigid as that Nor'easter that swept through the Midwest last evening. In the rarest of oddities, Tulsa, OK has had six inches more snow this fall than Milwaukee, where I still have yet to see even the first snowflake of the season. Nothing seems more apropos of this bizarre year we've endured.
Baseball, at least to me, feels like it has fully lost its mojo. I watched a replay yesterday of Game 7 of the 2016 World Series, that 4.5-hour affair which seems like it was played a million years ago. I still suffered through the anguish and hostility of watching Joe Maddon let Aroldis Chapman take the mound in the 9th inning and the agony of watching Chapman, gassed from overuse, throwing slider after slider because his legendary fastball was obscenely flat and far too hittable. And then, Ben Zobrist matter-of-factly changed the course of history for every Cub fan, living or dead, who had wondered for 108 years if the North Siders would ever win another championship.
And now, that "dowager queen" Vin Scully referred to above, Chicago's newest landmark, sits alone, cold and dreary, in wonton hope that one day soon 41,649 butts will warm her seats and energize her neighborhood. As I write this, I really don't care how good or bad the Cubs will be in 2021. I just want to walk into that beautiful stadium on a warm summer day, entering just below her iconic marquee while surrounded by thousands of excited fans, grab a couple of dogs with grilled onions and a beer, head to my preferred seat in section 105, and watch my Cubs, win or lose.
A Cubs game with a packed house roaring in the excitement of an Anthony Rizzo home run is as good as life gets. When it finally happens, and it will, it's going to feel so wonderful you may shed a tear or two.
---
---
Cubs News & Notes
Odds & Sods
The Cleveland Baseball Team (temporary identifier) has elected to change their nickname from the racially controversial "Indians" to something less culturally insensitive. I've always hoped they would become the "Spiders," but I instantly loved the name "Comets." And hey, since we are waiting on the 2021 disaster-to-be-named-later, it may be a prescient choice, too
I have no connection to Cleveland, but my nickname submissions:
"Comets"- after Bill Haley's band that Cleveland DJ Alan Freed called "Rock & Roll", coining the phrase.
"Foresters" after nickname "Forest city"
"Spiders"- Cleveland's original NL team of the 1890s

— Jake Query (@jakequery) December 14, 2020
Monday Stove
This year's hot stove season has been frigid so far, but didn't we say the same thing in 2018?
The offseason is halfway over and the league's 30 teams are still operating with no idea about what 2021 will look like. Pitchers and catchers report in about 65 days.
Nationals starter Max Scherzer said he hated watching games from the stands as part of the team's social distancing efforts.
The Mets have a new owner, a new team president, and a new catcher in James McCann. The team will now turn its focus to free agents Trevor Bauer and George Springer.
The vision that Álex Rodríguez and Jennifer Lopez had for the Mets had they won the bid is more than a little outside-the-box.
The Yankees and free agent second baseman DJ LeMahieu remain far apart and no deal is imminent.
The Phillies introduced Dave Dombrowski as their new president.
New York Daily News writer Bill Madden, who doesn't believe in analytics, makes a case for including Jeff Kent and Omar Vizquel on his ballot, while also stating that Dick Allen is not Hall-worthy.
White Sox manager Tony La Russa agreed to a guilty plea of the lesser charge of reckless driving following his DUI arrest in Arizona. Chicago's new skipper will be required to pay a $1,383 fine and complete 20 hours of community service.
Minor league contraction will speed up the expected timeline of the game's best prospects, for better or worse.
Extra Innings
I don't know about you, but when I see this picture of Bill Madlock and Dick Allen it just feels like summer is a lot closer than it really is. How amazing would it be if the Cubs had a .354 batter in their 2021 lineup?
September 7, 1975: Legendary batsmen Bill Madlock (Cubs) & Dick Allen (Phillies) share a laugh in the top of the 4th inning.

("Mad Dog" would finish the season with a .354 batting average – his first of 4 batting titles.)

Cubs 6, Phillies 4
Veterans Stadium, Philadelphia#MLB pic.twitter.com/hopFtt69YH

— Alex Cheremeteff (@AlexCheremeteff) November 10, 2019
On Deck
It's a huge week for friend and reader Twin31s. Scott has a bevy of consultations scheduled this week and next that will determine his short- and long-term prognosis. Mr. Crandall has promised me we will meet in Chicago for a Cubs game this summer and I intend to hold him to that. Please keep him in your thoughts and prayers. In Scott's words:
"Treatment at Emory [Hospital] on Monday was excellent: 2 units of blood, finding out that they've moved up the CT scan to this coming Monday (12/14), so – when we go in for the 12/21 appt. we'll know where we stand; tumor has responded and is shrinking (our #1 choice); tumor has not shown growth since we started (our #2 choice); and tumor has continued to grow (our last choice). I asked our treatment coordinator what would be the direction if the result is NO. 3. Without hesitation she said, 'We'll move to Plan B!' I didn't even know there was any other plan – and I hope we don't have to find out what it is."
They Said It
"I think everyone would benefit if things happen earlier, happened closer to the start of the offseason. And the other sports, probably because they have hard caps, those things happen. If the season gets pushed back, then, yes, I think the hot stove season will get pushed back as well, because people will wait for additional information, which is just the smart thing to do."– Jed Hoyer
Monday Walk Up Song
Winning Streak by Glen Hansard – I've used this one often, but it's an appropriate step-up-to-the-plate song for Mr. Scott Crandall. Wishing strength, good health, and good fortune to Scott and his wife this week.