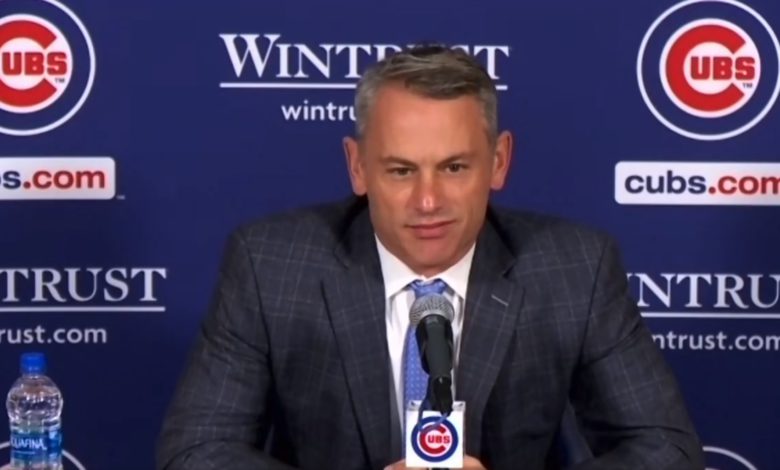 Jed Hoyer Channels Pat Hughes, Says 2021 'Will Be a Big Turning Point' for Farm System
The Cubs reversed their fortunes on the strength of a farm system that was replenished through trades and a series of top draft picks, but they ran into trouble after only the low-hanging fruit ever ripened. Whether it was the result of negligence or some form of organizational blight, almost everything else was basically left to wither and die on the vine.
Their failure to develop pitchers has been a sore spot for years now, to the extent that the development team has been forced to admit mistakes in that area. A less obvious shortcoming has been the paucity of impact position players drafted outside the first round making their way to Wrigley, not to mention the lack of improvement that saw two of those top picks non-tendered last week. That apparent lack of real-time appraisal and foresight may have been a symptom of hubris.
"I kind of laugh when people start to criticize the state of the farm system because the entire goal of a farm system is not to win Midwest League championships or Southern League championships or PCL championships," Theo Epstein told 670 The Score shortly the All-Star break in 2017. "The goal of the farm system is to get your players to the big league level so that they can win a world championship and take some of your prospects and trade them for big league players so you can win championships."
He went on to drop what at the time felt like a mic-drop zinger, but has since become the first half of a "Then what happened?" meme.
"The best part of our farm system right now is at the lower levels, where the talent is emerging, and at the big leagues, where they're all wearing rings," Epstein quipped.
As we sit here three and a half years later, nothing has changed. I mean, yeah, some of the prospects he was talking about have worked their way up beyond A-ball, but it's not as though the Cubs have a bevy of players ready to step up and contribute in a meaningful way at the big league level in 2021. That's why they saw fit to overhaul the development infrastructure for both pitching and hitting following the 2019 season.
The results of those organizational shifts may have been stunted by the pandemic, but VP of Development Matt Dorey is bullish on what the Cubs were able to accomplish in spite of the minor league shutdown.
Led by Adbert Alzolay, Brailyn Marquez, Burl Carraway, and maybe even Justin Steele, the long-overdue waves of pitching may finally be lapping at the shores of Lake Michigan. As an aside, I originally typed "Lack Michigan" and almost kept it because it felt right. There's also a good deal of hope for Brennen Davis, Miguel Amaya, Christopher Morel, and others to wedge open the next competitive window, just not this coming season.
Jed Hoyer inherited an unenviable situation at the big league level when he stepped into Epstein's shoes, saddled as he is with a limited budget and a roster with plenty of holes to fill. That's why he is likewise excited for what lies ahead in terms of the prospects in the system, which he kind of has to be given the state of the organization at this point.
"We really overhauled our player development a year ago and we were excited to get going and to see the progress," Hoyer explained on Marquee Sports Network's "Cubs Live!" show. "Internally, we saw a lot of progress – whether it was at the alt site [in South Bend] and instructs or just working remotely with guys.
"Our farm system is certainly on the rise and I think next year will be a big turning point for it."
Oh, I agree, Pat. Sorry, that's just a reflexive response when I hear about a potential turning point.
Hoyer's not wrong by any stretch and we've been covering the system's steady improvement over the last few years, but it's now at the point where the Cubs really need to generate results in a hurry. Kyle Schwarber is likely gone and that's just the first loss in what figures to be at least two or three members of the team's young core. Without the money to spend in free agency, those departures have to be replaced from within.
Or hey, maybe slashing the budget by $50 million or more this season will result in a financial reset that does in fact allow for more spending in 2022 and beyond. Even the most expensive rosters have to rely upon some homegrown talent, though, so the farm needs to produce one way or the other. And this time, Hoyer and his staff had damn well better have a ladder ready.
That's not necessarily a short joke, I'll leave those to Epstein, it's just a metaphor meant to imply that the Cubs can't just settle for developing their top prospects at the expense of forgetting about everyone else. That's part of what got them here in the first place and it's embarrassing enough that it happened once, so repeating it would be an error in judgment.
If things go right, however, get ready to fasten those seatbelts and just listen to those fans.