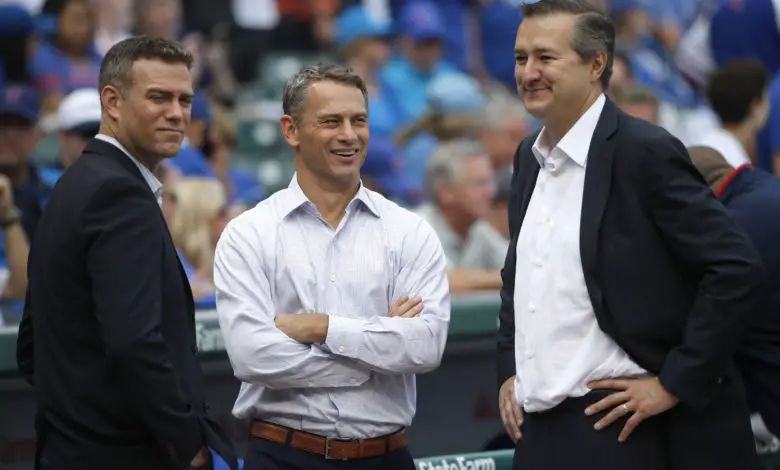 Theo Epstein Reportedly Still 'Mulling Whether to Step Down,' Which Ownership Might Not Hate
Outside of having seven players named as Gold Glove finalists, there hasn't been any good Cubs-related news since their season-ending series against the White Sox. They were swept from the playoffs in embarrassing fashion, they laid off more than 100 employees, the coaching staff is in flux with Anthony Iapoce on the hot seat and Will Venable interviewing for managerial openings, and it's almost certain that payroll restrictions will significantly hamper offseason acquisitions.
That's why it's no surprise to read that Theo Epstein is "still said to be mulling whether to step down from the final, $10 million year of his contract." Those words from NBC Sports Chicago's Gordon Wittenmyer closely mirror what David Kaplan had reported earlier in the month in the same outlet and on ESPN Radio.
Sources confirmed to me that while the status quo is most likely, one of the possible scenarios that will be discussed is Epstein exiting now rather than waiting to complete the final year of his contract, which runs through the end of the 2021 baseball season, if that better positions the Cubs for their future.
While both Epstein and Cubs chairman Tom Ricketts have publicly maintained that the plan is for the team's leadership to remain intact, an early exit makes sense if the budget is being slashed to a great degree. With just one year left on his deal, Epstein isn't going to oversee a rebuild or even a reload of any form or fashion. And with several core players from the current roster gone along with him by 2022, handing over the reins to Jed Hoyer now might be in the best interest of everyone involved.
Epstein is a hyper-competitive person and he's also very loyal, characteristics that can be at odds given the role he's occupied for the last nine seasons in Chicago and before that in Boston. The process can surely be exhilarating at times, but it's equally stressful and has probably shaved a few years from Epstein's life. Though the Cubs may still hope to compete in 2021, it's possible the pressure of threading the needle in order to do so isn't worth it for just one season.
During the most recent episode of The Rant Live, I was asked what would happen if Ricketts imposed a $150 million payroll for next season. My answer: Epstein should turn in his two weeks' notice on the spot. I'm not talking about some act of protest or anything even remotely dramatic, it's just that being hamstrung so badly would mean there's really no point in having a lame-duck leader pulling the strings. Hand things over to Hoyer and move on.
You have to believe that's what Ricketts would prefer as well, particularly if it means the baseball ops president would forego some or all of his salary. Whether you believe the Cubs have a cash crunch or not, their actions indicate that liquidity is very much an issue. Between the short season and the lack of fans, the organization reportedly fell $140 million shy of its revenue target and is planning to have a $120 million shortfall next season.
Hence the sweeping layoffs that included several longtime employees as high up as the VP level. Then there's the matter of player payroll, which has exceeded the competitive balance tax threshold in each of the past two seasons and will certainly be cut by a significant degree for 2021. That means spending as little as possible in free agency and perhaps pushing back any extension talks with current players, even at the risk of letting rookie deals expire.
The real key here could be the $10 million buyout owed Jon Lester once the Cubs decline to pick up his $25 million option for next season. Though that money is guaranteed and was thus included in the average annual value of his deal over the last six seasons, ownership will still have to cut him a very real check. But what if there was a way to offset that, like having another highly-paid employee walk away from a $10 million salary. Hmmm.
Yeah, you're right, I'm probably just connecting coincidental dots here and being unfair to Ricketts, who is surely perfectly happy to pay out all that money. Except he's not. I'd be willing to bet the eventual ascension of Hoyer to Epstein's role does not result in the hiring of a new GM. Rather, Hoyer will simply have more decision-making power for what will probably be a nominal raise.
I don't believe Epstein will be pushed out, just that Ricketts will pull a Willy Wonka and offer little more than a half-hearted, "Stop, don't, come back" if the baseball boss leaves early. It's just as easy to see the Cubs maintain the status quo, though, since they've proven quite adept at doing just that over the last several seasons. Change will be coming at some point, it's really just a matter of how much and how soon.