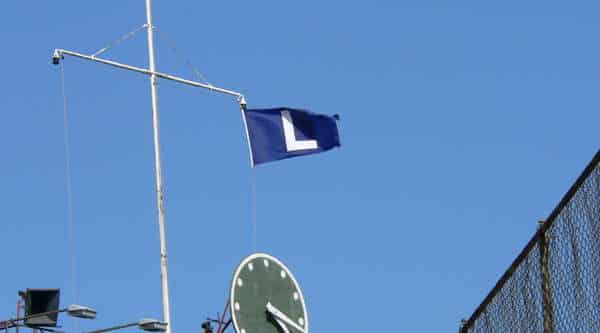 Chicago Cubs Score and Recap (9/30/20): Marlins 5, Cubs 1 – Marlins Homers Doom Cubs in Game 1
The Cubs welcomed the Miami Marlins to Wrigley for the opening game of the National League Wild Card series Wednesday. What had been a close contest for most of the afternoon came down to a key decision by manager David Ross that did not work out as he hoped and gave Miami the win.
Kyle Hendricks was effective in the early going in spite of uncharacteristically spotty command. Miami got the leadoff man on second base consecutively in the 4th, 5th, and 6th innings, but The Professor bore down and worked hard to escape each jam with no runs scored.
Sandy Alcantara matched Hendricks zero for zero through five innings until Ian Happ broke the tie when he launched a solo homer to left in the 5th. The Cubs offense could not get much else going all day despite several left-handed batters and the wind blowing out hard to right.
Ross stuck with his starter in the 7th as he passed the 100-pitch mark, even after Miguel Rojas and Chad Wallach had hard-hit singles to put two on with one out. It looked like Hendricks was out of gas, yet his manager let him stay in to face Corey Dickerson. The former Pirate hit the first pitch for a go-ahead three-run homer to left.
Jeremy Jeffress took over and quickly allowed a two-run homer to Jesus Aguilar to make it 5-1. The Cubs never really rallied from there and they lost by that score. (Box score)
Why the Cubs Lost
The stagnant offense gave the pitching staff no margin for error and five runs was a big hole.
Key Moment
Leaving a gassed Hendricks in the game was a huge mistake, especially facing a lefty with power and the Cubs paid for with Dickerson's bomb.
Stats That Matter
Hendricks wasn't sharp, but deserved better: 6.1 IP, 3 R, 5 H, 3 K, and 3 BB.
Happ had two of the Cubs four hits Wednesday.
Bottom Line
The Cubs now must win the next two games or go home. If the bats do not wake up, it will be wait 'til next year in Wrigleyville.
On Deck
Game 2 is at 1:08pm CT on Thursday. Yu Darvish looks to keep the Cubs season alive against Sixto Sanchez in a game airing on ABC and 670 The Score.