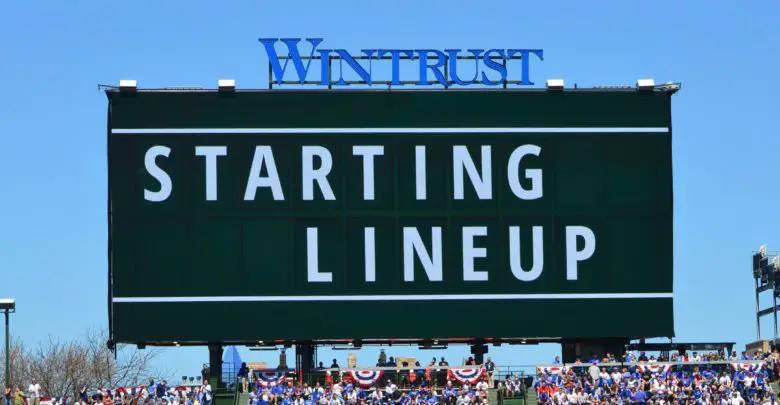 Chicago Cubs Lineup (9/30/20): Happ Leads Off, Javy 7th, Kipnis at 2B, Hendricks Starts Game 1
The 60-game season may have felt like a fuzzy dream, but things have now gotten very real as the Cubs open the 2020 postseason with the first of a possible three games against the Marlins. It'd be much better if this series only goes two games and ends with the Cubs moving on Texas, so let's all collectively visualize that outcome.
David Ross is packing the lineup with lefties in this one, starting with Ian Happ in center and Anthony Rizzo at first base. Kris Bryant bats and plays third, Kyle Schwarber cleans up in left, and Willson Contreras handles the catching duties.
Jason Heyward bats sixth in right and Javy Báez, who will not repeat his switch-hitting efforts, is batting sixth and playing short. Victor Caratini is the DH and Jason Kipnis bats last at second base. That gives the Cubs just three righty batters and you'll see why if you keep reading.
Kyle Hendricks has a 2.98 ERA across 11 postseason appearances (10 starts) and he's facing a team that finished the regular season with a .235 average (21st in MLB), 89 wRC+ (24th), and .298 wOBA (26th) against righties. This matchup favors the Cubs in a big way, but Hendricks still needs to be sharp. He's been exactly that in September, going 3-1 with a 1.45 ERA over five masterful starts.
The Professor doesn't necessarily have to go deep in this one because the Cubs have been off for two days and it's only a three-game set, but the emotional boost of a shut-down performance would be huge.
Going for the Fish is former Cardinals prospect Sandy Alcantara, who missed over a month after his Opening Day start due to a positive COVID test. He ended the season on a high note, posting three consecutive game scores of at least 64 that culminated with a 69 against the Yankees to finish with a 3.00 ERA.
The 25-year-old righty can really run it up there, averaging around 97 mph on his sinker and four-seam, and he locates his hard stuff really well. In fact, his sinker is the only pitch in his entire repertoire that's generated positive value this season. His slider has never been a huge weapon and his changeup has really dropped off, but not in terms of movement it generates.
When you can blow the heat by the batter and get a lot of grounders, though, you can get by with not having your secondaries doing much heavy lifting. It does appear as though he established a better feel for the slider as the season wore on, which is probably a big part of holding right-handed batters to a .190 average with a .215 wOBA. Left-handed hitters had a .268 average and .369 wOBA with 10 extra-base hits among their 19 total knocks against him.
Alcantara really wanted the ball for this start and he's got plenty of confidence, but pitching in the playoffs is a whole different animal from pitching in obscurity down in Miami. Then again, it's not like he's facing a hostile environment. Maybe the rooftop denizens will get feisty enough to put him on edge.
First pitch is set for 1:08 pm CT on ABC and 670 The Score, with Len Kasper joining the radio call for the 5th inning in place of Pat Hughes.
Postseason baseball at Wrigley Field.#FlyTheW pic.twitter.com/34LTrKWIpy

— Chicago Cubs (@Cubs) September 30, 2020