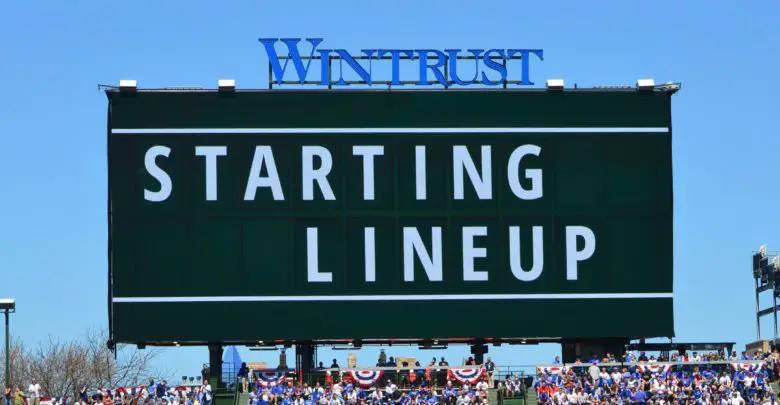 Chicago Cubs Lineup (9/6/20): Happ Leads Off, Javy Still Batting Cleanup, Lester Starting
After yesterday's double helping of half-assery, the Cubs are back at it on Sunday night for the fourth of five games against the Cardinals. Though they're still looking down at the rest of the NL Central, the whole organization appears to be splashing around in a vain attempt to tread water. There's no better example of this than Steven Souza Jr. being DFA'd between games of Saturday's doubleheader.
Not that designating a .148 hitter with a  48% strikeout rate was puzzling in and of itself, mind you. The real head-scratcher is that he was in the starting lineup against a right-handed pitcher in the first game, especially since the team already knew he was going to be gone afterwards. Even if it wasn't a foregone conclusion, the Cubs had a very good idea that they'd likely have to make the move. It just stinks of desperation and poor planning.
Likewise, the decision to go with a split-squad lineup in the second game proved to be every bit as futile as literally everyone thought It would be when they first saw it. There just seems to be a sense of panic as both David Ross and the front office continue to make inexplicable moves with little to no potential value. Again, they're just treading water sloppily and expending too much energy in doing so.
Maybe tonight will be better, though it'd be nice if someone other than Ian Happ could put in work. He leads off in center, followed by Kris Bryant at DH and Anthony Rizzo at first. Javy Báez is somehow still batting cleanup and has yet to hit anywhere other than third or fourth this season despite a prolonged slump that has him at 0.0 fWAR with offensive production 46% worse than the average hitter.
Kyle Schwarber is in left, Willson Contreras is catching, and Jason Heyward is in right. David Bote at third and Jason Kipnis at second fill out the lineup.
Jon Lester is on the bump after yet another very rough outing in Pittsburgh in which he allowed at least five earned runs for the third time in four starts. He also gave up eight hits, the fourth start in a row with that many or more, and walked a season-high three batters. The Cardinals aren't going to let him get away with that kind of performance and I've got a sinking feeling one may be coming.
Going for the Redbirds is 25-year-old righty Dakota Hudson, a groundball specialist who has eaten left-handed batters alive this season. Hudson loves his sinker, which he can run up there around 94 mph, but he's actually dialed it back this season to about 30% of his pitches after being well over 50% previously. That's because he's more than doubled his slider usage to 22% and is throwing a lot more four-seams as well. His cutter also gets heavy usage in what has become a very balanced repertoire.
Lefties are hitting just .120 with a .385 OPS and .167 wOBA against him this season, drawing only three walks in 54 plate appearances. Righties have a .268 average with a .772 OPS and .334 wOBA, most of which comes from a bumpy first start against the Pirates in St. Louis. Take that out and Hudson's splits are much more even. Yikes.
I say this a lot, but this truly is a game in which I believe the Cubs have to be aggressive. Hudson loves to throw first-pitch strikes and he's not a big strikeout pitcher in general, so he thrives on getting contact on the ground. He gives up more overall contact and in-zone contact than league average, which means the Cubs can get to him if they're sitting on strikes. It's when Hudson gets swings at his pitches, something he does at a league-average rate, that hitters start getting into trouble.
At the risk of allowing recent results to color my commentary, I just don't feel good at all about this one. I really don't. Let's just hope there's a little reverse karmic influence to be drawn that. First pitch is at 6:08pm CT on ESPN and 670 The Score.
Here is tonight's #Cubs lineup for Sunday Night Baseball! pic.twitter.com/a6LyAcKFiQ

— Chicago Cubs (@Cubs) September 6, 2020