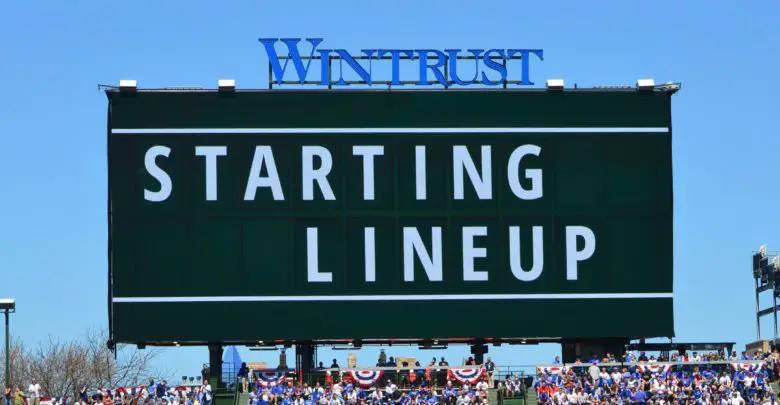 Chicago Cubs Lineup (8/18/20): Happ at Leadoff, Bote 3B, Darvish on Hill
By the time this game is over, the Cardinals will have played more games in Chicago since Saturday than they had played in total over the first three-plus weeks of the season. And they've still got two more to go after this one, which is wild. As expected, they seem no worse for the layoff and are getting big contributions from dudes who were just called up.
Kris Bryant is getting the day off, so Ian Happ is leading off and playing center. Anthony Rizzo is next, followed by Javy Báez at short and Kyle Schwarber in left. Willson Contreras is the DH, Jason Heyward is in right, David Bote is at third, and Victor Caratini is catching. Jason Kipnis bats last and plays second.
Unlike the myth of his counterpart's namesake, Yu Darvish appears to have discovered the fountain of youth. Not only is his fastball velocity just over 95 mph, a career best if it lasts, but he is locating well and getting hitters to swing at his pitches. The 16% swinging strike rate he's generated so far is the best of his career by a wide margin, even though his strikeouts are down a little.
That might actually be a good thing for Darvish, who has frequently battled high pitch counts as a result of getting a little too cute and trying to put every batter away on strikes. His walks remain down, a trend he established midway through last season, but the real kicker is that he's only allowed one homer so far.
On the mound for the Cardinals is Daniel Ponce de Leon, a 28-year-old righty swingman who's making his second start and third appearance overall this season. Though he's pitched in parts of the last three seasons, this will be just the second time he's faced the Cubs in his career. The first came on September 30, 2018 in the 7th inning of a Cubs blowout, David Bote is the only current Cub Ponce de Leon has ever faced.
Once an extreme fastball pitcher, throwing the four-seam over 70% of the time, PdL has varied his repertoire just a little in the early going this season. He's still fastball-heavy and goes to it for roughly 60% of his pitches, but he's thrown the curve nearly a quarter of the time. That's triple what he used to throw it, basically using it to compensate for fewer fastballs and changeups. A cutter makes up the remainder of his offerings.
The heater isn't particularly notable, sitting 94 mph with decent movement, but his game is generally about getting ahead early and trying to get hitters to chase. If Ponce de Leon stays with the plan he's followed so far, and it's admittedly too early to be really sure of that, the Cubs will see a ton of first-pitch strikes. They can afford to be patient, though, because he's been known to walk a batter or three.
He also looks a little like the Dodgers' Joe Kelly from a profile view, though I'd need to see him stick his lower lip out in a mock pouty face to really drive that home.
There's no better way to start a new win streak than to pick up a victory over a division rival that also happens to boast Missouri's longest professional title drought. Good thing they've got that massive trophy to in Ballpark Village to remind them of it.
First pitch is set for 7:15pm CT on Marquee and 670 The Score.
Here is tonight's #Cubs starting lineup behind Yu Darvish. pic.twitter.com/77SNgXmHkH

— Chicago Cubs (@Cubs) August 18, 2020