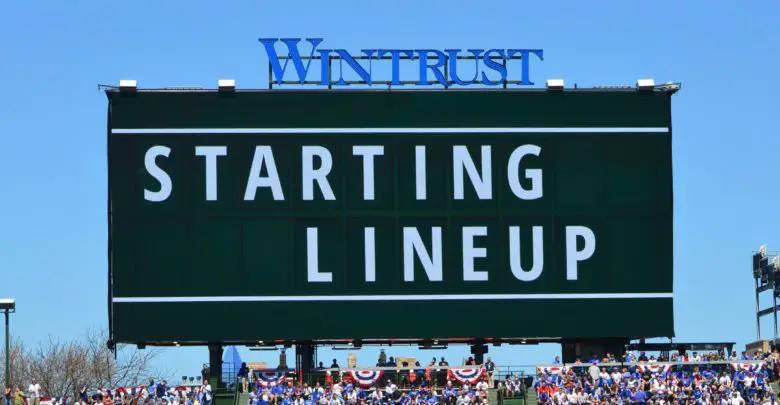 Chicago Cubs Lineup (8/6/20) – Happ in CF, Hoerner 2B, Chatwood Makes Third Start
Prepare yourself for a litany of tired takes, folks, because tonight is a FOX game. With all due respect to those Marquee-less fans who get a rare glimpse of the Cubs, I'm not sure it's worth it to be subjected to three hours of pre-chewed tropes and half-baked commentary. Who wants to bet we'll hear about the A's having a Steve Bartman cardboard cutout in the stands?
Speaking of which, that was a dick move with absolutely zero purpose and the Oakland organization screwed up by allowing it. Now back to your regularly scheduled programming.
Kris Bryant is once again leading off at third, with Anthony Rizzo at first, Javy Báez at short, and Kyle Schwarber in left. Willson Contreras is catching, Jason Heyward is in right, and Victor Caratini is the DH. Nico Hoerner moves back to second after handling the outfield, Ian Happ is in center.
Even with the stellar performances up and down the rotation so far, Tyler Chatwood's first two outings stand out. He's got an 0.71 ERA with 19 strikeouts and just four walks, good for 0.7 fWAR that already tops his total from last season. The improved control is notable, but Chatwood has also leaned more heavily on the cutter he reworked during his time as a reliever.
After facing Royals rookies in the last two games, the Cubs now face what passes for a grizzled veteran in KC as 25-year-old righty Brad Keller takes the mound. This will be the first appearance of 2020 for last year's Opening Day starter, who had tested positive COVID-19 early in summer camp. Neither overpowering nor precise, Keller's primary strength may be the spacious confines of Kauffman Stadium.
He doesn't strike out many batters, notching more than seven K's just once in 28 starts last year, and he issued 70 walks in just over 165 innings last season. Despite being 6-foot-5 and 230 pounds, Keller only sits around 93-94 mph with the fastball and sinker that account for nearly 70% of his repertoire. The slider is really his only secondary, though he will incorporate a splitter/changeup to a very limited extent.
It's all about location for Keller, so expect him to mix speeds and spots as he tries to limit the dangerous Cubs offense to harmless base hits and weak contact. This has the feel of one of those games in which the Cubs are inexplicably stifled by a guy they should be able to beat, but we've seen from them several times already this season that they're able to break through in any number of different ways.
First pitch is at 6:07pm CT on FOX and 670 The Score.
Here is tonight's #Cubs starting lineup! pic.twitter.com/D1zcLD5IOc

— Chicago Cubs (@Cubs) August 6, 2020