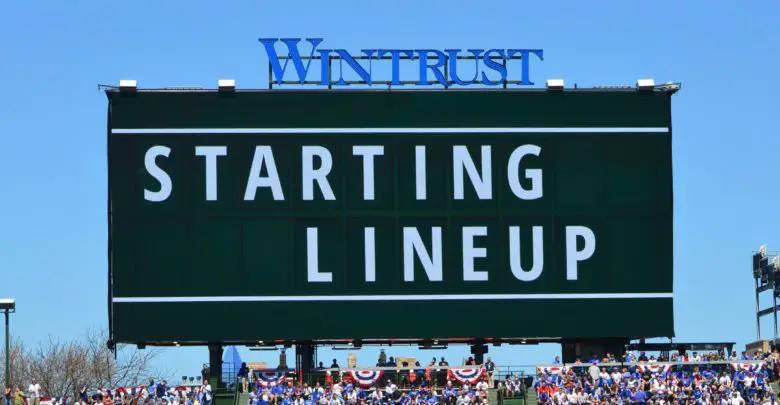 Chicago Cubs Lineup (7/30/20) – Bryant Leadoff, Darvish Scheduled to Start with Wet Weather in Forecast
Update: As expected, the game has been postponed. A makeup date is TBA, but the Cubs return to Cincinnati from August 28-30 and could schedule a doubleheader in there.
Tonight's #Reds-Cubs game has been postponed. Makeup date TBA. ?️ pic.twitter.com/1wYAwWZo7i

— Cincinnati Reds (@Reds) July 30, 2020
---
The Cubs took the first two in Cincy before getting pummeled last night, but they've still got the chance to make gourmet meatloaf if they can win the series finale. That opportunity is at least a little doubtful for the time being because the current forecast for Cincinnati calls for at least a 80% chance of rain through midnight.
Kris Bryant showed signs of life last night with a hard-hit double and a liner that would have left the yard had it been hit to an alley, and he'll lead off again at third. Anthony Rizzo bats second at first, Javy Báez is at short, and Kyle Schwarber is in left. Willson Contreras is the DH, Jason Heyward is in right, Victor Caratini will catch, Nico Hoerner is at second, and Ian Happ is in center.
Speaking of rain delays, Yu Darvish is on the mound for the second time this season. Not known for working quickly, the dynamic righty did Steve Trachsel proud last Saturday in Chicago as he took roughly five and a half hours to complete four innings. Or maybe it just felt that way.
Darvish noted last season that he may be better served to think less, throw more, don't let them know your 11th pitch and just use four. Hamilton tributes aside, perhaps he really should work on sticking to what's working early rather than cycling through his historically varied repertoire. But he obviously knows himself better than I know him, so that's his call.
Getting a few more calls should help as well, particularly after being judged by C(alled)B(adly) Bucknor the first time out. Between the questionable umpiring and a woefully botched rundown by his infield, Darvish ended up having to throw more pitches under greater duress than he should have. Not that the Reds are going to give him any breaks.
Cincy plans to send hard-throwing righty Luis Castillo to the mound in this one coming off of his 11-strikeout performance against the Tigers last Saturday. The 27-year-old displayed incredible velocity early, sitting 97-98 mph with the fastball and sinker while averaging just over 88 mph on both the slider and the changeup. Dude throws his breaking and offspeed stuff as hard as Kyle Hendricks throws his fastball.
Castillo is 4-2 with a 3.56 ERA and 1.22 WHIP in 10 career starts against the Cubs, numbers that are right in line with his overall averages. Over four starts last season, he was 2-1 with a 3.24 ERA and 1.08 WHIP while striking out 30 against eight walks in 25 innings. He's not afraid to challenge hitters with first-pitch strikes and he's confident enough in his stuff to work in the zone more than most pitchers, something the Cubs might be able to exploit.
Lefties have fared much better against Castillo over the last three seasons, which is a little interesting when you consider that he may have the best changeup in the game right now. To wit, his offspeed pitch generated a whopping 29.4 runs of positive value in 2019. Only two other pitchers generated more than 18.2, with the next-best (Mike Minor) sitting at 22.8 runs.
At the same time, 118 pitchers generated more fastball value than the 3.9 runs Castillo built last season. He's not able to fool lefties as well with the four-seam or sinker, yielding a batting average well over .300 and a slugging percentage around .600 on those pitches. If they are able to get this game in, maybe the Cubs can take advantage of a mistake or two and knock Castillo out early.
It's at least a little interesting that the righty-batting Hoerner is in there rather than Jason Kipnis, but David Ross does seem to like riding the hot hand. Of course, that might mean finding room for David Bote. And what's with Heyward staying in the sixth spot? He's 5-for-19 with a homer against Castillo, so maybe that's it.
The obvious pick to click here is Schwarber, who is 5-for-17 with three homers and four walks against the Reds righty. His 1.370 OPS is the highest of any Cubs hitter with at least 10 plate appearances vs. Castillo, though Contreras is 4-for-8 with a walk and has a 1.475 OPS. Happ is 5-for-10 with a walk for a 1.245 OPS.
First pitch is set for 5:10pm CT, 30 minutes earlier than the previous three, and can be viewed on Marquee or heard on 670 The Score. If the game ends up getting banged and both teams prefer to keep their off-days intact, they could try for a doubleheader when the Cubs return to the Queen City in late August.
#Cubs aim to take 3 out of 4 in Cincinnati. pic.twitter.com/w4ruP3lgLM

— Chicago Cubs (@Cubs) July 30, 2020