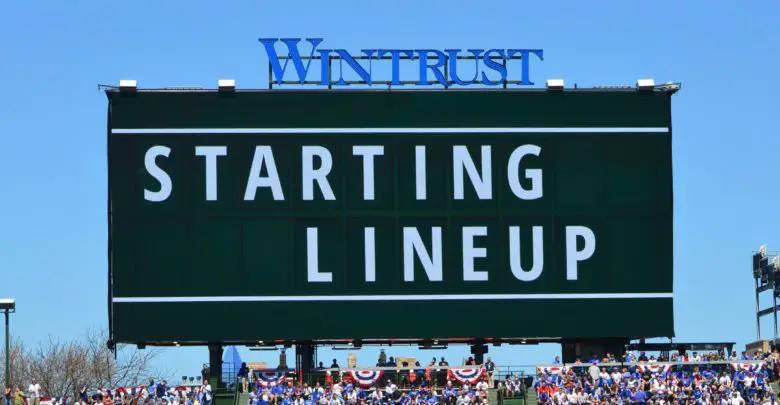 Chicago Cubs Lineup (7/28/20): Anthony Rizzo Leads Off, Victor Caratini Bats Second, Alec Mills Starting
The Cubs won two of three from Milwaukee by limiting them to a total of one run in their victories, but they had to hold on for dear life last night in Cincinnati even after scoring eight runs. Jon Lester was brilliant, the bullpen wasn't. But hey, it should work out well if the Cubs can just keep hanging big numbers.
Anthony Rizzo will try to ensure that from the leadoff spot, where he's experienced a little success in the past. He's already hit three homers on the young season and assumes the No. 1 spot as Kris Bryant gets a day off. David Ross said it's just a minor left elbow issue and that Bryant's fine, and there's also the stiff back that kept him out of the final exhibition game.
The former MVP appears to be pressing at the plate and may need to clear his head a little, but we've seen this before and he usually comes back with a vengeance. He should be available to pinch hit should the Cubs need him tonight.
Victor Caratini catches and bats second, followed by Javy Báez at short and Kyle Schwarber in left. Ian Happ is back in center with Jason Heyward in right. David Bote handles the duties at third, Jason Kipnis is the DH, and Nico Hoerner is at second base.
Alec Mills takes the mound in his first start of the season as he looks to prove that he's more than just a temporary replacement for the injured José Quintana. The right-handed Mills has pitched well in his brief time at the MLB level, even better than he's performed in the minors, and seems to revel in the additional scouting and game-planning available to him.
Over 57.1 MLB innings, Mills has compiled a 10.83 K/9 mark against 3.61 BB/9, though he walked only 11 men in 36 innings (2.75 BB/9) last season. He's no Yu Darvish, but his wide array of pitches will keep hitters guessing when he's got everything working. The velocity on his fastball and sinker remind you a little bit of Kyle Hendricks, a comparison that goes away when he starts rolling that slow curve up there.
We're talking the lowest average velocity in the majors, folks. That thing is really fun to watch when he's rolling it up there and fooling hitters. If you're looking for another unique aspect of Mills' performance, check out how his left foot lands when he delivers. While most pitchers land open, with their toe pointed home, Mills may have the most closed landing of anyone in the game.
Like Mills, Tyler Mahle was initially slated to work out of the 'pen before an injury opened a spot for him. The 25-year-old has worked exclusively as a starter over parts of three seasons and has faced the Cubs five times in that role, so this is a pretty familiar matchup for everyone involved. It's also a matchup that has favored Mahle and the Reds, as he's held the Cubs to a .217 batting average, the lowest of any team he's faced more than twice.
Two of those starts came last season and yielded decidedly different results, with the Cubs scoring six runs on three homers in the first and scratching out just a single tally on one hit in the next. That same inconsistency was evident in his overall performance, which is why Mahle overhauled his pitch repertoire from 2018 to last season. Classifications can vary a little bit, so keep that in mind, but he stopped throwing his slider and change entirely in 2019.
In exchange, Mahle upped the usage of his curveball in a big way and started throwing quite a few splitters and cutters. In all, those "new" pitches make up over 40% of his offerings, but it's possible we're just talking about correcting mistakes in previous pitch tracking. It's also possible Mahle simply make small changes to grips to get pitches to work differently.
Whatever the case, his efforts appear to have worked. His 5.14 ERA won't tell you as much, but almost all of his other numbers got better across the board last season. Most telling is that he allowed fewer fly balls and line drives along with limiting hard contact to a greater degree. He also walked fewer batters, so the damage should have been less. If MLB is using baseballs with a little less pop than last season, Mahle's numbers could get decidedly better.
First pitch is scheduled for 5:40pm CT and the forecast appears to be clear, so this one should start on time. Marquee Sports Network and 670 The Score will have the respective coverage.
Here is tonight's #Cubs starting lineup. pic.twitter.com/zY5prtNTsr

— Chicago Cubs (@Cubs) July 28, 2020