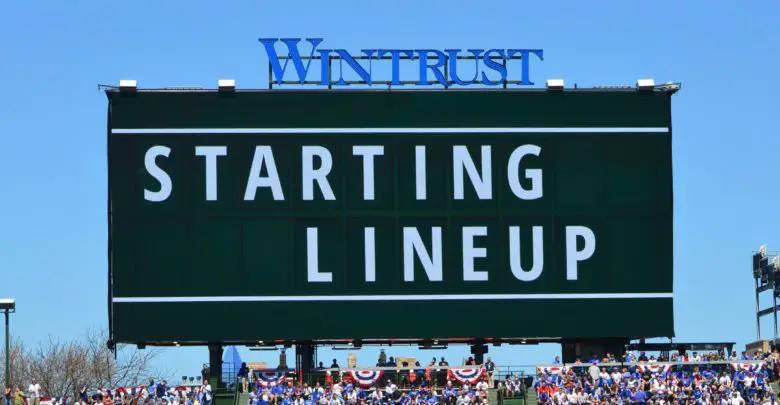 Chicago Cubs Lineup (7/24/20) – Bryant Leads Off, Caratini DH, Hendricks Starts Opening Night
Chicago Cubs baseball is on the air! And it's even being carried by Comcast after a deal was reached Thursday for the cable giant to include Marquee Sports Network in its programming.
Kris Bryant is leading off and playing third as the Cubs open their wacky season against the Brewers, followed by Anthony Rizzo at first and Javy Báez at short. Kyle Schwarber is in left, Willson Contreras is catching, Jason Heyward is in right, and Victor Caratini is the DH. Nico Hoerner is at second and Ian Happ is in center.
Kyle Hendricks makes his first Opening Day start after proving that he was the Cubs' best starter in summer camp. If he's not careful, he's going to break free from that underrated label he's been saddled with since he debuted. Remember when he was a rookie back in 2014 and put up a 2.46 ERA over 13 starts and some people got a little indignant about the Greg Maddux comps.
While it's borderline heretical to put anyone on the same level as a man who was perhaps the greatest pitcher of his generation, Hendricks has been a mainstay in the rotation for the last five seasons. He's not flashy and barely breaks 90 with the fastball if there's not a hot gun, but he just keeps going out there and putting up solid numbers. The Cubs need him to do more of that tonight.
Going for the Brewers is Brandon Woodruff, a burly righty who's dealing with a little underestimation in his own right. He's only got 207 innings under his belt over parts of three seasons and worked primarily in relief two seasons ago, so there's not much of a book on Woodruff yet. What we saw last season, though, shows that he's legit.
Over 121.2 innings in 22 starts, he put up 10.58 K/9 against only 2.22 BB/9 and kept the ball in the yard. As you might expect, Woodruff has a big fastball that he can run up there around 96 mph. He'll throw a fair amount of sinkers as well, coming in with the slider and change on the back end. Righties stood little chance against him, posting a .240 wOBA, but lefties saw him much better en route to an aggregate .326 wOBA.
Perhaps he'll hang a slider or three in this one and the Cubs can take advantage as they look to get the season started on a high note.
First pitch is set for 6:10pm CT on Marquee Sports Network and ESPN, with 670 The Score on the radio call.