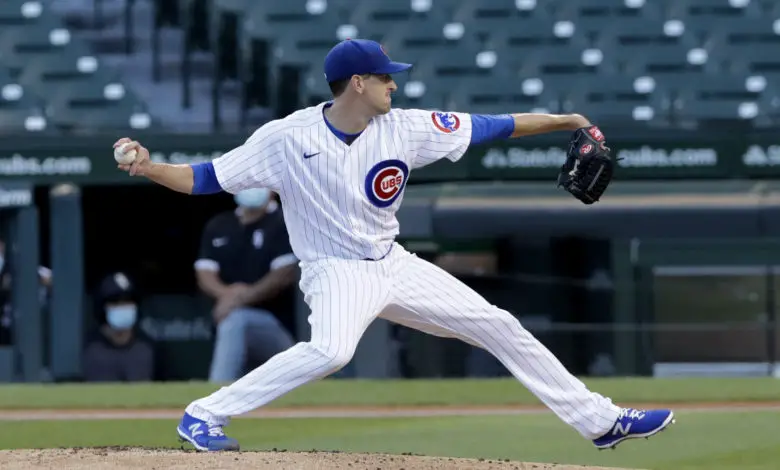 The Rundown: Cubs Lose Crosstown Matchup, Game Had Surreal Feeling, Hendricks Looked Dominant Early, Bullpen Disapoints
It was baseball…but it wasn't. Kyle Hendricks looked good until he got gassed right around the 80-pitch mark and Jason Kipnis hit a home run in his first at-bat as a Cub at Wrigley Field, then the bullpen looked horrifyingly suspect just like last year. It was an inauspicious home field managerial debut for David Ross to say the least as White Sox fans get the upper hand in Chicago's crosstown rivalry, at least for now.
Kyle Hendricks said earlier this week he focused on lot on CB last three months:

"Right now it's the best my curveball's felt. Every year, I've been trying to use it more and more. … I think it's going to open up a lot in my game." https://t.co/dHMK7Ii7mE

— Jordan Bastian (@MLBastian) July 20, 2020
Yesterday's 7-3 loss means nothing in the grand scheme of things, but a few players who may be on the bubble probably wished they'd had better days. Among those is Jharel Cotton, who seemed to give up a double every time the ball left his right hand. Exhibition baseball is usually a time to work on things and get the kinks out, and yes, Cotton hasn't faced live hitters other than his teammates in a long time, but with a three-game practice schedule ahead of the season opener on Friday, he'd better find ways to impress Ross.
I suppose the nice thing about a 60-game sprint is that you really can't overwork your rotation, even if the Cubs need each of their starters to make it to the 7th inning whenever possible. Sure, the sample size is small, but we have bullpen PTSD here on the North Side. The only difference between last season and last night is it was Ross shaking his head in the latter stages of the game rather than Joe Maddon.
The Cubs will look to even up their preseason mark with a win against the White Sox tonight at Guaranteed Rate Field. Game time is at 7:10pm CT and the game will be broadcast by Marquee, NBC Sports Chicago, and MLB.tv.
Cubs News & Notes
There was a rumor going around on Twitter last night that Marquee and Comcast have reached a deal or are at least close. I don't trust the source so I am not going to link it, though he has been right more often than not. I suppose that means it at least bears watching. If anything breaks, of course Evan will be right on top of it, so keep checking back here at Cubs Insider.
It looks like Jon Lester will slot into the fourth spot of the rotation to start the season. He'll pitch the team's final exhibition game against the Twins on Wednesday, in tandem with Alec Mills.
Right fielder Kyle Schwarber believes the DH makes the Cubs stronger offensively and deeper defensively. Ross does not intend to deploy the slugger as a DH much this season per Rick Sutcliffe, who mentioned it during last night's ESPN broadcast.
Hendricks looked dominant through five innings last night and his curveball is now a plus pitch.
Though he missed last night's game due to back soreness, Anthony Rizzo is encouraged by the progress in his recovery and plans to start Friday's opener against the Brewers.
Despite an empty stadium and a national broadcast crew that worked from the comfort of their homes, it was nice to finally watch a real baseball game for the first time in four months.
If anything, the sounds of the game made last night's telecast equally surreal and glorious.
Is it just me, or does Jed Hoyer seem like he has been more front and center since camp opened? I wonder if this is the start of Theo Epstein passing the torch, so to speak.
Find Your Inner Hero
Yesterday was Rachel Robinson's 98th birthday. She is the wife of the late Jackie Robinson and they remain the only husband-wife tandem enshrined in baseball's Hall of Fame. Mrs. Robinson received the Buck O'Neill Lifetime Achievement Award in 2017 for her service to the game and she has been an inspiration for players of color for nearly 70 years.
Odds & Sods
As the regular season approaches, let us not forget that the Astros still cheated and they are getting somewhat of a loose sentence since fans cannot voice their displeasure when Houston plays on the road.
Sam Miller: What we lose when we can't boo the Astros on Opening Day https://t.co/S2Tr4l8SDG

— Buster Olney (@Buster_ESPN) July 20, 2020
MLB News & Notes
The Red Sox lost another starter yesterday when Collin McHugh exercised his right to opt out. McHugh is recovering from surgery and would rather spend the time rehabilitating. The righty signed a one-year contract in March and will be a free agent once this season ends.
The Twins are having a tough time getting out of the habit of spitting.
So far, the exhibition games have an intramural or after-school feel.
Will Leitch of MLB.com made predictions for each team, including that this year's Cubs won't be much different from last season except that Ross and front office will tend to stay on the same page.
Mariners starter Taijuan Walker is really looking forward to the start of the season. He hasn't pitched in 27 months.
Reds catcher Curt Casali thinks Cincinnati has one of the better rotations in the National League.
The Blue Jays are considering playing their "home" games in Pittsburgh's PNC Park.
Out of Left Field
Lin will be here all week. Try the fish, please.
Lousy crowd at Wrigley tonight.

— Lin Brehmer (@LinBrehmer) July 20, 2020
Sliding Into Home
August 10 is fast approaching, and that's when I'll have my second liver biopsy and density test. Since I am providing updates in this section of my column, I am going to be closing my GoFundMe page within a month. I won't reach my goal, but thank you to everybody for your kindness and support. Hopefully I can find a way to get halfway between where I am now and my stated goal before then.
Tomorrow morning I am having my esophageal dilation, so I will be absent from this column. See you all again on Wednesday.
Finally, I am suffering from diminished vision lately. I am not sure if it is related to my condition or not but I am going to get tested for a stronger eyeglass prescription on Saturday. It has been difficult writing this column lately because of the impairment, and I have considered retiring. Hopefully new specs will do the trick and I can stay with the team.
Extra Innings
Hammerin' Hank Aaron hit his final home run on this date in baseball history. He still spends a lot of time in Milwaukee during each summer.
Today in 1976, Hank Aaron hits his 755th (and last) career homerun. #TodayInSports @HenryLouisAaron
pic.twitter.com/gQ0z1LYYNb

— #TodayInSports (@TodayInSports3) July 20, 2020
They Said It
"I think there's going to be more bullpen arms, and you're going to have to get used to seeing some names out there that you don't want us to be seeing. But I think it's going be a plus overall for us because I think we're the perfect team made for this, for the sprint. The designated hitter lengthens our lineup. It lengthens our defense and it gives our pitchers one less thing to worry about." – Kyle Schwarber
"I can't sit here and lie and say I thought we were going to play the season, even when we reported to camp. There was still a lot of uncertainty, and there still is… We haven't had a lot of [positive COVID-19] tests. We haven't seen the nightmare scenario yet of a whole team getting crushed by this virus." – Anthony Rizzo
Monday Walk Up Song
Take it to the Limit by The Eagles – Cubs starters will need some length this season, I fear. Man, Randy Meisner had one of rock's best upper registers.