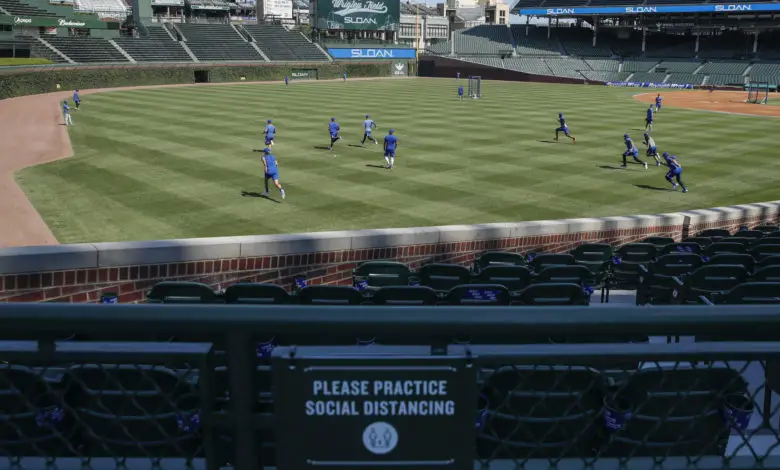 Quantifying Hope: Cubs Not Among Top 10 World Series Odds as Lines Shift Ahead of Season
The Cubs did just about as much to improve their team over the league-mandated transaction freeze as they had during the frigid free agency period, relying instead upon guile and luck to carry them. The latter of those disappeared as soon as summer camp opened with news that José Quintana had suffered nerve damage to his left thumb when he cut it washing dishes.
But since everything is unpredictable at this point, the Cubs are still in more or less the same spot they were just before spring training originally opened roughly an eternity ago. A quick look at the MLB odds just over a week before the season opens shows that the Cubs are slightly favored over the Brewers (-117) are are at +2267 to win the World Series. That latter number is right in line with the first week of February. It's also where they ended last season, which is entirely understandable.
You may have noticed from the graphic above, courtesy of Sports Betting Dime, that you have to get to the top 15 teams before the Cubs appear. They're actually 13th overall, just ahead of the Cardinals (+2300), but it's pretty clear that oddsmakers are leaning heavily toward the Dodgers (+342) and Yankees (+392). In fact, the gap between the Braves at four (+1600) and the Indians at 15 (+2433) is significantly smaller than that from the Braves to the top two.
The Astros are in their own little no-man's land in third, though they've still got excellent odds. I wonder if banging most of the season actually gives them an advantage.
Here's a look at SBD's top 15 teams in terms of World Series odds as of July 13:
Dodgers +342
Yankees +392
Astros +1067
Braves +1600
Twins +1700
Rays +1733
Reds +1800
White Sox +1933
Angels +2000
Mets +2067
A's +2133
Nationals +2133
Cubs +2267
Cardinals +2300
Indians +2433
Individual game odds for the first full day of the season will open soon, so we'll get to see how bettors believe the Cubs stack up against the Brewers. The opening pair of games is up already and it looks like the Nats have a slight edge over the Yankees in terms of money being wagered. The Giants are actually way out ahead of the Dodgers, which should change as the lines move over the next several days.
If you're interested in laying down some bets on awards, Yu Darvish (+1160) currently has the fifth-best odds (+1160) to win the NL Cy Young. Javy Báez (+2167) is 10th for NL MVP and Kris Bryant (+2833) is 14th, well behind Mookie Betts (+528), Ronald Acuña Jr., and that one guy for the Brewers.
The short season means these numbers can all fluctuate wildly, so we'll keep tracking them for you as best we can.
Ed. note: I'm sure both of you who actually noticed are wondering why this series is running on a Wednesday instead of a Friday. Well, the answer is simple: I saw the odds were out and wanted to run it quickly to avoid having it get stale.