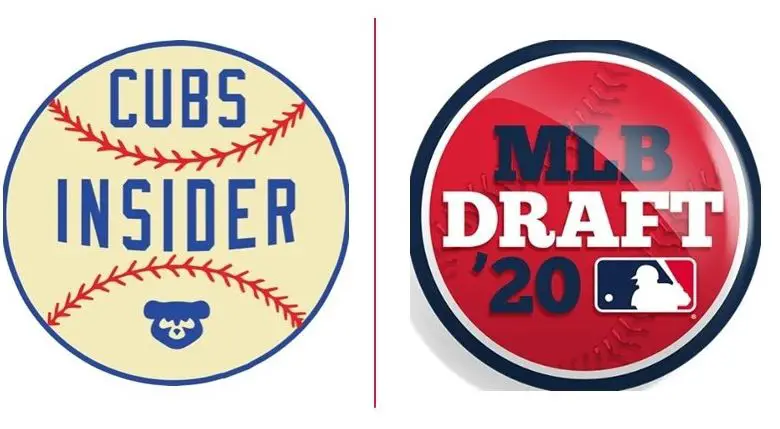 Chicago Cubs 2020 Draft Preview No. 4: Could New Scouting Boss Take Risk on Toolsy Prospects?
Cubs VP of scouting Dan Kantrovitz was brought in to prime the pump for a revamped development infrastructure, but he's got a tall order ahead of him. Kantrovitz's resume boasts a pretty successful run in scouting and player development, highlighted by a 2012 haul with the Cardinals that included eight players who have made the majors. He basically accomplished in one draft what the Cubs have done since 2012.
The calculus has changed a little since he was hired, however, with the June draft shortened from 40 rounds down to five. That means having to hit big with little margin for error, though it doesn't necessarily mean playing it safe. Our previous draft previews have covered possible picks for Round 1 and Round 2 , plus a look at three prep pitchers who could slip to the Cubs early. This one is all about players with loud but unrefined tools who could be considered long shots for the Cubs to take in the first three rounds.
Ben Hernandez is a 6-foot-2 right-handed pitcher out of De La Salle High School in Chicago who most boards place in the 50-70 range. Weighing in Hernandez's favor is a weapon Kantrovitz might like more than other pitchers, and that is what might be the best changeup in the entire draft.
"Though Hernandez didn't get a chance to pitch in a high school game this spring, scouts remember his changeup well from last summer's showcase circuit," MLB Pipeline's Jim Callis stated. The Illinois-Chicago recruit throws it in the low 80s with tremendous fade, will use it in any count and isn't afraid to double and triple up on it."
Hernandez did not get to show what he has this year because of COVID-19, which is why he's likely to be available in the second round. The UIC commit might enjoy the opportunity to play for a hometown team, but he'll actually be draft-eligible in 2022 after his sophomore year if he opts for college.
Chicago's own RHP Ben Hernandez (De La Salle HS) battles through a long at-bat that ends in a punch-out, showcasing his trademark power CH, 80-83 mph. FB 91-92 mph. He also K'd the side in order. One of the biggest risers in the class this year.@PBRIllinois | #UAALLAMERICA pic.twitter.com/RlOhVny6L2

— Prep Baseball Report (@prepbaseball) July 22, 2019
Another youngster who might fit the profile of what Kantrovitz is looking for is outfielder Chase Davis from Franklin High School in Elk Grove, California. This kid is very toolsy with plenty of projection. He's already big bodied at 6-foot-1 and 211 pounds, has plus potential for power from the left side, and he already has a canon for a right arm. He's been tagged at 99 mph throwing from the outfield. 
Chase Davis 2020 OF from Elk Grove , CA (Arizona commit) took a very impressive BP and was up to 99mph from the outfield during the workout. 2019 National Showcase pic.twitter.com/8CJdC4LgEK

— PG Showcases (@PGShowcases) June 11, 2019
A college bat who could surprise some is outfielder Joey Wiemer from Cincinnati. He's pretty lankyt 6-foot-5 and 215 pounds and his swing needs a little refining, but his arm is c'est magnifique in right. Projected anywhere from 83 to 168, he's a risky pick who could pay off with some pro instruction. You will see what I mean about the swing in the video, but he's quite the athlete.
Inject Joey Wiemer doubles celebrations straight into my veins @GoBearcatsBASE @UCBarstool pic.twitter.com/tXBGinTclS

— Donnie (@themidnightfox) June 1, 2019
Switch-hitting catcher Daniel Susac is another guy has garnered some attention lately. Like fellow prep catcher Tyler Soderstrom, Susac doesn't necessarily need to stick behind the plate. He already has pretty good size at 6-foot-3 and 205 pounds, but the ability to hit for power from both sides of the plate is pretty hard to look past.
There's a lot of intrigue with catcher Daniel Susac.

He's 6-foot-3, 205 pounds.

He has MLB bloodlines.

He's even a high school quarterback.

And he combines a powerful bat + arm.

Here's our full report on the prep catching prospect:https://t.co/qqzHpaijei pic.twitter.com/HgsJyCEUzl

— Baseball America (@BaseballAmerica) May 12, 2020
In a perfect world, Heston Kjerstad from Arkansas would be available for the Cubs to take at number 16. My second choice would be prep pitcher Nick Bitsko, who was originally supposed to graduate in 2021. Soderstrom might be my draft pick du jour after seeing that he can play third base and maybe some outfield in addition to catcher.
At 6-foot-2, 200 pounds with a sweet left-handed stroke, Soderstrom could be a top 5 pick in three years if he sticks with his UCLA commitment. Odds are that he signs this year if he is a top-20 pick, since he'll have 3,745,500 reasons to spurn the Bruins
Not sure. The @Cubs stuck with Schwarber at C longer than I would have. If a guy has a quality bat like Soderstrom, I'd get the most out of that & not let catching wear him down. I'd put him at 3B & let him rake. #MLBDraft https://t.co/ndYkJyQEJz

— Jim Callis (@jimcallisMLB) May 14, 2020
I also like prep outfielder Robert Hassell if the aforementioned prospects are gone. All things considered, the best choice for the Cubs might actually be second baseman Justin Foscue from Mississippi State. He's got great bat control, good command of the strike zone, and legit power. While I wouldn't call it a long-shot, Foscue is not the guy most people would see the Cubs taking that high.
Justin Foscue, Big time SEC performer – .338/.402/.582 w/ 14 HR last year. Bat speed and short stroke. Very pull heavy game. Despite aggressive nature, only K rate was only 10.47%. Likely a name called on day 1 #MLBDraft pic.twitter.com/JAzNi9mWCJ

— Kyler Peterson (@KPeterson813) February 13, 2020
There are varying degrees of risk with any of these players because they will need some time to develop. Just how much time and how great the risk is what Katrovitz has to weigh when making his selections. I doubt he plays it entirely safe, something the Cubs have admitted was a problem for them when it came to pitchers in particular over the last few years.
Going with players who have outstanding tools might be a way to mitigate some of that risk while also giving the Cubs a chance to add players with serious upside.