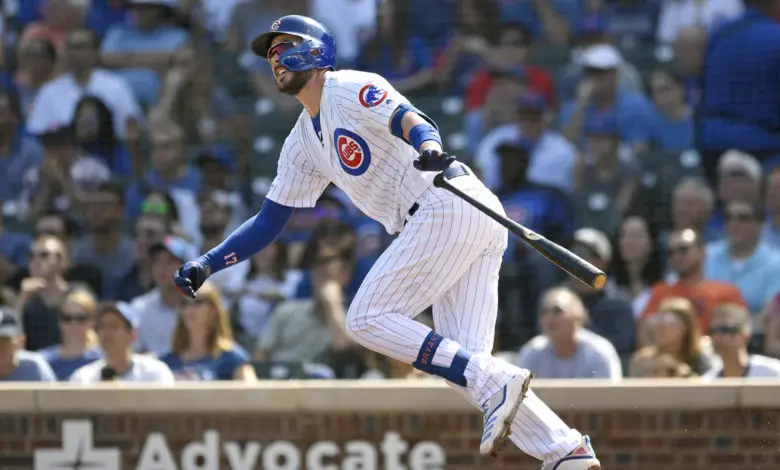 Report: Teams Still Scouting Kris Bryant as Trade Possibility
This is one of those topics I'm simply recording for posterity, since it feels like next to nothing compared to all the offseason chatter surrounding Kris Bryant. The slugger was the subject of a great deal of trade speculation almost from the moment the season ended, with erroneous conjecture about his attitude and outlook driving even (moderately) reputable outlets to publish unfounded reports.
That was all seemingly laid to rest when Bryant cleared the air with the media upon his arrival at camp, explaining that he was not disgruntled in the least. In fact, he appeared to be extremely gruntled after a sit-down with Theo Epstein and a motivational speech from David Ross. But since you can't remove all the blood from the water after chumming it for three months, a few sharks are going to continue circling.
Tucked away at the bottom of his Tuesday column about three spring training takeaways, the Tribune's Mark Gonzales included a little note about Bryant. Gonzales concluded a section about infield depth by writing that, "One veteran scout at Tuesday's game said a few teams were still looking at Bryant as a trade possibility one week after Bryant said he expects to start the season with the Cubs."
Gonzales isn't prone to sensationalism, but there'd really be nothing to read into this even if he was. It's something he heard from one scout about what other teams might be thinking, and they're thinking exactly what you'd think they're thinking. I mean, how long have we heard about teams having an interest in Whit Merrifield despite the Royals' repeated claims that he's not being made available?
The answer, by the way, is a lot. Bryant's name isn't going to stop being mentioned in rumors until the Cubs sign him to an extension, which feels like more of a possibility now than it did even two weeks ago. But given their current financial situation, any significant talks on that front seem unlikely until next winter. In the meantime, the buzz will continue in the background.
If the Cubs stumble early and don't look like contenders as the deadline approaches, however, the volume is going to be turned up.