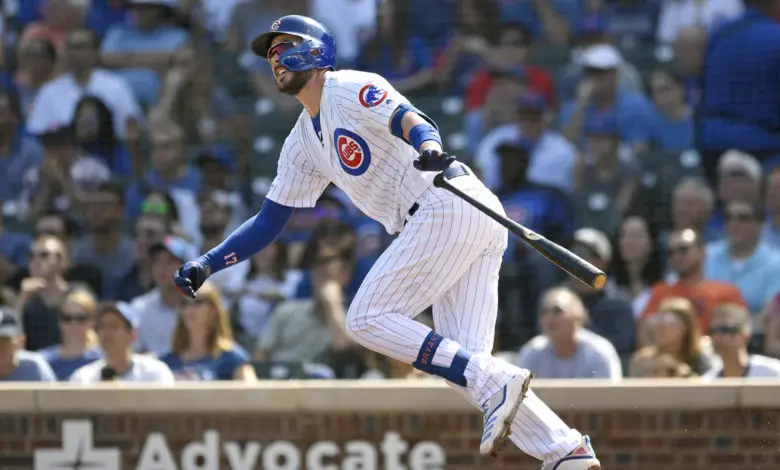 The Rundown: Embracing Bryant as Leadoff Hitter, Ross Just a Dude, Báez Gets Some Work at Third Base
If there was one player on the Cubs that you wanted to get an extra at-bat per game, it would be Kris Bryant. So naturally, David Ross intends to hit Bryant leadoff, and the third baseman is embracing that idea. Unlike his predecessor, Ross is committed to leaving the team's best hitter in the one-hole through thick and thin, all season long.
"I led off my whole junior year in college and I won every college award — first-team All-American, the Golden Spikes Award," Bryant said, noting the honor given annually to the best college player in the nation.
From the new manager's perspective, the Cubs had become too easy to pitch to the last couple of seasons. Bryant, 28, is 9-for-28 with a walk and a .387 on-base percentage in seven games hitting leadoff in his career, but this is the first time it will be his job to keep. That's the tiniest of sample sizes, but the decision is more about Bryant's overall body of work as a hitter.
https://twitter.com/MLBastian/status/1230216736361730049
I know a large number of my readers are of the same generation I am, but I'll ask this question to the general population: Is this a smart move? Does it seem risky to take one of your best run-producers and place him where he might get fewer opportunities to drive in runs?
Though most of you will expect me to disagree with Ross' decision, I'm actually in favor of it. The Cubs have struggled at the top of the order since Dexter Fowler left, attempting for years to find a replacement from among a rotating committee of lackluster performances. Joe Maddon changed leadoff hitters like he was choosing guests to sing the seventh-inning stretch, and the one guy he stuck with the longest, Jason Heyward, was the hitter who should have least been entrusted to kickstart the lineup. Heyward is a much more valuable asset in the bottom third of the order, and that's where he will likely hit this year.
I didn't even need Bryant to convince me. Chicago's leadoff hitters were last in the majors in 2019 with a .294 OBP. The third baseman even indicated he'd be willing and able to play center field. Great, let's get that deal for Nolan Arenado done, Mr. Epstein.
"We've had so much turnover and guys trying out (in the spot), you don't get that consistency," he said. "If I need to be the guy that's up there that's going to be consistent and be on base, I'll be that guy."
Maybe I'm mellowing with age, but I think Ross is onto something here.
Cubs News & Notes
Apropos of Nothing
The Dude abides.
"I don't know about you but I take comfort in that. It's good knowin' he's out there. The Dude. Takin' 'er easy for all us sinners."
MLB Spring Training Notes
Arenado sat down with Colorado GM Jeff Bridich and is ready to move on from all the offseason drama. The Rockies third baseman is still frequently mentioned in trade rumors.
The Red Sox, Padres, and Reds are working on a three-team deal that would send San Diego outfielder Wil Myers to Boston. I really have no idea what the Red Sox are trying to accomplish this winter.
The Red Sox have invited veteran catcher Jonathan Lucroy to camp. Lucroy played for the Cubs at the end of last season.
Former Cubs and Giants pitcher Mike Krukow has no sympathy for Aubrey Huff and is glad the retired outfielder will not be part of the team's 10-year championship anniversary celebration.
MLB Commissioner Rob Manfred is weighing potential future penalties for players caught participating in illegal form of sign stealing.
Houston players are getting tired of taking flak from other players, particularly those that play for the Dodgers. Is it just me or do the Astros come across as a little entitled?
Howie Kendrick is happy to be playing for the Nationals and is glad the team wanted him to return.
New White Sox slugger Edwin Encarnación has immediately stepped up as a team leader.
Extra Innings
The fact that this event took place hurts my head, especially because my stepdaughter attends FIT. Thankfully she is in graphic design and works for Sony, but I'm going to have to ask her what in hell is going on here.
WTF??

Fashion Institute apologises for 'clearly racist' show https://t.co/yqGHCsx7MZ

— Stacey (@StaceGots) February 20, 2020
They Said It
"I got to make sure where the player's head's at. See if there's any insecurities there. See if there's the want for that fifth at-bat. See if he's willing to embrace it. I know it's going to be a story and a thing, and a lot of attention [is] going to be paid to it. [Bryant] is on board, I'm on board. I'm super-excited about it. I would hate to be on the other side and look at that big boy step in the box to lead things off." – David Ross
"The biggest thing with hitting at the top of the order is that fifth at-bat. I want that fifth at-bat, and I've done that for five years, now going on six years. So I have the right mindset to do it." – Kris Bryant
Thursday Walk Up Song
Dead Flowers by The Rolling Stones. This song frames one of the better scenes in The Big Lebowski, and by the way, can we please move on from all the Joe Maddon stuff?