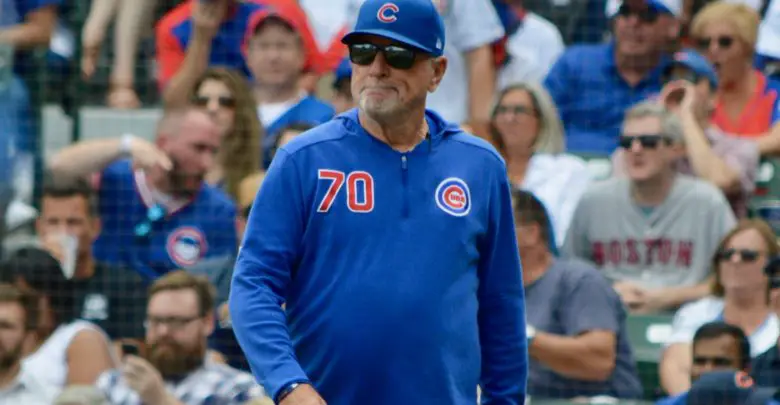 Joe Maddon 'Very Optimistic' About What He Says Is Mutual Decision on Future with Cubs
As much as it's seemed like Joe Maddon's departure has been a foregone conclusion for a while now, there's still a distinct possibility that he could remain with the Cubs beyond the end of this season. While his foibles are duly noted and have contributed to diminishing returns over the past three seasons, he's not exactly been given the proper ingredients for chicken salad.
So even with Vegas installing bench coach Mark Loretta as the odds-on favorite to manage the Cubs next season, not to mention David Ross itching to put his stamp on the right team, Maddon remains confident. He actually sounded a little coy during the course of his conversation with Laurence Holmes on 670 The Score Wednesday afternoon.
"Of course," Maddon responded when asked if he hoped to return to the Cubs next season. "That's what I signed up for in the beginning. It's always the intention, to stay for a really long time."
The skipper acknowledged the obvious struggles he and his team have encountered this season, some of which may have even come from a lack of chemistry, but said he's positive on the whole. Maddon also gushed about the front office, calling his bosses "brilliant" and "caring" and saying they've got a great relationship.
Whether that's so much lip service or a legitimate assessment of the situation only the involved parties really know for sure. But this group has been together for five years now and it may be time to make some hard decisions. That could mean they're ready to move in different directions, or maybe just that they're all so familiar with one another's quirks that a change would require more effort and yield little more than a realization that the grass isn't quite as verdant elsewhere.
The Cubs have played far too listlessly at times this season, something many believe is a direct reflection of the manager's own lack of buy-in on the season. But Maddon said he's just as motivated today as he was when he stiffed Paul Sullivan on that Chicago handshake he promised during his infamous introductory presser.
A lot of that comes down to the fans, whose passion and sincerity Maddon said drives him. Of course, he can still be as invested as ever and he may want to stick around, but that doesn't mean a damn thing if the front office is ready to make a change. From the sound of it, though, this is actually more of a mutual thing.
"It's not just a one-sided decision," Maddon said of his future in Chicago. "We'll make that over the next couple days and move it on from there. But I'm very pragmatic. I'm very optimistic. I'll just leave it with that. I'm very optimistic right now."
Is it just me or does the coy little "I'll just leave it with that" seem to indicate that he knows a little something? You'd think that a decision to extend Maddon would have come a while ago as a means of firing the team up for the final stretch of the season, so it's unlikely anything has been inked just yet.
And who knows, maybe this is just a matter of Maddon playing the game and making sure to set himself up nicely to walk right into the job of his choosing once this season ends. We should find out soon enough.