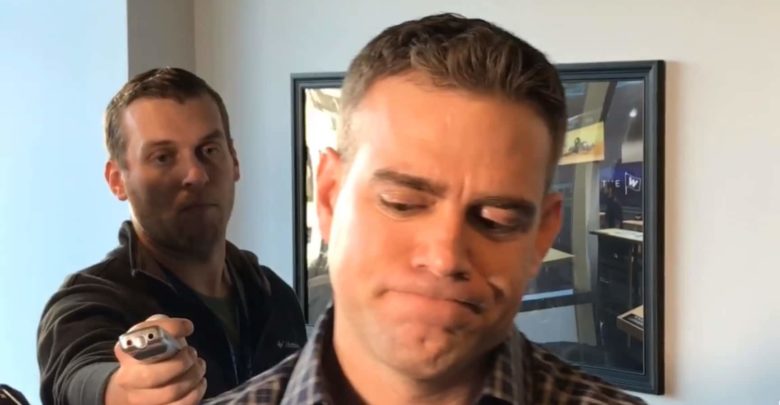 Embarrassed Theo Epstein Says Cubs 'Falling Down and Not Getting Up'
The clocks don't fall back an hour until November 3, but maybe the Cubs got an early start on the change. That would explain why they haven't yet reached Big Boy Time in spite of Joe Maddon's proclamation back in August. If you're feeling upset and maybe even embarrassed by what you've seen from them over the last, oh, four months, you're not alone.
"I don't think there's any excuse for how we're playing," Epstein told the Mully & Haugh Show on Thursday morning. "Certainly this time of year, every team has its challenges. We're just not getting it done.
"Honestly, we've been essentially a .500 team for months now. Even when we were pretty healthy and guys had fewer obstacles and were not coming off injuries and things like that, we didn't do what we needed to do to separate."
Whatever the hell it is the Cubs have been putting out there, it ain't a quality brand of baseball. With Wednesday's gutless loss in San Diego, they are now 50-51 over their last 101 games. That's not an aberration of a small sample, nor is is the product of a recent cold stretch. The Cubs are also 40-41 over their last 81, 16-17 in their last 33, and 8-9 over their last 17 (h/t Mark Gonzales).
There's no way to gloss over it, the Cubs are a mediocre team as currently constructed. Injuries have certainly played a role, but Epstein noted that they've been treading water even when healthy. Simply put, this team is fundamentally flawed and has failed at every turn to take advantage of the opportunities presented by a very winnable division.
After dropping three straight following a win to open their series in Milwaukee, the Cubs won the opener San Diego and have since dropped the last two. That's allowed the Brewers, who looked dead up until the Cubs came to town and now are without Christian Yelich to get right back into the race.
"We just lost two games in a row to a team that I think we're more talented than, we have a 150 better run differential than," Epstein said. "We were just caught from behind in the wild-card standings by a team that our run differential is over 100 runs better than.
"But they're playing better ball – the Brewers, they just beat us five out of seven in huge games. We put them back in the race. It's the inability to show up and play winning baseball."
Indeed, the Cubs have just rolled over like a puppy who wants his belly rubbed. If it's really about the size of the fight in the dog rather than the other way around, the Cubs look like the world's most docile Great Pyrenees.
"I honestly think we're playing teams we should beat," Epstein said, stating the obvious. "We're falling down and not getting up in these games."
If there was any doubt that changes will be taking place in team leadership this winter, the last handful of games should have erased all of it. Perhaps in preparation for a front-office shakeup, the Cubs announced Wednesday that they'd shifted Jason McLeod from the player-development side of the house to an MLB player-personnel role.
A lateral move aimed at getting a fresh set of eyes on a minor-league system that has failed to develop pitchers or late-round picks, the shift in roles for McLeod could signal further changes. That will all unfold in the fullness of time, something the Cubs have little of in terms of the regular season.
And if they keep playing the way they have, the regular season will be all they've got left. Nothing the Cubs have shown to this point is indicative of a team that can win big games on a consistent basis, or that can even win games of any measure of import, for that matter. They're sloppy, uninspired, and incapable of turning it on like we've seen them do in the past.
"We're playing bad baseball – second-most errors in the league, the most outs on the bases in the league," Epstein said. "Those things chip away at your margin for error."
With full understanding that the players are the ones out there throwing pitches, swinging bats, and making plays, there's simply no way to absolve Joe Maddon of culpability here. Whether you want to take that as my personal assessment or as a very obvious reality of the way these things work, it's all going to land at the manager's feet.
Say what you will about all the wins over the last five years, but the team's utter lack of verve points back to the skipper. Same for the noted erosion of fundamental play, something Maddon's increased level of hands-on coaching was supposed to reverse. Are there times when a bullpen move is unfairly criticized because a pitcher couldn't throw strikes? Yes. But other things can't be explained away.
Maybe like, I don't know, batting Tony Kemp and his .282 OBP at the top of the order. Or putting Albert Almora Jr. in that same spot far too frequently, including against lefty pitchers who've baffled him all season.
"I feel embarrassed by the on-base numbers we've had out of the leadoff spot," Epstein said. "That's not the way to build an offense."
All isn't completely lost yet and the Cubs do still have a chance to climb back into the postseason. But it just feels as though everyone is resigned to the ever more distinct possibility that this whole "season of reckoning" is going to see heads roll at the conclusion of a highly disappointing campaign.
I wish I could be more upset about it, that I could feel something more than numb, but I guess I'm just going about things the same way the Cubs are.