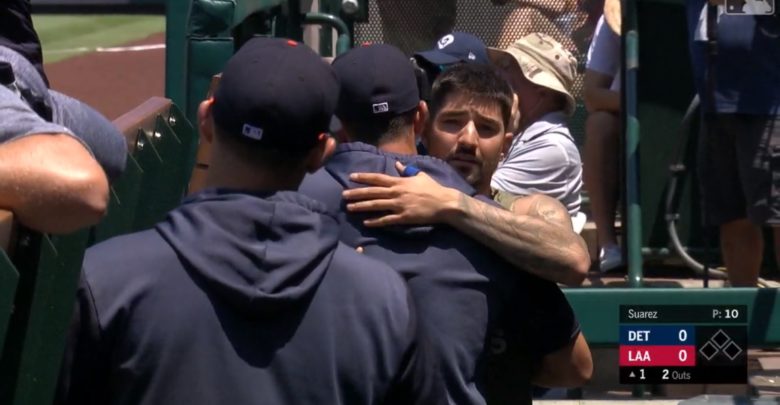 Nick of Time: Cubs Finalize Castellanos Trade 40 Seconds Before Deadline
The MLB trade deadline is a temporary black hole, warping time around its event horizon as it pulls the entire baseball industry inexorably into its grasp. Some deals happen in the time it took Cool Papa Bell to flip a light switch, others move at an almost Trachselian pace as they struggle to escape gravity.
So it is that many deals, like the one between the Cubs and Tigers to send Nicholas Castellanos to Chicago in exchange for pitching prospects Alex Lange and Paul Richan, aren't announced until after the 4pm ET deadline. In that case, the term "last minute" is quite literal.
Castellanos had been in the starting lineup and batting second for the Tigers in their 4:07pm ET game against the Angels. Why Ron Gardenhire would pencil his almost-certain-to-be-traded outfielder in there is a question that really needs no answer, but the fact of the matter is that Castellanos didn't know about the deal until moments before he was ready to bat.
As Anthony Fenech of the Detroit Free Press chronicled on Twitter, the right fielder was in the dugout in uniform at 3:59 and his name was still in the lineup. Nine minutes later, Castellanos was gone and Jordy Mercer had taken his place in the on-deck circle.
With one minute remaining before the trade deadline, Nick Castellanos has entered the Tigers dugout in uniform, where his name remains on the lineup card posted on the dugout wall.

— anthony fenech (@anthonyfenech) July 31, 2019
Nick Castellanos is no longer in the Tigers dugout and Jordy Mercer has stepped on-deck, where Castellanos was hitting.

— anthony fenech (@anthonyfenech) July 31, 2019
"They told me the deal got done 40 seconds before the deadline," Tigers GM Al Avila told Fox Sports Detroit during Wednesday's game in Anaheim.
Even if that's a creative bit of fiction from Avila or someone in the commissioner's office, there's no doubt this one came down to the wire. The two teams had been talking for quite some time heading into the deadline and had a basic framework of a deal in place, but needed to hammer out some of the finer points of the financial aspects.
Bruce Levine tweeted just 5 minutes before the deadline that the teams had an agreement at one point that would have sent Double-A catcher Jhonny Pereda to Detroit. We can only assume that the Tigers weren't willing to kick in any cash as part of that particular trade, hence the heftier prospect haul and cash considerations in the final arrangement.
As you're no doubt aware by now, the Cubs have been operating under a budget that is somewhat more restrictive than one would expect given their massive revenue streams. As dubious as it first seemed when ownership and the front office claimed this past winter that they lacked the available funds to pursue any major free agents, that ended up being the case.
You can spin semantics any way you like in terms of what the Cubs "could" spend versus what they "wanted" to spend, the result is they didn't spend. That frugality continued into the season, with only Ben Zobrist's forfeited salary giving them the wiggle room necessary to sign Craig Kimbrel in June. That move also ate up nearly all of the flexibility they'd built into the budget, so any significant payroll addition via trade would require a special dispensation from ownership.
With all that in that in mind, you can imagine how many moving parts were involved in getting the Castellanos deal done. Depending on exactly where the proration date is set, Castellanos is owed something like $3.4 million over the remainder of the season. However, a report from The Athletic ($) has it at "roughly $3 million," with the Tigers kicking in a little less than $500,000 in offsetting cash to get the Cubs to about $2.5 million owed.
"Tom (Ricketts) was fantastic," Jed Hoyer said. "He showed his competitiveness and his belief in this team to stretch and take on some salary to make this team better."
If it seems silly for the front office to have to get approval to add $3 million or so when the roster is so clearly in need of upgrades, that's because it is. But that's how things are, even if the new Marquee Network is going to significantly increase available revenue starting immediately next season. So that's something to track this winter.
Just how much better this move makes them won't be known for quite a while, but Castellanos does figure to improve the Cubs a great deal against left-handed pitching. His league-leading 37 doubles make him a threat to become a runner in scoring position or to drive them in, and Wrigley's inviting power alleys could mean an uptick in home runs on balls that might have gone to the wall at Comerica Park.
Is Castellanos a savior? Hardly. But in hammering out a few details as the clock ticked down, the Cubs took a step toward salvaging a trade season that was otherwise uninspiring. Now Theo Epstein's claim that improvement has to come from within will really be put to the test, since there are no other external options available.
Zobrist and/or Brandon Morrow could offer a little deus ex machina plot twist come September, but resting any hope on that is asking for nightmares. No, this is the team the Cubs are going to have to roll with. After all the talk heading into the season about urgency and when the playoff push actually began, it's pretty clear now that October starts in August.
Now let's hope the Cubs aren't waiting until the last 40 seconds of Game 162 to learn their fate.