New Cubs Prospect Lists Feature Plenty of New Entries
Prospect hounds have reason to rejoice this weekend, as updated lists are being released left and right. MLB Pipeline dropped their new top 100 ranking and each club's top 30 prospects. Then Prospects Live released their top 10 Cubs prospects. These all come on the heels of Baseball America's Top 30, which was released a week ago along their farm system rankings. It's a lot to digest.
The Cubs came in 29th out of 30 systems in BA's rankings and feature only two top 100 prospects in Miguel Amaya (91) and Nico Hoerner (50). That should change over the next year, as most of the high-end talent in the system is at class-A and below and a lot of those players are still teenagers.
When Brennen Davis, Cole Roederer, Christopher Morel, and others begin to develop and produce at higher levels, this ranking will rise. So the Cubs system is not devoid of talent, it just lacks players who move the needle right now.
There are no shocks in any of these lists and the top six are all basically the same guys. It's good to see high evaluations of recent picks Chase Strumpf and Ryan Jensen, and Ethan Hearn even gets some love from Baseball America while he was ranked No. 18 by MLB Pipeline.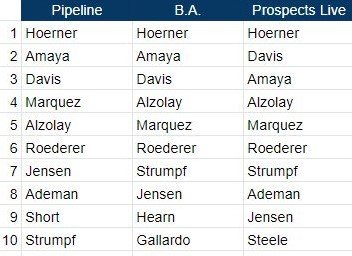 If we expand the view to Pipeline's top 30, the youth movement becomes even more evident. Gone are Duane Underwood Jr. and Dillon Maples and in their stead are youngsters like Morel, Riley Thompson, Kohl Franklin, Richard Gallardo, and recent third-round pick, Michael McAvene, who debuts Saturday night for Eugene.
And it was also good to see Jack Patterson, a favorite of fellow CI prospect writer Greg Huss, make the cut. He has yet to allow an earned run in July after winning Pitcher of the Month in the system for June. 
While these are pitching-heavy lists, understandably so, there are a few young hitters coming up. That includes recent international signee Ronnier Quintero at No. 19. There are certain to be changes over the next year as these players make adjustments and fill out physically. Baseball America believes the system has bottomed out, which means it's only up from here.