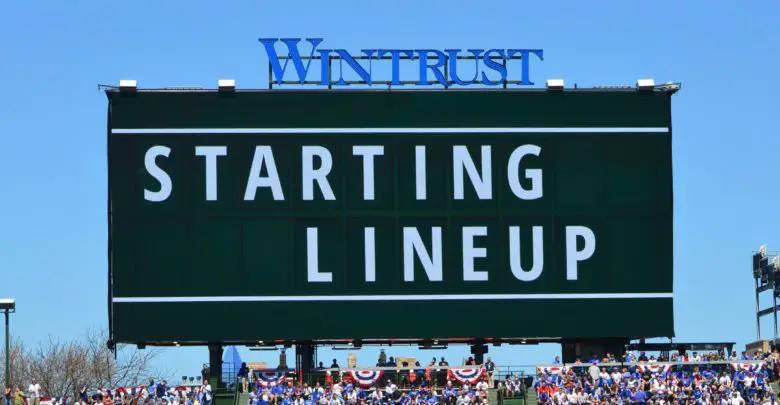 Chicago Cubs Lineup (7/1/19): Almora in Center, Caratini Catching, Russell at 2B, Alzolay Makes Second Start
The Cubs are back to their familiar top four, with Kyle Schwarber leading off in right, Kris Bryant at third, Anthony Rizzo at first, and Javy Baez at short. Javy had a scheduled day off Sunday, but he's back at it as the Cubs enter the final week of the first half.
Jason Heyward has been on fire lately, closing out a month in which he posted a .968 OPS by homering in all three games against the Reds. He hit six homers on the month and is more than deserving of the five spot in the order. Albert Almora Jr. follows in center, Victor Caratini catches, and Addison Russell plays second.
Trevor Williams is apparently attending the Yu Darvish School of No Decisions, as he carries a mere 2-2 mark into his 12th start of the season. Even after missing a month of action due to a right side strain, the 27-year-old righty's record isn't indicative of his pitching volume. But that's kind of par for the course for a guy who has generally pitches well enough to not lose.
Williams has become quite the strike-thrower this season, walking only 10 batters in 65.2 innings (1.37 BB/9) and pumping in 69.1% first-pitch strikes. That's all part of his plan to go after opposing batters and make them react to him rather than the other way around.
"Throw the first punch," Williams told FanGraphs' David Laurila. "I'm not waiting to see how the other team is going to hit against me, I'm going to attack the way I know how to attack. I'm going to force them to hit a certain way off of me."
That hasn't really yielded the best results for him this season, particularly over his last two starts since coming off the IL. Williams has allowed 11 earned runs on 17 hits, including four homers, and the worst of those two games game against the hapless Tigers.
Those things tend to happen when you throw so many strikes with a 92 mph fastball, though that's actually been his best pitch. The real issue has been avoiding contact once he's ahead, since neither the slider nor sinker have been particularly effective. The change has been quite good, though it hasn't prevented lefties from hitting .294 against him. Righties are displaying more power, popping six of the eight home runs Williams has allowed.
The Cubs don't need to hit the ball over the fence in order to win this game, but they'll need to hit the ball in general. And since Williams isn't going to walk them, especially the righties, they're going to need to come out swinging and see about running into a fastball or three. Or 12, whatever works.
Adbert Alzolay will be on the mound for the first time as a visitor, so it won't look nearly as odd if he chooses to rock the alternate blues again in this one. After allowing a leadoff home run in his first start, he settled in and displayed the same excellent stuff we saw in his relief debut. He looks composed out there and should be aided by the road setting.
It seemed at times during those first two appearances that Alzolay might have suffered from adrenaline burnout, so a road game could help him to conserve a little of that energy. The Cubs could really use a longer start in this one to help a bullpen that, while blessed with reinforcements, was taxed by Cole Hamels' early exit.
Because Alzolay has done well with the changeup so far, throwing it as well as he ever has as a pro, watch for how he uses that against Pittsburgh hitters who've never seen him. Dialing in that fastball command early will be a key to going deeper into the game and should help set up those secondaries even better, so that's where being more calm in a different setting could factor.
First pitch from PNC Park is at 6:05pm CT on NBC Sports Chicago and ESPN (out-of-network), with 670 The Score on the radio broadcast.
Here is tonight's #Cubs lineup in Pittsburgh.

Stream on @NBCSChicago: https://t.co/rGCuW1XI7C pic.twitter.com/JKD20ufDjh

— Chicago Cubs (@Cubs) July 1, 2019